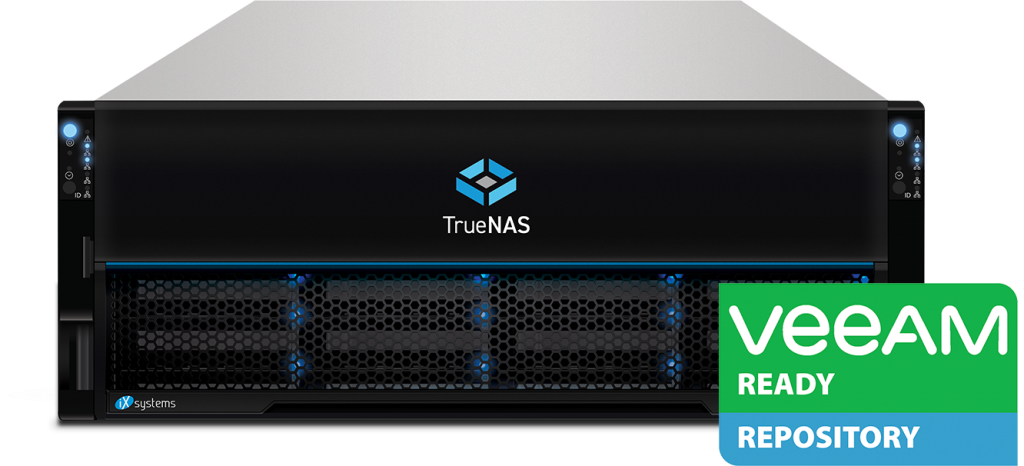 TrueNAS® is well suited to back up and archive storage workloads. Offering incredible scalability in a single share, TrueNAS systems can continuously extend storage pools to grow to several petabytes in size without the need for clustering. For users looking to deploy Veeam, or to update their storage repositories, TrueNAS is the ideal data target. 
Data integrity first
Checksums, copy-on-write, unlimited snapshots, and replication are all native to TrueNAS. The OpenZFS file system is designed for data integrity first to ensure files saved to the storage pool are kept intact as long as needed. Any changes are recorded and checked, while the snapshots can be cloned and replicated to separate systems. Deploying multiple TrueNAS or FreeNAS systems allows for easy disaster recovery at no extra cost. For backup and archival, no storage helps protect against corruption more than TrueNAS.
Updated guidelines for Veeam
Certified on release, iXsystems has updated its recommendations for sizing and optimizing performance for Veeam workloads. The quick reference guide is designed to help explain the features and optimum configurations used when benchmarking Veeam backup. For more information view the guide at the link here.
Key highlights:
TrueNAS is Veeam certified and scales to over 7.5 PB in a single share.

Increasing proxies and using a scale-out repository dramatically improve performance.

Capacity must also take into account storage snapshots; plan for more than the current online systems use for optimal data recovery and recovery.

More information about setting an iSCSI or SMB share, and links to Veeam Best Practices all included.
Contact Us
For more information, you can visit our page to learn more about backups, replication, and disaster recovery with TrueNAS. We've conducted countless backup deployments and have decades of experience in providing storage and server solutions driven by Open Source for thousands of clients, many which have been with us for over a decade. Learn more about TrueNAS by emailing info@ixsystems.com, or calling 1.855.GREP.4.IX.