Enterprise-Grade Open Storage
The TrueNAS M-Series is the flagship model of TrueNAS Enterprise systems and is ideally suited for heavy IT storage workloads and intensive data center applications.
The TrueNAS M-Series provides High Availability (HA), hybrid capacity, and all-flash performance configurations. The M-Series grows to support multiple 100GbE ports and over 20PB of storage. Read the ESG Technical Report on the M50 performance.
All TrueNAS Enterprise systems use OpenZFS to give you unbelievable performance with legendary protection and reliability for your mission-critical data. Ready to take your storage to the next level? Talk to us to find out why TrueNAS is the best choice for your next data storage project.
IDEAL FOR MANY APPLICATIONS

Virtualization
VMware Certified with support for up to 10000 VMs

File Sharing
Share Billions of files with thousands of users with SMB or NFS

Multimedia
Create sound, images, and 4K / 8K video. Store up to 20 PB

Backup
Securely backup with Petabytes of affordable storage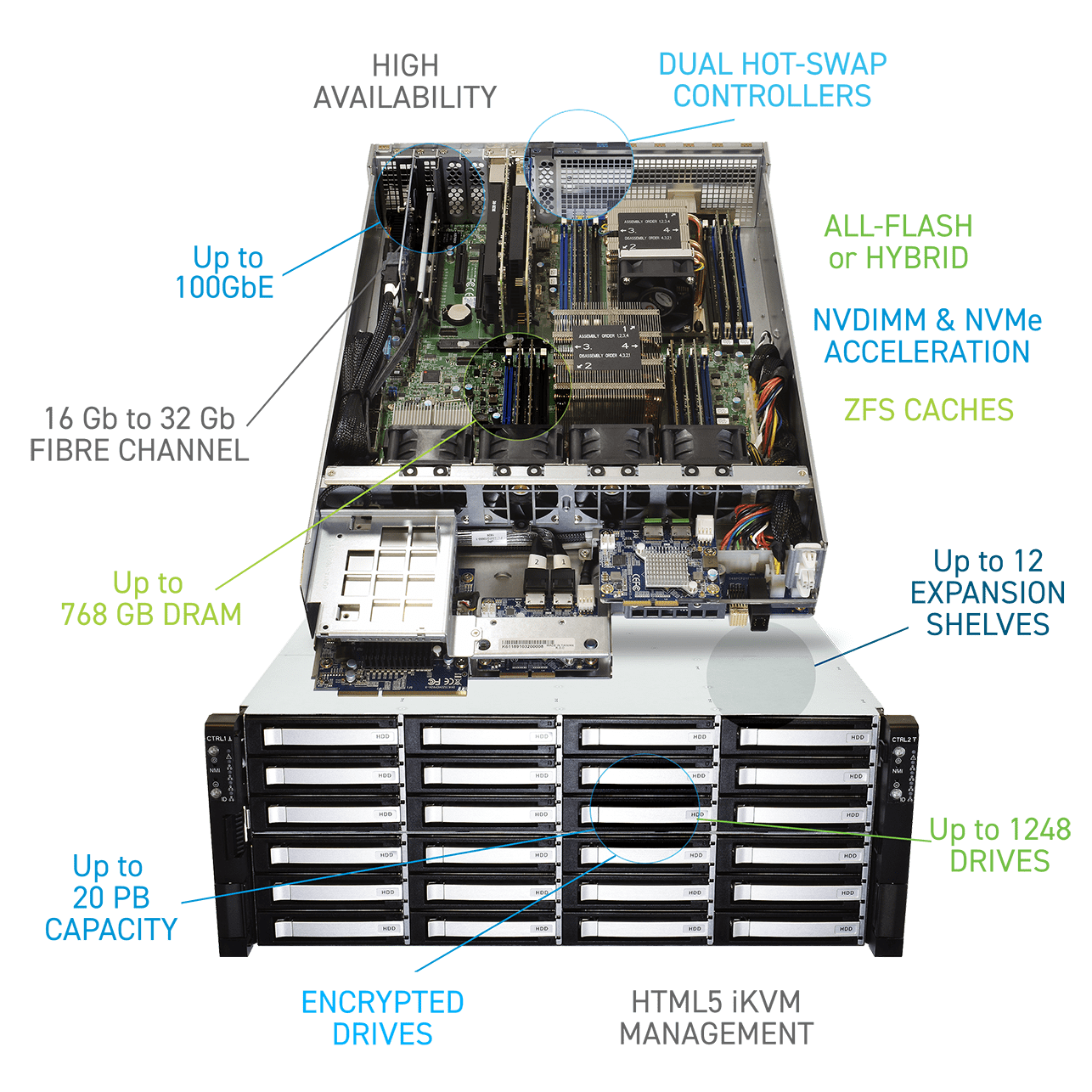 The M-Series is a 4U system with dual controllers. Each controller has NVDIMMs for extremely low latency write caching and there is a high bandwidth PCIe interconnect between controllers to synchronize the NVDIMMs. The controllers share access to 24 x 3.5" drives (HDD, SSD, RI-SSD) and also can share 4 low latency NVMe drives which can be used for metadata or persistent read cache.
TrueNAS M40
TrueNAS M50
TrueNAS M60
Dual Controllers (HA)
Optional
Optional
Optional
DRAM Per Controller
128 GB
256 GB - 384 GB
768 GB
Max Ethernet Speed
2x 40GbE
2x 100GbE
4x 100GbE
Fibre Channel (option)
4x 16Gb
4x 16Gb or 2x 32Gb
4x 32Gb
Expansion Shelves
2
8
12
Max Drives Supported
144
504
1248
Hybrid Storage (HDD + Flash)
Max Capacity
2 PB
9 PB
20 PB
Max Effective Capacity*
5 PB
22.5 PB
50 PB
Write Cache
NVDIMM
NVDIMM
NVDIMM
Max Read Cache
3 x 800 GB SAS SSD
4 x 3.2TB NVMe
4 x 3.2TB NVMe
All-Flash Storage
Max Capacity
1 PB
2 PB
4 PB
Max Effective Capacity*
5 PB
10 PB
20 PB
Write Cache
NVDIMM
NVDIMM
2 x NVDIMM
Certifications
Citrix Ready, VMware Ready, Veeam Ready, Asigra Integrated
Max Throughput
5GB/s
10GB/s
20GB/s
Performance
Up to 1M IOPS. Varies based on configuration. Contact us.
Pricing
Starting at $10,000. Grow HDD capacity at less than $75/TB, All-Flash at less than $395/TB
Datasheets
TrueNAS M-Series Datasheet, TrueNAS Expansion Shelf Datasheet
* Maximum effective capacity assumes typical data reduction through compression and deduplication.
The M-Series is designed for maximum ZFS performance and five 9's availability while keeping the storage affordable. With advanced read and write caching and expansion to over 1200 drives, the M-Series is ideal for multi-PB storage. For performance applications, all-flash storage with TLC or QLC flash can provide low latency and very high IOPS at industry-leading prices. Contact us for a system design and quote that will fit within your budget.
TrueNAS M-Series Datasheet
TrueNAS Open Storage Product Line
DCIG TrueCommand White Paper
JFK Presidential Library and Museum Case Study
University College of London Case Study