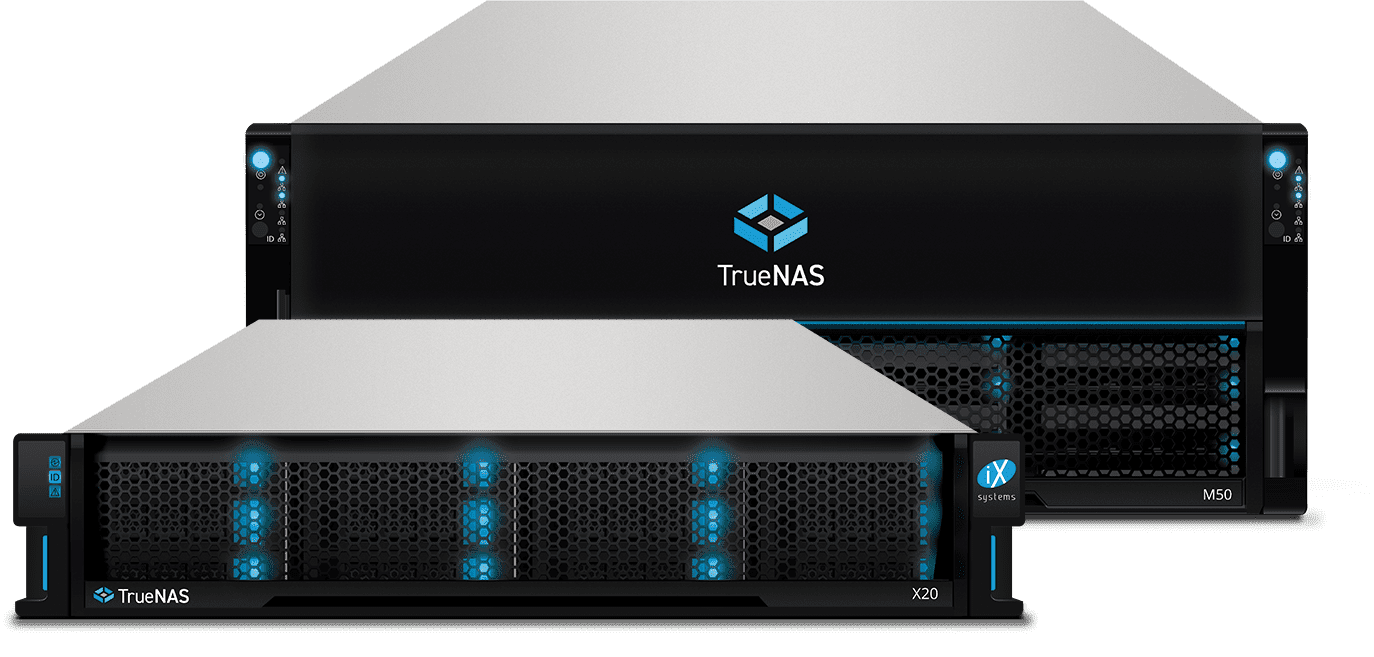 Data Management & Storage
Educational institutions, whether public or private, are under constant pressure to maximize budgets and do more with less. Deployed at schools and universities of all sizes around the world, TrueNAS® is a trusted partner in providing secure and reliable storage solutions for students, educators, and researchers while staying within budget. Every system comes with an all-inclusive license with no hidden costs for enabling features like compression or snapshots. TrueNAS unified storage supports block, file, and object protocols and is available in all-flash or hybrid configurations.

Easy to Deploy
Administer and manage your TrueNAS systems using a modern and intuitive web UI. TrueNAS easily integrates into existing Windows, macOS, and Linux environments and provides datastore and file-sharing capabilities over block (iSCSI or FC) or file (SMB, NFS or S3-API) interfaces. Effortlessly deploy virtual environments and manage them using vCenter and TrueCommand. Whether you need a single system for a small school or a distributed solution to support research across multiple campuses, there's an ideal TrueNAS solution for you.
Cost-Effective Scaling
A single TrueNAS system can hold over 740 high-capacity drives. Grow a single system from a few terabytes to ten petabytes without purchasing additional controllers, expansion licenses, or exorbitant support contracts. TrueNAS lets you independently scale compute, storage capacity, and performance so you never have to purchase more than you need. Smaller labs can utilize TrueNAS Mini systems to stay within budget while integrating seamlessly into a TrueNAS Enterprise environment reserved for important data and workloads.
Reliable Backups
TrueNAS provides all the essential tools you need to effectively manage and store your data. Redundancy is provided at the system level with high-availability (HA) configurations and RAID-Z provides efficient data redundancy to protect against drive failures. Built-in integrity checks safeguard your data against corruption. Unlimited snapshots and replication make it easy to back up and restore data to recover from a disaster. Volume-level encryption and Self-Encrypting Drives provide secure protection from unauthorized physical access.
Streamlined Procurement
Public education institutions can purchase TrueNAS through the GSA Schedule 70 to simplify the buying process and ensure compliance while getting the best value for any budget. GSA-approved products provide a streamlined process and pre-negotiated pricing with government agencies to reduce the buying cycle by up to 50%!
Wide Variety of Use Cases
Share & Back Up Data Across Campuses
Consolidate individual file servers into a single, powerful platform that grows with your needs. TrueNAS supports block, file, and object storage across all standard file protocols including SMBv1/v2/v3, AFP, NFSv3/v4, S3 API, and iSCSI. The OpenZFS file system provides bit rot protection and copy-on-write to ensure data integrity from creation to deletion. Extend your storage capacity even more with built-in ZFS data optimization features like compression and deduplication. TrueNAS integrates with major backup software providers such as Asigra, Veeam, CommVault, or Nakivo. Integration via Active Directory, LDAP, and Kerberos is also included.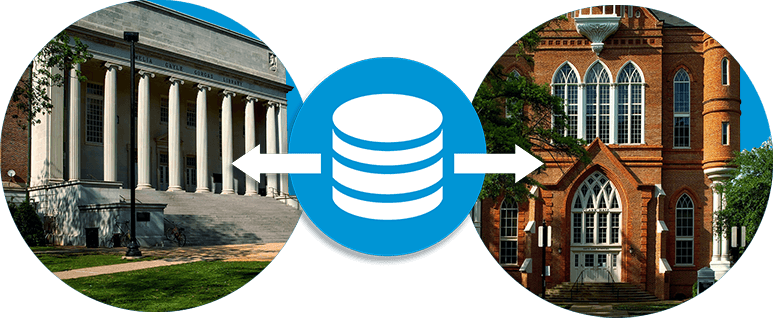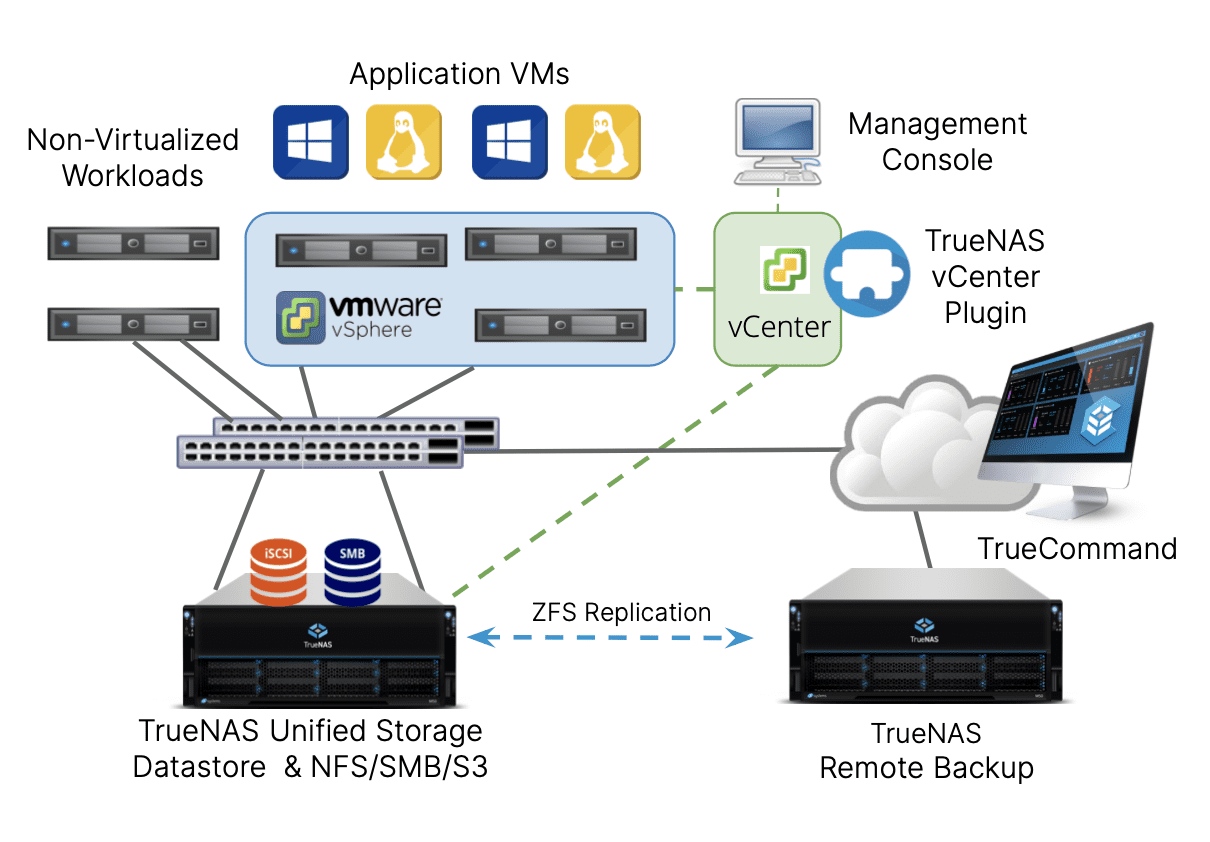 Virtualization and Private Clouds
TrueNAS supports all of the major hypervisors and virtual environments including Citrix, VMware, and OpenStack. With networking speeds up to 100GbE, TrueNAS easily integrates with virtualization clusters to manage datastores through iSCSI or fibre channel and share files using SMB or NFS. A single TrueNAS all-flash system can deliver sub-millisecond performance and support over 5,000 VMs! The same TrueNAS system can support virtualization and non-virtualized workloads at the same time. New virtual environments can be quickly deployed and easily managed via vCenter and TrueCommand.
Protect Access to Academic Data

Ensure up to 99.999% uptime with a TrueNAS high availability system. Dual controllers provide top-to-bottom redundancy of all active components and are set in an active-standby array to minimize failover times and simplify upgrades. If a failover does occur, all network services are automatically started on the second controller and users will continue to have access to their data. In the unlikely event that a system is damaged or there is a ransomware attack, built-in features like snapshots and replication make it easy to recover data. TrueNAS also natively supports cloud syncing to popular services including Amazon S3, Backblaze B2, and many more.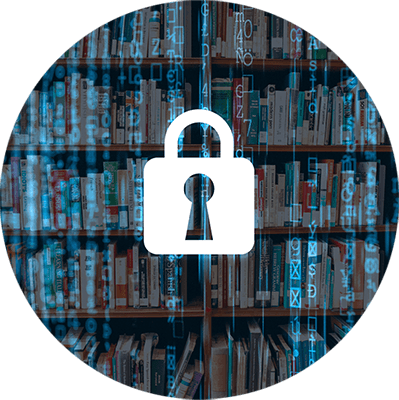 Cambridge University
Caltech
Tennessee County School System
McGill University
Ben Franklin Charter School
University College of London
How TrueNAS Leverages OpenZFS
TrueNAS M-Series Datasheet
TrueNAS X-Series Datasheet
TrueNAS – Sharing Billions of Files
Take Command with TrueCommand®
TrueCommand is a ZFS-aware platform designed to help teams manage one or more NAS systems while providing improved systems security and reliability.
NAS Fleet Dashboard
Single Sign-on with Role-Based Access Control (RBAC) to all NAS units
Customized Alerts and Reports
Rapid Fault Management and Diagnosis
Real-Time Data Collection and Analysis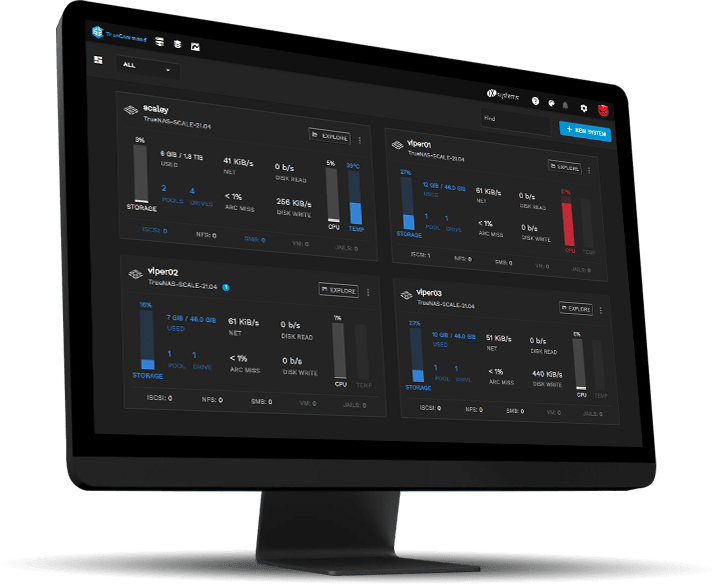 Speak with a Storage Expert