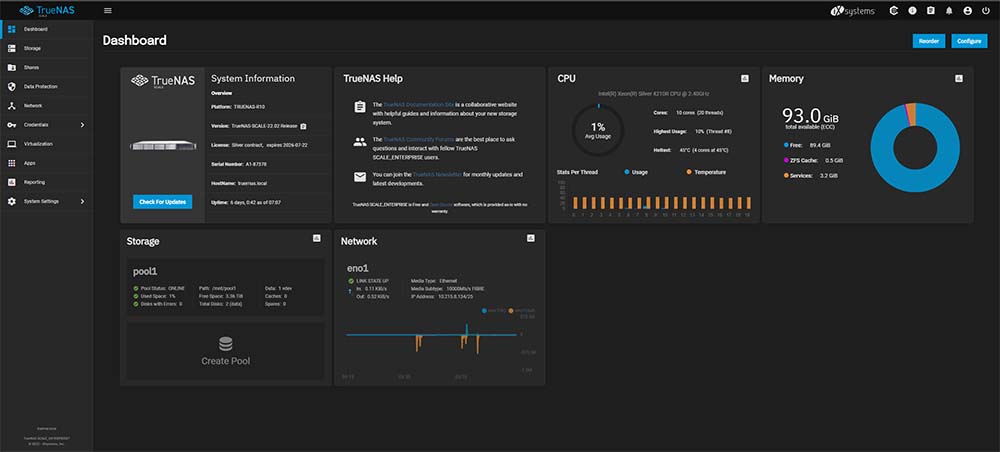 Hyperconverged Storage that Scales Up or Out
Integrated Linux Containers & VMs
Deploy as a Single Node or Cluster
Designed for Hybrid Clouds
Enterprise Support Options
Ultra-Performance & High-Density NVMe Flash Storage
Designed for maximum performance and high-density applications, the F-Series is our fastest storage available. With built-in high-availability and NVMe SSDs for the fastest possible throughput, the TrueNAS F-Series safeguards data for mission-critical operations where downtime is not an option while keeping data operations moving as fast as possible.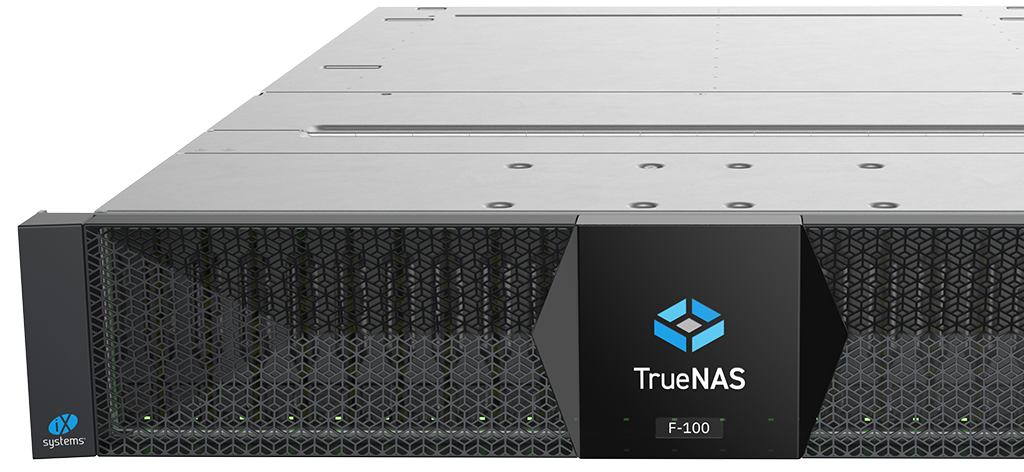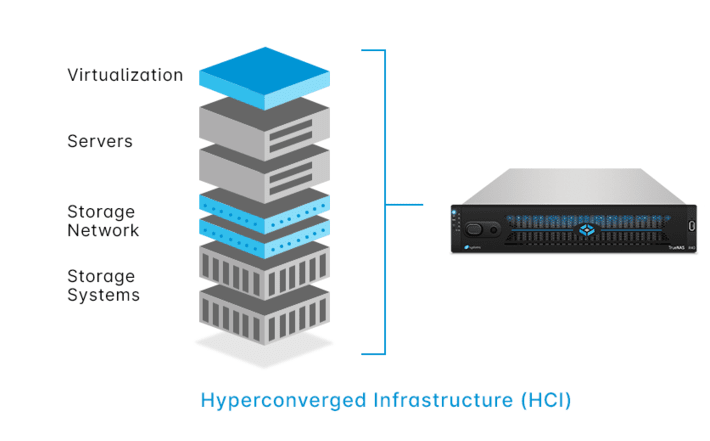 Open HyperConvergence that SCALEs
TrueNAS® SCALE is an Open Source Hyperconverged Infrastructure (HCI) solution. In addition to powerful scale-out storage capabilities, SCALE adds Linux Containers and VMs (KVM) so apps run closer to data.
Scale-Up or Out ZFS
OpenZFS with its excellent data management capabilities is the basis for all deployments. Scale-up by adding drives or scale-out by adding systems to a Gluster or Minio cluster. Deploy a single hyperconverged node in a home/office, or cluster nodes together for a highly scalable and highly available software-defined infrastructure.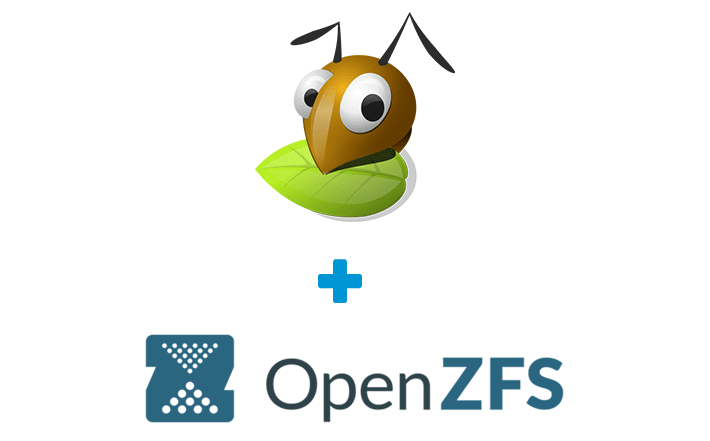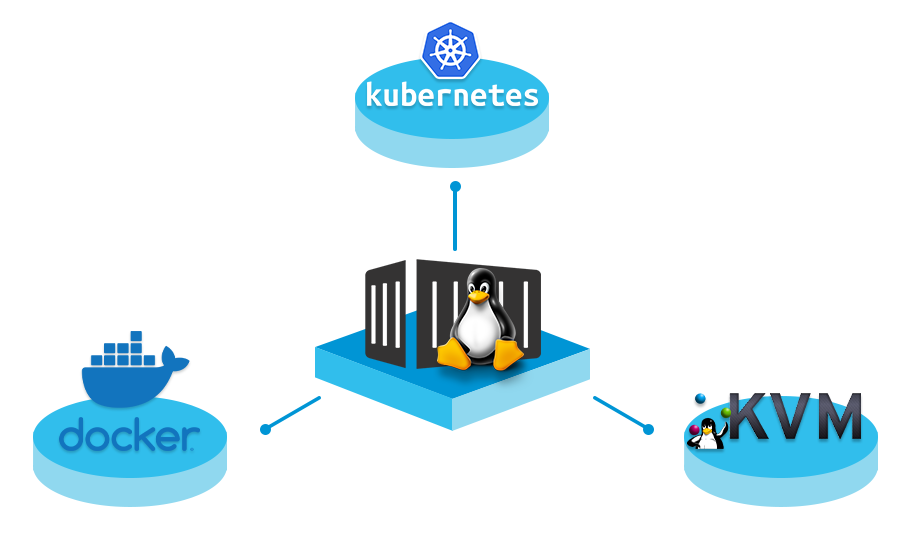 Go Beyond Storage
TrueNAS SCALE provides simple access to the well-established Linux container ecosystem and makes application deployment easy. With support for KVM virtual machines, Kubernetes, and Docker containers, it's easy to customize and add applications to suit a wide variety of needs.
Built on Open Source
TrueNAS SCALE is Open Source, based on Debian Linux, and free to download and use. With hundreds of thousands of testers and contributors, the TrueNAS community development model enables broader testing, and ultimately, a higher quality product, in addition to its unbeaten value. Join the "Storage Freedom" movement and enjoy the benefits of Open Source economics.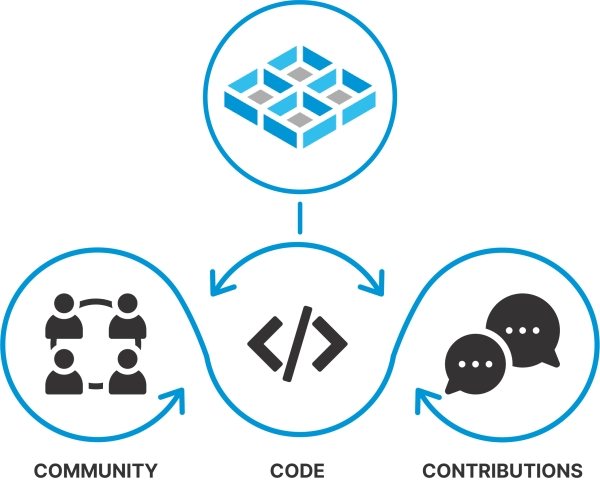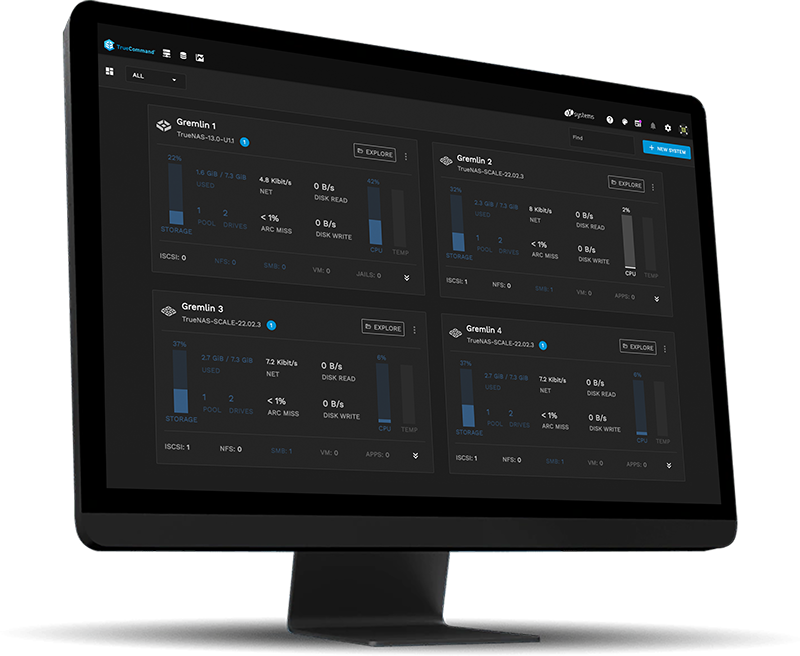 Manage Storage Clusters and Fleets
Cluster many systems together with SCALE and manage them all with TrueCommand. TrueCommand makes it easy to monitor and administer all of your systems from a single, easy-to-use dashboard.
TrueNAS SCALE "Cobia" 23.10

Multi-System Management
TrueCommand, RBAC, Auditing, Single Sign-on, Cloud
Alerting, Reporting, Analytics
TrueCommand 3.0 SCALE UI
Administration
Web UI, SNMP, Syslog, Reporting, CLI
REST API, WebSockets API
vCenter Plugin (E), API ACLs, Rootless Admin
System Utilities
Tasks, Cron Jobs, Scripts, In-Service Updates
Alerting, Email, Debugs
Proactive Monitoring (E)
Clients and Applications
Windows, MacOS, Linux, UNIX, iOS, Android Clients
Many applications via SMB, NFS, iSCSI, or GlusterFS client
Integrated Applications via ZFS and Containers/VMs
Application Services
Apps (Helm Charts), Docker Containers, Kubernetes, New Apps UI and Catalogs, GPU sharing
VMs: Windows, Linux, FreeBSD, PCIe pass-through
Apps: OverlayFS, Alder Lake GPU, GeForce 40xx GPUs, Bulk App Updates VMs: USB pass-through, CPU Pinning
Directory Services
Active Directory, Google 2FA
Local users and groups
LDAP, Kerberos
Storage Services
File: SMB 2/3, NFSv3/v4, rsync, Multi-protocol shares with SMB and NFSv4, SMB Multi-channel, NFSv4.1
Block: iSCSI, VAAI Object: Distributed Minio, Cloud Sync, Credentials
SMB Share proxy, OpenStack Cinder, SMB Data Migration

CSI (iSCSI, Gluster, SMB, NFS)

Scale-Out
Clustering: Gluster, S3
Erasure Coded Volumes, Configurable redundancy
Node Replacement Process, UI Enhancements
Data Management
Unlimited Snapshots, Pool Checkpoints, Space-efficient Clones
Replication: Remote, Local, Auto-resume, to any OpenZFS endpoint
Improved Storage UI
Data Protection
Accelerated Copy-on-Write, 2-Copy Metadata, iX-Storj Globally Distributed Storage
Built-in RAID: Single/Dual/Triple Parity, Mirrors, dRAID, Fast Resilvering, Fast Boot
Self-healing Checksums, Background Scrubbing
Data Reduction
Thin Provisioning, Fast File Cloning (SMB/NFS)
In-line Compression
ZFS Clones, Deduplication, SSD TRIM/UNMAP
Data Acceleration
All Flash, Fusion Pools, Metadata on Flash
Read Cache (ARC/L2ARC): RAM / Flash
Write Cache (SLOG/ZIL): Flash, HA NVDIMM (E), Dual Port SAS/NVMe (E)
Networking
Full IPv4 and IPv6
LAGG, LACP, VLANs, Interface Bridging
Jumbo Frames, TCP options
Data Security
Self-Encrypted Drives (TCG Opal), Dataset Encryption
Encrypted replication, WireGuard, OpenVPN
ACLs, IP Filtering, KMIP (E), FIPS 140-2 Validated Encryption (E)
Foundation
Debian, Boot Management, SSH, Container
Kubernetes, KVM
System Logging, Time Synchronization
High Availability
Fast ZFS Replication
10 - 100 GbE Clustering, LAGG and/or LACP
Dual Controller High-Availability (E) - Fast Failover
Hardware Management
IPMI Remote Management, Visual Enclosure Management (X)
SAS JBODs, Global Spares
SMART, SSD Wear Monitoring
Hardware Platforms
Any x86-64 System
Mini X+/XL+, R-Series
X-Series, M-Series
Support
Community Support - Forums, Documentation, Release Notes, Bug Ticketing
Notes:
(E) Indicates that an Enterprise license is required
(X) Indicates that iXsystems hardware is required