FreeNAS
Where Open Storage began TrueNAS, The #1 Open Source Storage Project, first made the leap onto the internet in 2005 as FreeNAS and captured the attention of so many people building their own simple storage systems. In 2010, the ZFS filesystem was added along with a new UI, turning what was previously a prosumer storage OS into a full-fledged enterprise-ready software-defined storage. We're incredibly humbled by the response we've seen over the last decade turning FreeNAS into a household name among system administrators, technology enthusiasts, and home users alike with over 10 million downloads and 1 million deployments.
Although the FreeNAS name has changed to TrueNAS, our commitment remains the same: to build the best Open Source storage operating system that millions can rely on daily to protect their most important data.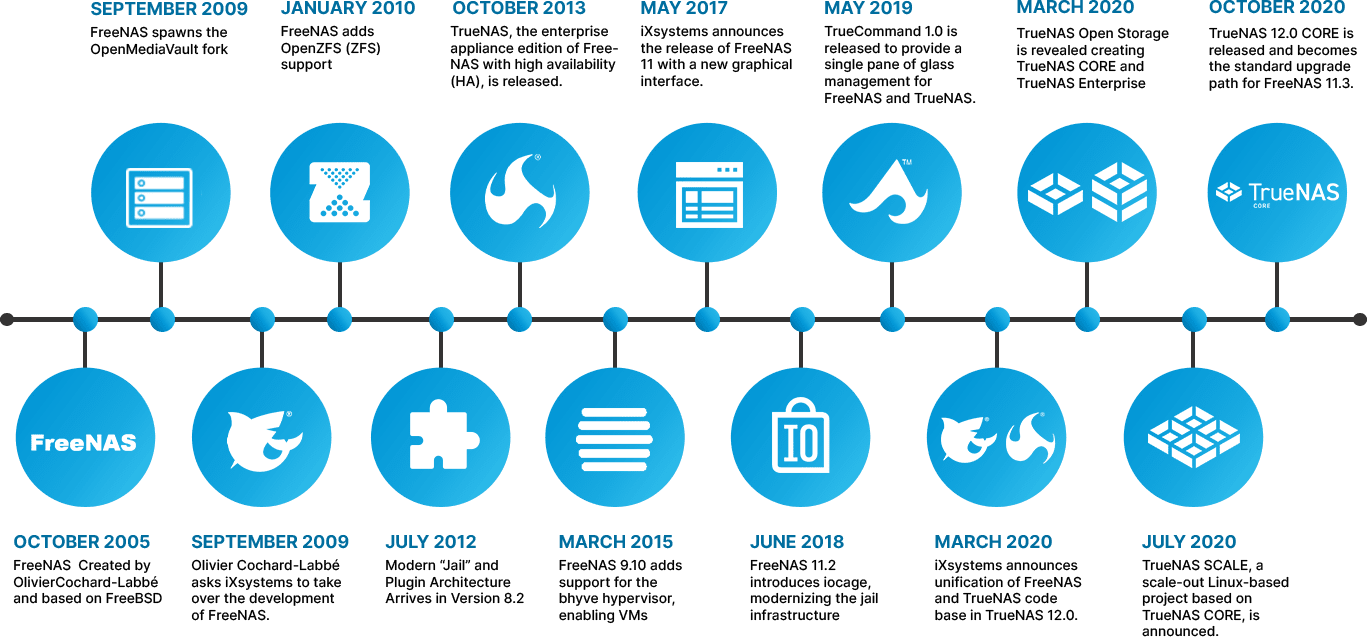 The Unification of TrueNAS and FreeNAS


TrueNAS and FreeNAS grew alongside each other for many years at iXsystems. FreeNAS was the community-supported software edition and TrueNAS the enterprise edition, sold as an appliance for mission-critical storage applications. FreeNAS and TrueNAS have always had much in common, including a nearly identical codebase, however, the two software were maintained separately.
In 2019 we began the journey towards unifying both under the same TrueNAS Open Storage. FreeNAS is now known as TrueNAS CORE and what was previously known as "TrueNAS" is now TrueNAS Enterprise. This naming convention and distribution strategy allows us to continue to innovate rapidly by deploying both editions of software in one downloadable image and consolidating divided efforts behind one product family and name.
TrueNAS CORE will always be completely Open Source and free. TrueNAS Enterprise and iXsystems support are available for more critical storage applications.
You can learn more about the unification of TrueNAS and FreeNAS by reading the announcement blog or watching this video.
The Future of FreeNAS is TrueNAS
We're proud to say that the same code and technology behind FreeNAS will always be at the core of TrueNAS, providing the same features that you know and love and much more. Although FreeNAS will take on a less prominent role moving forward, the heritage and spirit will always remain in making TrueNAS CORE the world's best Free NAS. Legacy downloads of FreeNAS are available on our website and download directory, although feature updates will only take place on TrueNAS.
The upgrade from FreeNAS to TrueNAS CORE is as simple as clicking a button in the UI. The upgrade is free and the software is still Open Source. If you haven't joined the open storage revolution yet, download TrueNAS CORE and get started today!