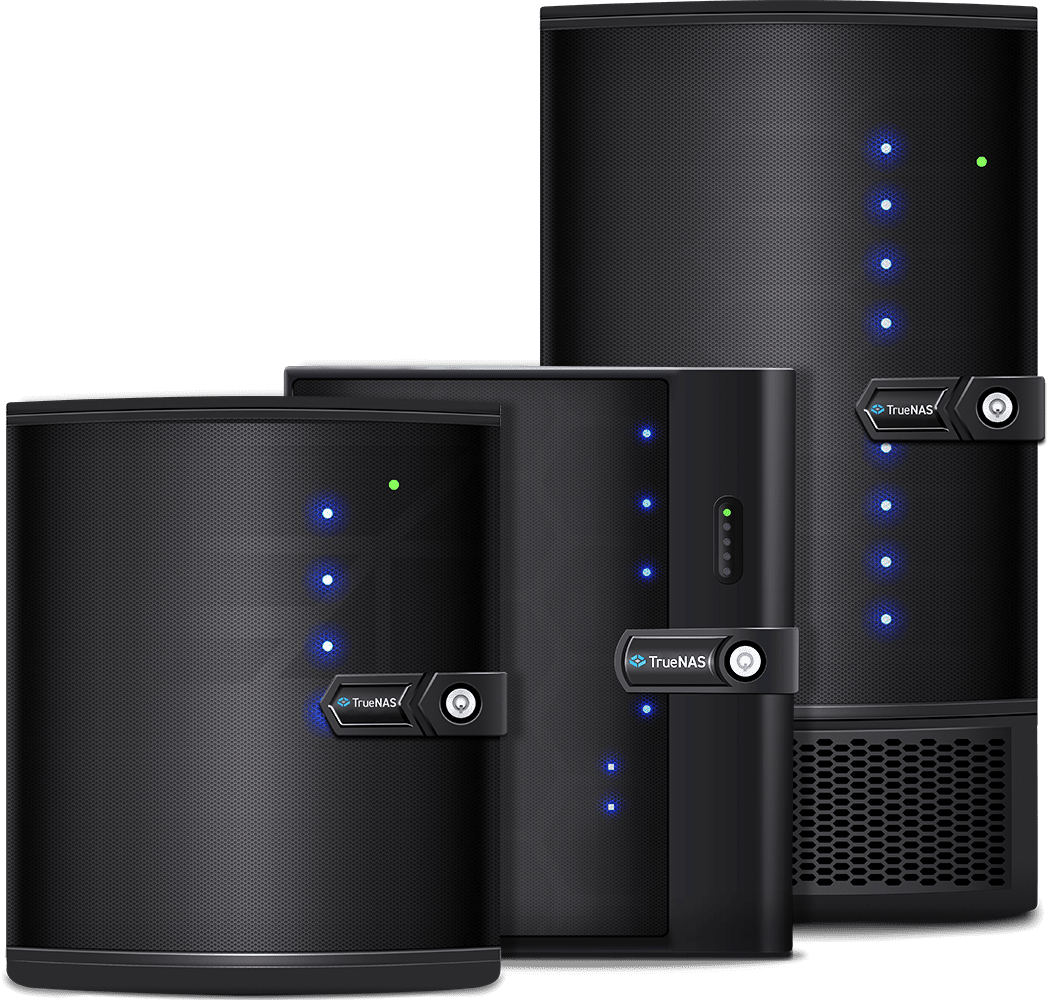 TrueNAS Minis allow you to easily store and manage your important data using any storage protocol, including NFS, SMB, AFP, iSCSI, S3, and many others. Minis can also be managed from the easy-to-use FreeNAS web interface using any computer or mobile device on your home or business network.
All Minis are backed by the OpenZFS (ZFS) enterprise-class file system that provides software RAID to protect your data from drive failure, data corruption, file deletion, and even malware attacks.
TrueNAS Minis are built with professional-grade components including ECC RAM and IPMI for remote management. Whisper-quiet fans and low power footprints make them ideal for a quiet office environment
TrueNAS Minis can ship with either the latest Stable version of FreeNAS or TrueNAS CORE. All Minis are TrueNAS CORE Ready and can be easily updated.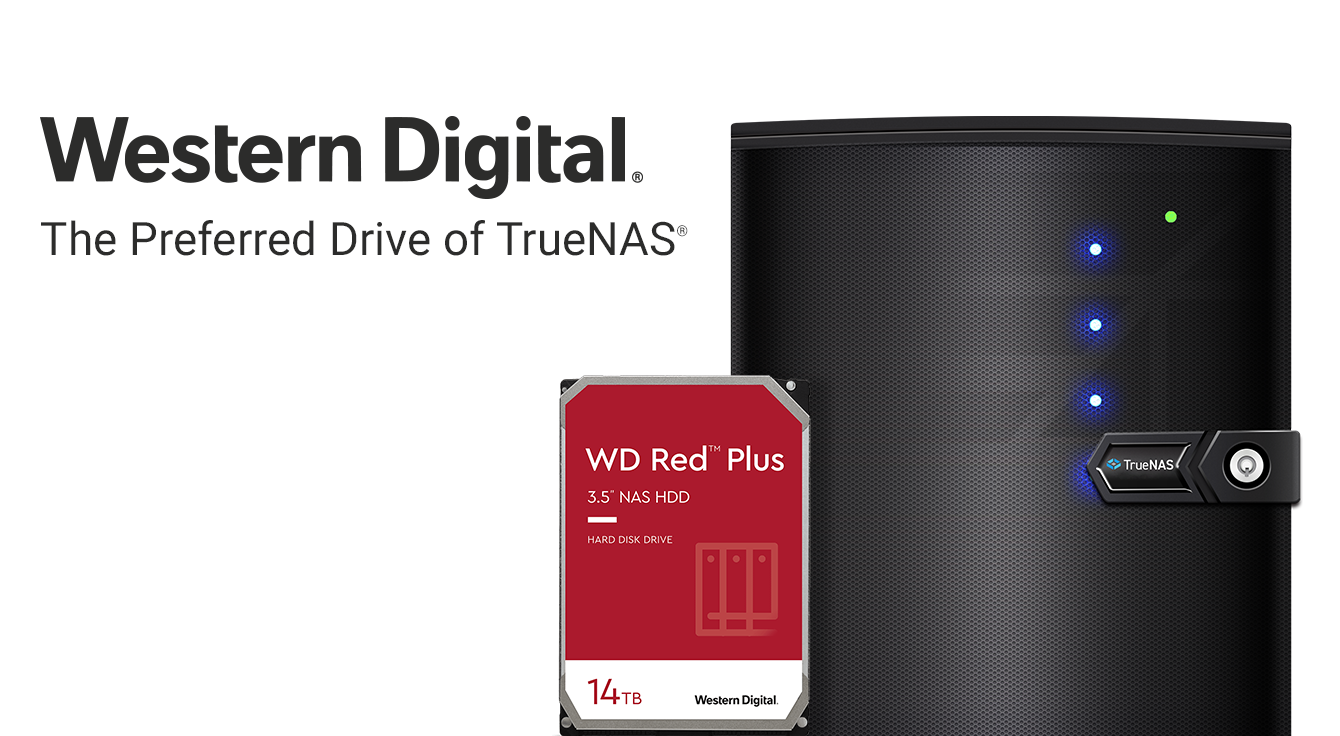 Western Digital – The Preferred Drives of TrueNAS
All TrueNAS Minis come standard with Western Digital™ hard drives. Western Digital drives are specifically designed to handle the rigors of 24×7 TrueNAS workloads, offering excellent data protection and the highest level of performance possible.
*Regardless of which drives you choose for your system, purchase drives with traditional CMR technology and avoid ones using SMR technology.
IDEAL FOR MANY APPLICATIONS

Multimedia
Stream audio and video to multiple clients.

File Sharing
Use permission controls to manage access to files.

Backup
Back up desktops and laptops over your network.
Full Specifications
FEATURES
TrueNAS Mini E
TrueNAS Mini X
TrueNAS Mini X+
TrueNAS Mini XL+
Chassis
4 Bay Enclosure – Super Quiet Design
5+2 Bay Enclosure – Super Quiet Design
8+1 Bay Enclosure – Super Quiet Design
Hard Drive Bays
4 x SATA 3.5" Hot-Swappable Drive Bays
2 x SATA 2.5" Internal SSD Bays
5 x SATA 3.5" Hot-Swappable Drive Bays
2 x SATA 2.5" Hot-Swappable SSD Bays
8 x SATA 3.5" Hot-Swappable Drive Bays
1 x SATA 2.5" Hot-Swappable SSD Bay
1x SATA 2.5" Internal SSD Bay
Maximum Raw Capacity
Up to 56 TB
Up to 70 TB
Up to 85 TB
Up to 127 TB
CPU
Dual-core C3338 Intel CPU
Quad-core C3558 Intel CPU
Octa-core C3758 Intel CPU
Octa-core C3758 Intel CPU
Memory
8 GB DDR4 with ECC
(Upgradeable to 16GB)
16 GB DDR4 with ECC
(Upgradeable to 32GB)
32 GB DDR4 with ECC
(Upgradeable to 64GB)
32 GB DDR4 with ECC
(Upgradeable to 64GB)
RAID
OpenZFS – RAIDZ1 (RAID 5), RAIDZ2 (RAID 6), Multi-Disk Mirror (RAID 10), and RAID0 (stripe)
Disk Management
Hot-Swappable Drives, Bad Block Scan + HDD S.M.A.R.T
ISO Mounting Support, Hardware-Accelerated Disk Encryption
Network
Standard: 4 x 1 Gigabit Ethernet LAN ports (10/100/1000)
Dedicated RJ45 IPMI Port (Remote Hardware Management)
Standard: 4 x 1 Gigabit Ethernet LAN ports (10/100/1000)
Dedicated RJ45 IPMI Port (Remote Hardware Management)
Standard: 2 x RJ45 1/10GBaseT Ethernet LAN ports
Dedicated RJ45 IPMI Port (Remote Hardware Management)
2 x SFP+ 10G Add On Card (Optional)
Standard: 2 x RJ45 1/10GBaseT Ethernet LAN ports
Dedicated RJ45 IPMI Port (Remote Hardware Management)
2 x SFP+ 10G Add On Card (Optional)
USB Ports
2 x USB 2.0 Ports (Front)
1 x USB 3.0 Port (Rear)
2 x USB 2.0 Ports (Front)
1 x USB 3.0 Port (Rear)
1 x USB 3.0 Port (Front)
1 x USB 2.0 Port (Front)
2 x USB 2.0 Ports (Rear)
1 x USB 3.0 Port (Front)
1 x USB 2.0 Port (Front)
2 x USB 2.0 Ports (Rear)
Read/Write Cache
(Optional) Boost performance by adding a dedicated, high-performance read cache (L2ARC) or by adding a dedicated, high-performance write cache (ZIL/SLOG)
PCIe Expansion
N/A
1 x PCI Express 3.0 x 4
1 x PCI Express 3.0 x 4
Power Supply
100V to 240V AC, 50/60 HZ, Single Phase
Power Consumption (Maximum)
Diskless: 16.5W,
With drives: 56.5W
Diskless: 24W
With drives: 84W
"Diskless: 40W
With drives & 10G Add-on-card: 111W"
Diskless: 40W,
With drives & 10G Add-on-card: 130W
Power Management
Remote Power-On/Off (IPMI), UPS Signal Response and Alerts
User Control Interface
Web Browser and Remote Hardware Management (IPMI)
Dimensions
(W x D x H)
8.25" x 11.2" x 9.5" / 210 x 284 x 241mm
8.25″ x 10.5″ x 9.5″ / 210 x 267 x 241mm
8.4" × 11" × 15.1" / 213 × 279 × 384mm
Weight
(no drives)
10.8lbs / 4.9Kg
13lbs / 5.9Kg
23.15lbs / 10.5Kg
Limited Warranty
1 Year
Package
Contents
TrueNAS Mini E, Power Cord, Quick Start Guide, 2 x Case Door Keys,4 Removable Disk Trays, bag of HDD screws, 2 x 7 ft copper cable
TrueNAS Mini X, Power Cord, Quick Start Guide, 2 x Case Door Keys,7 Removable Disk Trays, bag of HDD screws, 2 x 7 ft copper cable
TrueNAS Mini X+, Power Cord, Quick Start Guide, 2 x Case Door Keys,7 Removable Disk Trays, bag of HDD screws, 2 x 7 ft copper cable
TrueNAS Mini XL+, Power Cord, Quick Start Guide, 2 x Case Door Keys, 9 Removable Disk Trays, bag of HDD screws, 2 x 7 ft copper cable
Operating System and Boot Device are Included
3.5″ Hot Swap Bay #0 E
none
3.5″ Hot Swap Bay #1 E
none
3.5″ Hot Swap Bay #2 E
none
3.5″ Hot Swap Bay #3 E
none
3.5″ Hot Swap Bay #0 X
none
3.5″ Hot Swap Bay #1 X
none
3.5″ Hot Swap Bay #2 X
none
3.5″ Hot Swap Bay #3 X
none
3.5″ Hot Swap Bay #4 X
none
2.5″ Hot Swap Bay #0 X
none
2.5″ Hot Swap Bay #1 X
none
2.5″ Hot Swap Bay #0 XL
none
3.5″ Hot Swap Bay #0 XL
none
3.5″ Hot Swap Bay #1 XL
none
3.5″ Hot Swap Bay #2 XL
none
3.5″ Hot Swap Bay #3 XL
none
3.5″ Hot Swap Bay #4 XL
none
3.5″ Hot Swap Bay #5 XL
none
3.5″ Hot Swap Bay #6 XL
none
3.5″ Hot Swap Bay #7 XL
none
2.5″ Internal Bay #0
none
2.5″ Internal Bay #1
none
Drive Compatibility List
Drive Compatibility List
| Brand | Type | Part Number | Description | Capacity | Status |
| --- | --- | --- | --- | --- | --- |
| Western Digital | 3.5″ HD | WD10EFRX | 1TB WD Red Plus Hard Drive | 1 TB | Qualified |
| Western Digital | 3.5″ HD | WD20EFRX | 2TB WD Red Plus Hard Drive | 2 TB | Qualified |
| Western Digital | 3.5″ HD | WD20EFZX | 2TB WD Red Plus Hard Drive | 2 TB | Qualified |
| Western Digital | 3.5″ HD | WD40EFRX | 4TB WD Red Plus Hard Drive | 4 TB | Qualified |
| Western Digital | 3.5″ HD | WD40EFZX | 4TB WD Red Plus Hard Drive | 4 TB | Qualified |
| Western Digital | 3.5″ HD | WD60EFRX | 6TB WD Red Plus Hard Drive | 6 TB | Qualified |
| Western Digital | 3.5″ HD | WD60EFZX | 6TB WD Red Plus Hard Drive | 6 TB | Qualified |
| Western Digital | 3.5″ HD | WD100EFAX | 10TB WD Red Plus Hard Drive | 10 TB | Qualified |
| Western Digital | 3.5″ HD | WD101EFAX | 10TB WD Red Plus Hard Drive | 10 TB | Qualified* |
| Western Digital | 3.5″ HD | WD101EFBX | 10TB WD Red Plus Hard Drive | 10 TB | Qualified* |
| Western Digital | 3.5″ HD | WD120EFAX | 12TB WD Red Plus Hard Drive | 12 TB | Qualified |
| Western Digital | 3.5″ HD | WD120EFBX | 12TB WD Red Plus Hard Drive | 12 TB | Qualified |
| Western Digital | 3.5″ HD | WD140EFFX | 14TB WD Red Plus Hard Drive | 14 TB | Qualified |
| Western Digital | 3.5″ HD | WD140EFGX | 14TB WD Red Plus Hard Drive | 14 TB | Qualified |
| Western Digital | 3.5″ HD | WD2002FFSX | 2TB WD Red Pro Hard Drive | 2 TB | Qualified |
| Western Digital | 3.5″ HD | WD4003FFBX | 4TB WD Red Pro Hard Drive | 4 TB | Qualified |
| Western Digital | 3.5″ HD | WD6003FFBX | 6TB WD Red Pro Hard Drive | 6 TB | Qualified |
| Western Digital | 3.5″ HD | WD121KFBX | 12TB WD Red Pro Hard Drive | 12 TB | Qualified |
| Western Digital | 3.5″ HD | WD40PURZ | 4TB WD Purple Hard Drive | 4 TB | Qualified |
| Seagate | 3.5″ HD | ST2000VN004 | 2TB Seagate Ironwolf Hard Drive | 2 TB | Qualified |
| Seagate | 3.5″ HD | ST4000VN008 | 4TB Seagate Ironwolf Hard Drive | 4 TB | Qualified |
| Seagate | 3.5″ HD | ST6000VN001 | 6TB Seagate Ironwolf Hard Drive | 6 TB | Qualified |
| Micron | 2.5″ SSD | MTFDDAK480TDC-1AT16ABYY | 480GB Micron 5200 ECO SSD | 480 GB | Qualified |
| Micron | 2.5″ SSD | MTFDDAK960TDC-1AT16ABYY | 960GB Micron 5200 ECO SSD | 960 GB | Qualified |
| Micron | 2.5″ SSD | MTFDDAK1T9TDC-1AT16ABYY | 1.9TB Micron 5200 ECO SSD | 1.9 TB | Qualified |
| Micron | 2.5″ SSD | MTFDDAK3T8TDC-1AT16ABYY | 3.8TB Micron 5200 ECO SSD | 3.8 TB | Qualified |
| Micron | 2.5″ SSD | MTFDDAK7T6TDC-1AT16ABYY | 7.6TB Micron 5200 ECO SSD | 7.6 TB | Qualified |
| Micron | 2.5″ SSD | MTFDDAK1T9QDE-2AV16ABYY | 1.9TB Micron 5210 SSD | 1.9 TB | Qualified |
| Micron | 2.5″ SSD | MTFDDAK3T8QDE-2AV16ABYY | 3.8TB Micron 5210 SSD | 3.8 TB | Qualified |
| Micron | 2.5″ SSD | MTFDDAK7T6QDE-2AV16ABYY | 7.6TB Micron 5210 SSD | 7.6 TB | Qualified |
| Micron | 2.5″ SSD | MTFDDAK480TDS-1AW16ABYY | 480GB Micron 5300 PRO SSD | 480 GB | Qualified |
| Micron | 2.5″ SSD | MTFDDAK960TDS-1AW16ABYY | 960GB Micron 5300 PRO SSD | 960 GB | Qualified |
| Micron | 2.5″ SSD | MTFDDAK1T9TDS-1AW16ABYY | 1.9TB Micron 5300 PRO SSD | 1.9 TB | Qualified |
| Micron | 2.5″ SSD | MTFDDAK3T8TDS-1AW16ABYY | 3.8TB Micron 5300 PRO SSD | 3.8 TB | Qualified |
| Micron | 2.5″ SSD | MTFDDAK7T6TDS-1AW16ABYY | 7.6TB Micron 5300 PRO SSD | 7.6 TB | Qualified |
* Not recommended for Mini XL+, use WD100EFAX for Mini XL+