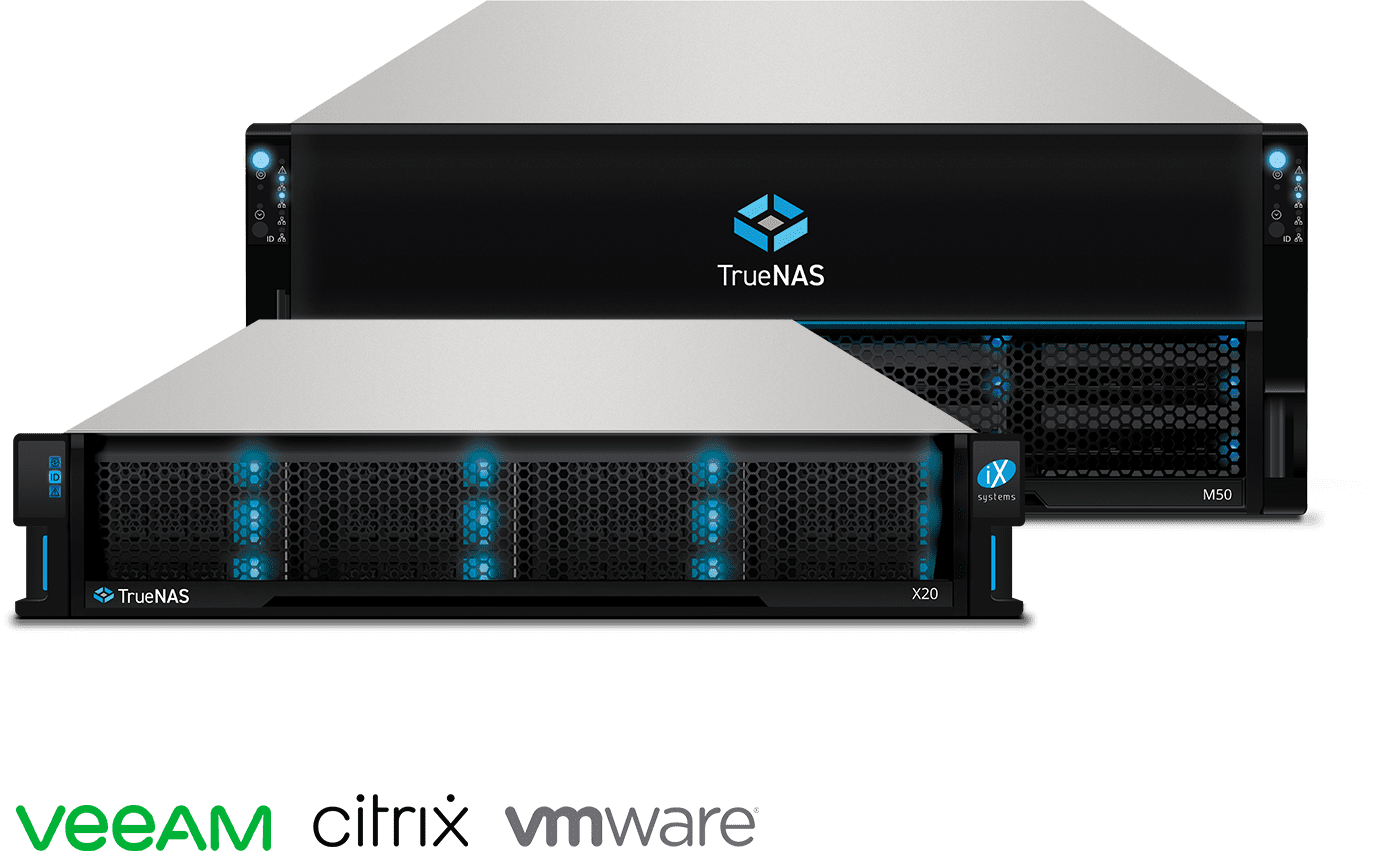 Open Source Economics
Using Open Source economics, TrueNAS® provides industry-leading total costs of ownership (TCO) and operational flexibility to help agencies stay within budget and free up money for other projects. All system and support costs are presented upfront with no hidden license fees or uplift during the life of the system. Every system comes with an all-inclusive license so there are no additional costs for enabling features like compression or snapshots. Available in all-flash or hybrid configurations, TrueNAS can be deployed as both a NAS and a SAN and supports block, file, and object protocols.

Security You Can Trust
A proper backup and disaster recovery plan can be the difference between catastrophe or a minor setback. TrueNAS's built-in ZFS snapshot and replication feature makes it easy to restore your data by rolling back to before the data was compromised. Data restoration is critical after Ransomware attacks, accidental data deletion, foreign intrusion, or natural disasters.
Privacy at Every Level
Full volume encryption and Self-Encrypting Drives (TCG Opal or FIPS 140-2) provide additional security against unauthorized physical access. WireGuard VPNs and SSH secure network access and replication to remote systems. Made in the USA with a simple Media Retention policy and upcoming KMIP support, it's easy to see why federal and defense agencies trust TrueNAS to safeguard their data privacy.
Over 99.999% Uptime
When your agency can't afford to go offline, a TrueNAS high-availability system simplifies your design and administration tasks. Redundant storage controllers provide top-to-bottom redundancy and are synced via a continuous heartbeat to keep your applications up and running while minimizing failover time. Whether you need a small 2U system for a remote office or a rack-scale solution for the data center, TrueNAS HA simplifies your infrastructure.
STREAMLINED PROCUREMENT
Ensure compliance and make sure you're getting the best value for your budget by purchasing TrueNAS through the GSA Schedule 70, NCPA, CMAS, NASA SEWP and several others, or through an approved integrator. GSA-approved products provide a streamlined process and pre-negotiated pricing to government agencies to help reduce the buying cycle by up to 50%! TrueNAS pricing is fully inclusive of all software features to simplify the process of sizing and buying systems to meet any budget constraints.
Wide Variety of Use Cases
Virtualization and Private Clouds
TrueNAS supports all of the major hypervisors and virtual environments including Citrix, VMware, and OpenStack. With networking speeds up to 100GbE, TrueNAS easily integrates with virtualization clusters to manage datastores through iSCSI or fibre channel and share files using SMB or NFS. A single TrueNAS all-flash system can deliver sub-millisecond performance and support over 5,000 VMs! New virtual environments can be quickly deployed and easily managed via vCenter and TrueCommand.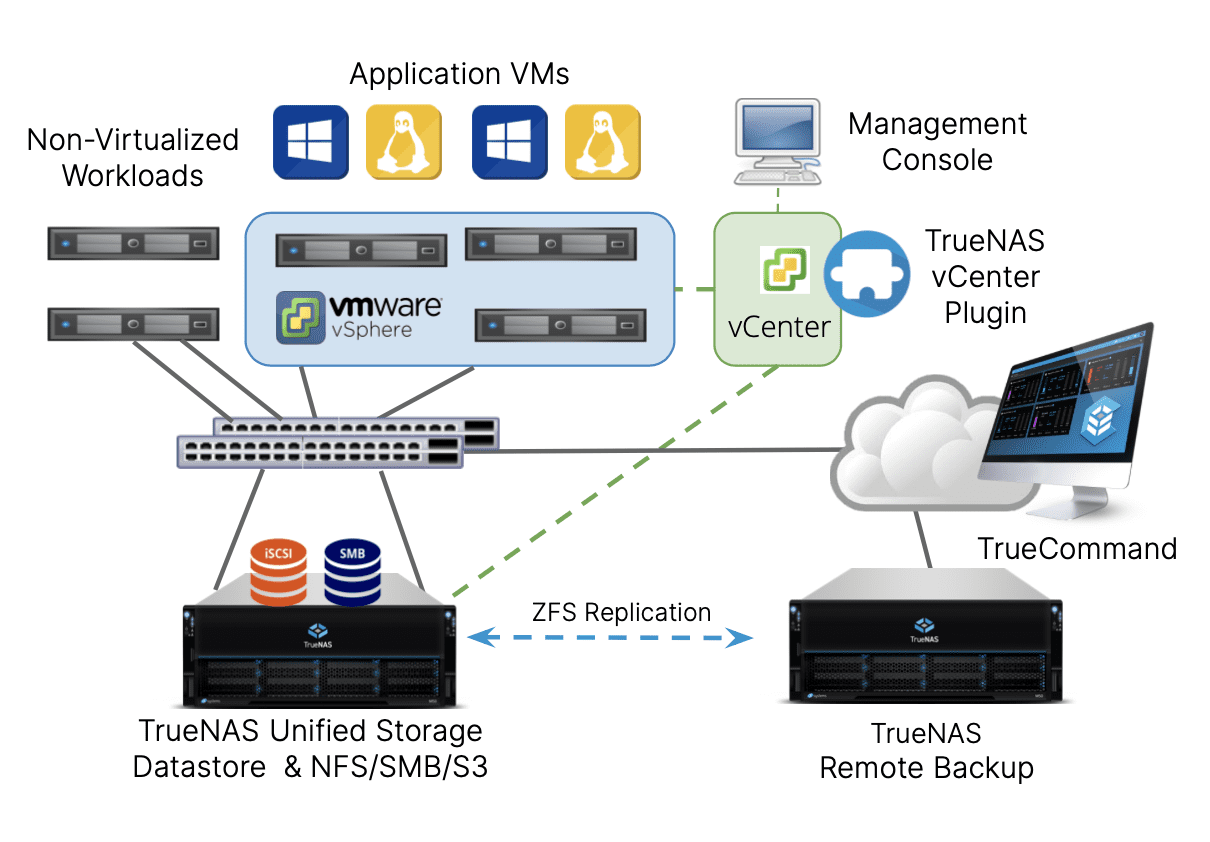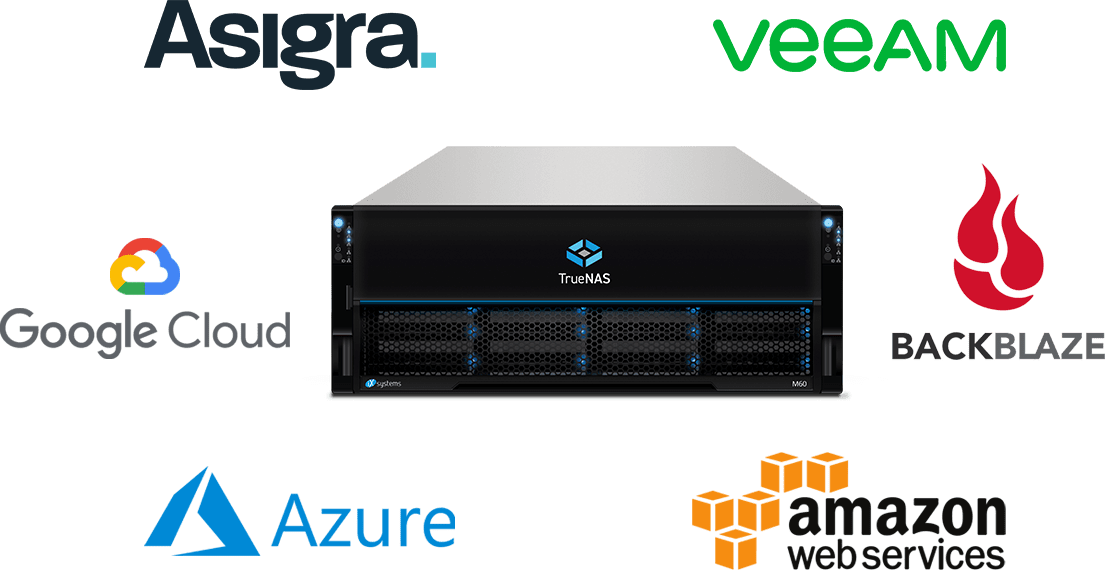 Archive and Backup Petabytes of Data
TrueNAS is capable of scaling from a few terabytes to several petabytes of data, and its advanced OpenZFS feature set utilizes in-line compression and deduplication to help you get the most out of your storage capacity. Safeguard your data by creating off-site backups with scheduled sync and replication features. The self-healing file system at the heart of TrueNAS provides bit rot protection and copy-on-write ensures data integrity from the moment the data is written. If you prefer to use a backup software provider, TrueNAS integrates with Asigra, Veeam, CommVault, Nakivo, and many others.
Share Files using any Protocol
TrueNAS excels when it comes to file sharing. Replace many file servers with a TrueNAS storage solution and consolidate all of your data onto a single, powerful platform. TrueNAS supports block, file, and object storage across all standard file protocols including SMBv1/v2/v3, AFP, NFSv3/v4, S3 API, and iSCSI. Integration via Active Directory, LDAP and Kerberos is included. It is also easy to sync and back up your files to popular cloud services including Amazon S3, Backblaze B2, and many more.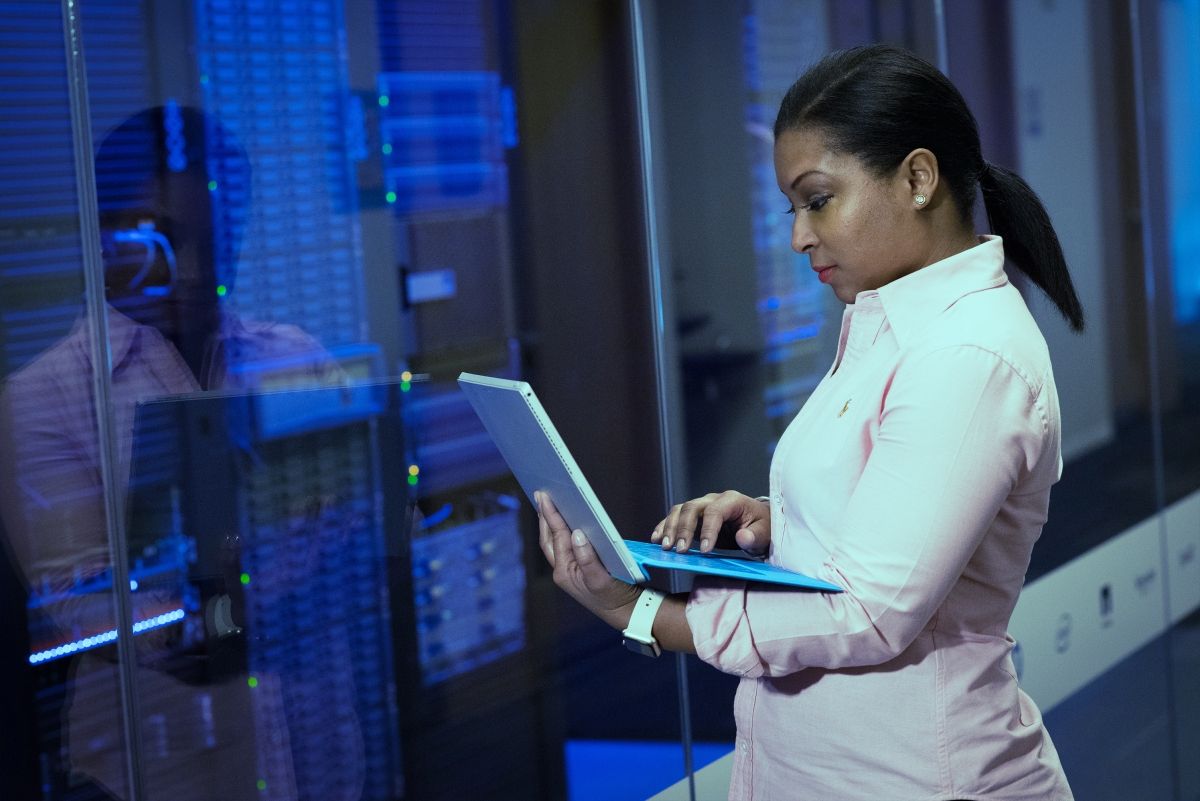 Steven M. Rothstein, JFK Library Executive Director
The Nevada Department of Corrections
US District Court
TrueNAS X-Series Datasheet
JFK Presidential Library and Museum
TrueNAS M-Series Datasheet
Asigra TrueNAS Scalable Storage
TrueNAS for VMware
Take Command with TrueCommand®
TrueCommand is a ZFS-aware platform designed to help teams manage one or more NAS systems while providing improved systems security and reliability.
NAS Fleet Dashboard
Single Sign-on with Role-Based Access Control (RBAC) to all NAS units
Customized Alerts and Reports
Rapid Fault Management and Diagnosis
Real-Time Data Collection and Analysis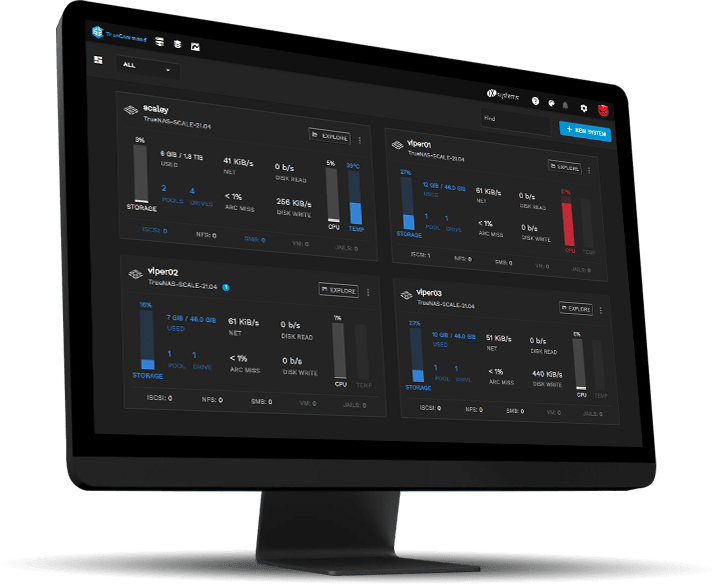 Speak with a Storage Expert