The next chapter of TrueNAS SCALE has begun. TrueNAS SCALE already has the ability to scale up(with HA) and scale out and provides the ability to run containerized Apps directly on the storage system. Apps have been steadily improving with each new release of SCALE. More improvements are scheduled for the next TrueNAS SCALE release — codenamed "Cobia" — in Q4 of this year. Today, we announce the availability of TrueNAS SCALE 23.10 BETA, aka Cobia BETA.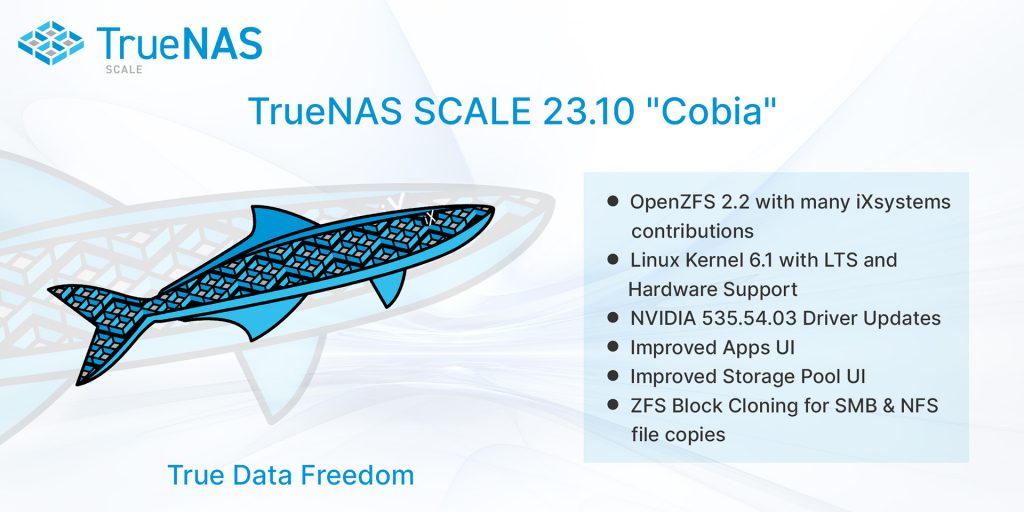 Bluefin (22.12) has been a very successful release and has grown the SCALE user base to about 70,000 systems in less than 18 months. The quality of Bluefin keeps increasing with community testing and has reached General Availability (GA) status, with iXsystems shipping nearly all platforms with Bluefin or TrueNAS 13.0. Our goal has been to give users the freedom to choose their path.
Cobia (23.10) is the alphabetic and chronological successor to Bluefin (22.12). It is also the first release designed to enable the sidegrade from TrueNAS 13.0 HA systems. Cobia has been through two Alpha stages with the development community and has reached the point where Community testers can begin to explore what is new. It will not be ready for production until Q4, as the 23.10 name (yy.mm of target release date) indicates.
TrueNAS Enterprise and associated appliances can be based on TrueNAS 13.0 or Bluefin (22.12). Cobia (23.10) will be added as an option after its formal release in Q4 this year.
What's New In TrueNAS SCALE Cobia?
A heck of a lot! Rather than go through every enhancement in detail, we'll provide a quick overview and share the specifics of key Cobia features in future blogs. Some of the highlights include:
OpenZFS 2.2 with many iXsystems contributions
Linux Kernel 6.1 and improved Hardware Support
NVIDIA 535.54.03 Driver Updates
Improved Apps UI
Improved Storage Pool UI
ZFS Block Cloning (Deduplication) for SMB & NFS file copies
ZFS dRAID Pool Layouts (Coming Soon!)
Netdata backend stats collection
Samba update and speed improvements
Simplified SMB cluster expansion via TrueCommand (Coming Soon!)
Importing of SMB shares from other systems (Coming Soon to Apps!)
Scale up to 1200 drives and 25PB+ on a single system
iSCSI improvements including ALUA support
Simplified feedback and bug reporting
Pause / Unpause ZFS Scrub Controls
In total, there are over 1,000 fixes and improvements from Bluefin to Cobia. That is a lot of change to manage, so we have had two ALPHA releases and have added more test cases to the automated QA process. For this initial BETA release, we recommend that only developers and testers use this version, until there has been more feedback from the Community. The TrueNAS Software Status Page will keep track of the quality and user-type recommendation of the release.
Cobia Uses Linux Kernel 6.1 with LTS
Each new version of TrueNAS uses the latest stable and well-supported version of the underlying OS. The decision on which version is finalized well before the 1st ALPHA software version. In this case, we chose Kernel 6.1 early this year. Linux Kernel 6.1 has its own set of improvements, plus support for new hardware.
In addition, we added the later NVIDIA 535.54.03 driver, which includes improved support for late and early GPUs.
The New and Improved Apps UI
With TrueNAS SCALE, each App is effectively a Kubernetes Helm Chart that points to container images and provides configuration information to integrate multiple containers into an application. This makes Apps simple to deploy and run on TrueNAS SCALE. In Cobia, the safety belt of host path validation has been reduced to a warning when App data is shared via SMB or NFS.
The Apps are collected together and then made available via Catalogs. The new App UI has been significantly improved with better-structured access to all Apps based on category.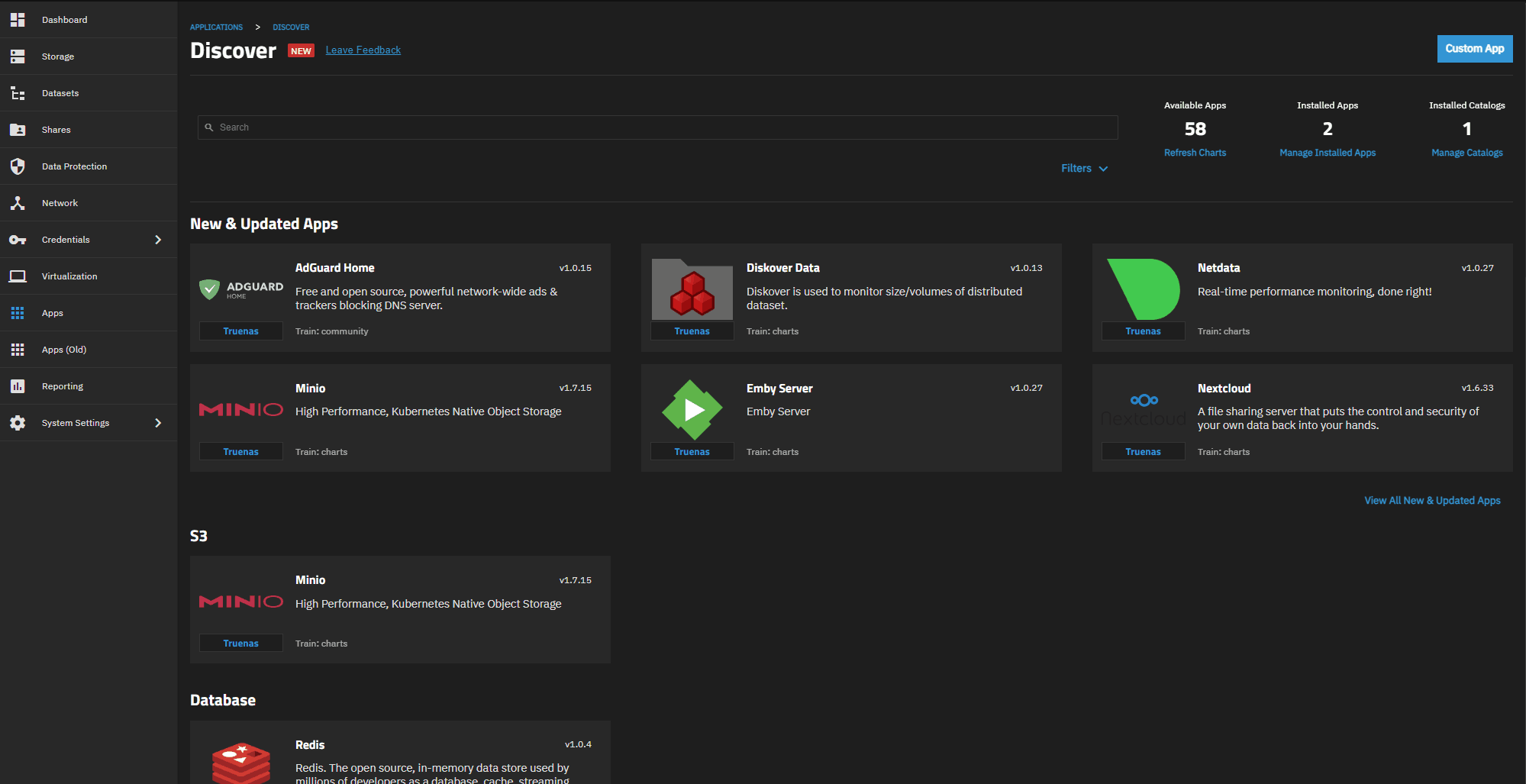 How Do TrueNAS 13.0 Users Benefit?
TrueNAS SCALE is the software edition where new features and updated components are developed and tested. Once those are tested and validated, many are eligible for backporting to TrueNAS CORE. The focus of TrueNAS CORE is maintaining storage reliability and security.
After TrueNAS SCALE Cobia is released, there will be an update to TrueNAS CORE 13.1. This will include many SMB and ZFS improvements that have been tested in Cobia. This TrueNAS 13.1 release should be expected in early 2024.
TrueNAS 13.1 includes additional features to simplify "sidegrading" from TrueNAS 13.1 to Cobia, especially for HA systems. The ZFS and SMB stack will be well aligned and the Cobia iSCSI stack will include ALUA. There will be additional information available on TrueNAS 13.1 when it reaches BETA status.
TrueNAS SCALE 22.12.3 is the Current Version
TrueNAS SCALE has inherited the storage functionality and automated testing from CORE. SCALE is maturing rapidly and also offers a more robust Apps environment based on Linux, KVM, and Kubernetes. SCALE is generally recommended for new users that need embedded Applications . The latest, TrueNAS SCALE 22.12.3.3, has significantly improved quality and reliability. It should be used for any use cases where reliability and primary data retention are required. More than 70,000 users are currently using TrueNAS SCALE and it is available for download here.
There will be a TrueNAS SCALE 22.12.4 version released in September. After that TrueNAS SCALE Cobia will gradually become the recommended version.
TrueNAS provides these choices and the ability to automatically migrate storage services and VMs from CORE to SCALE. Plugins and jails can be manually replaced with Apps. We encourage anyone looking for further advice or answers to questions to visit our Community Forums or Discord Channel.
This is the first instance of "Applications" rather than "Apps". Suggest either 'applications' in running text or 'Apps' as the UI equivalent