TrueNAS SCALE is an Open Source storage platform that enables Open Hyperconvergence and Scale-out storage. Supporting file, block, objects, and applications, TrueNAS SCALE Bluefin (22.12.0) is now available as a RELEASE. Bluefin has had 4 months of testing with two BETA versions and a Release Candidate. We'd like to thank the 3,000+ testers that have provided their time, systems, and feedback.
TrueNAS SCALE Angelfish (22.02.4) successfully introduced a Linux base, Containers, and Clustering to TrueNAS, enabling over 40,000 systems in less than 1 year. Bluefin will build on this solid foundation and expand to many more use cases and deployments. We expect Bluefin will pass 100,000 deployments and 2 Exabytes of data in 2023.
Bluefin is a simple update to Angelfish, with more polish and numerous bug fixes. Angelfish users will have a simple update when using the same features. Bluefin will then also provide a wide range of new capabilities that will go through the normal software lifecycle to maturity.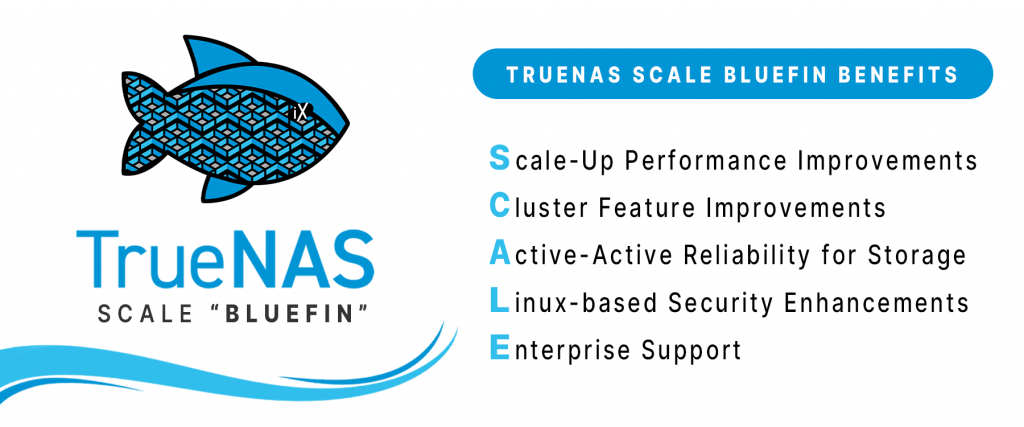 Bluefin Features Expand the Opportunities
Bluefin inherits all the functional capabilities of Angelfish and also includes many new features, including the top four that were not in the RC1 version:
All-NVME Platform support includes enhanced manageability and performance. This improves the TrueNAS R30, a new 1U all-NVMe platform with 30GB/s bandwidth and 240TB. Bluefin
Gluster Node replacement is enabled via APIs which reduce downtime and risk when replacing a node in a cluster.
HA system acceleration is provided via improved NVDIMM (SLOG) handling on the TrueNAS M-Series.
Root-less Security provides restricted administration privileges to non-root users. This is important to FIPS-140 security and adds to the array of ransomware prevention techniques.
SMB Share Proxy provides a redirect mechanism for making many TrueNAS SMB Shares available in a common namespace presented by one TrueNAS system. (Available in 22.12.1)
Storage WebUI delivers some massive improvements in pool, device, and dataset management, and provides more comprehensive information on single web pages.
Kubernetes CSI Driver for Clusters – External Kubernetes clusters can use TrueNAS SCALE as the storage cluster. TrueNAS SCALE can support Kubernetes CSI, VMware ESXi, and OpenStack Cinder, as well as provide file and object storage services.
Docker OverlayFS – OverlayFS support within OpenZFS enables greatly reduced overhead when running Container workloads.
Virtualization Improvements – USB device pass-through and CPU pinning are enabled, in addition to the existing pass-through of any PCIe devices, including GPUs.
Apps GPU Acceleration – A newer generation of GPUs are now supported for sharing with Application workloads. This includes Alderlake integrated GPUs and up through GeForce-30XX Nvidia GPUs.
Wireguard VPN Access – Wireguard App will enable straightforward remote access to a system and its Apps. Play or work from home or office.
iX-Storj service – Globally Distributed Storage with Web3.0 technology is a game-changer for cloud storage reliability, costs, and performance.
Storage performance improvements – TrueNAS SCALE has now had 6 months of performance testing and bug fixes. Improvements in encryption, NFS, and iSCSI performance are most notable.
Enterprise Support – Maturing of HA support will enable Enterprise deployments of SCALE. In particular, Bluefin will also allow IPv6-only deployments. Additionally, major work has been included which allows a TrueNAS SCALE system to support more than several hundred physical disks connected to a single system.
Security Enhancements – API keys can enable fine-grained, Role-Based Access Control (RBAC), and restrict root privileges. CLI-Driven "Root-less" restricted administration accounts can be enabled and used to further improve Ransomware protection. FIPS 140-3 compliant crypto modules (Enterprise Only) will allow use in high-security use cases.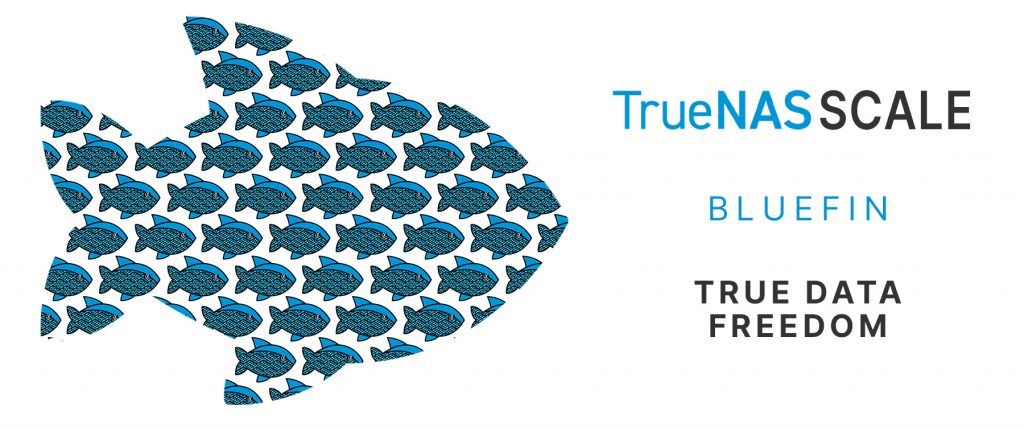 Joining the School of Bluefin
Bluefin is an easy upgrade from SCALE Angelfish and is recommended for testers and early adopters. For more conservative users, the software status of TrueNAS editions is tracked here. There is an enormous list of Bluefin changes available in the release notes, which includes over 1,000 improvements and fixes.
We want to thank the community for the tremendous support in improving TrueNAS SCALE quality. It's been an exciting ride and there's much more to come, so please keep making suggestions and reporting bugs as we continue to improve the quality of TrueNAS SCALE together. Want to learn more about TrueNAS SCALE business solutions? Contact us to speak to a product specialist.