Enterprise Features for Businesses of All Sizes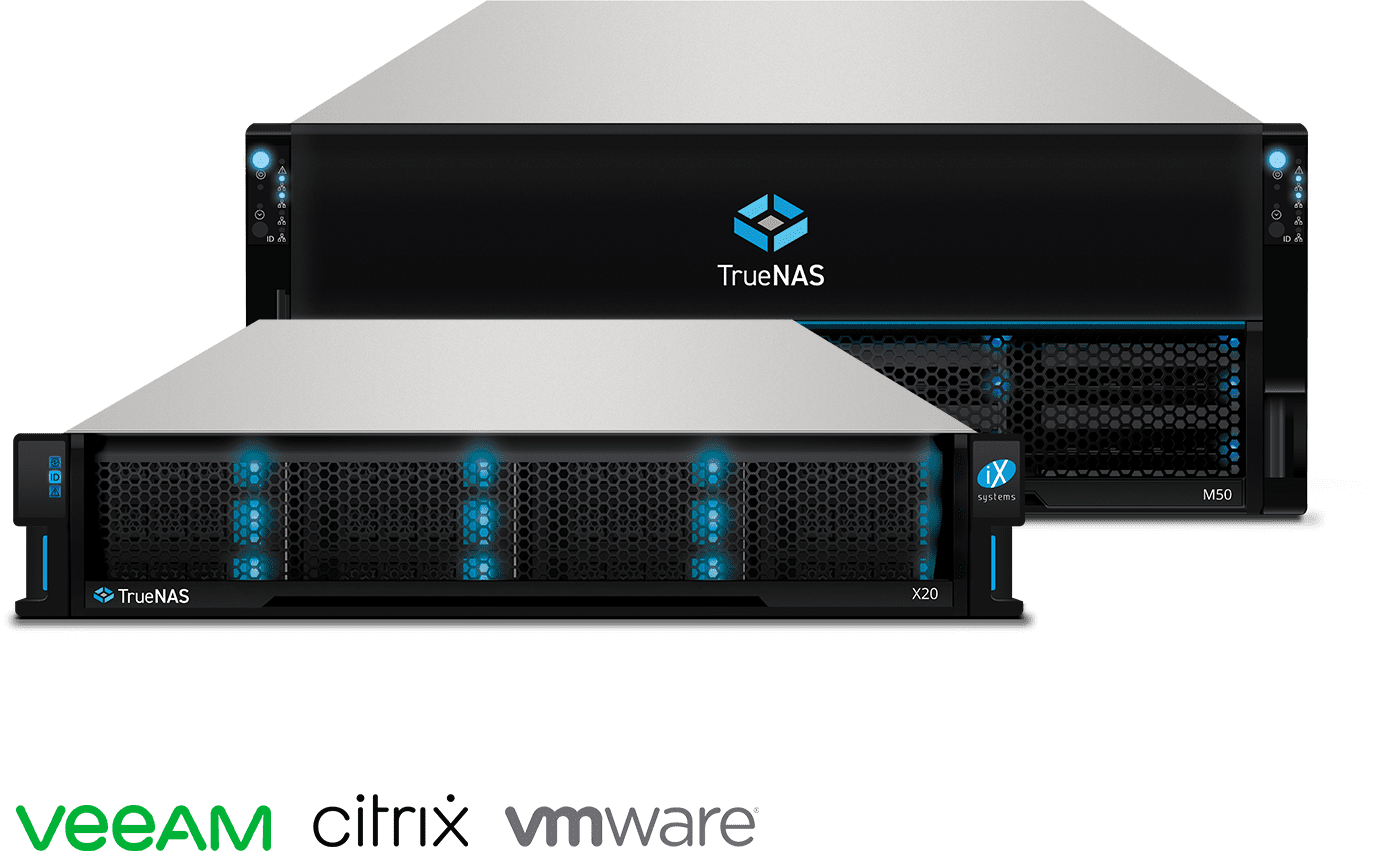 Affordable High-Tech Storage
High-Tech companies are looking to lower expenses of storage, management, protection, and support in order to increase their revenue. TrueNAS® delivers enterprise capabilities to companies of all sizes through the flexibility and economics of open source. TrueNAS is cost-effective, scalable, and has transparent pricing and flexible support.

EASY DEPLOYMENT
TrueNAS High-Availability (HA) systems attach to networks at up to 100 gigabit speeds and integrate with virtualization clusters to provide datastore and file-sharing capabilities over block (iSCSI or FC) or file (SMB, NFS or S3-API) interfaces. This gives you flexibility in your choice of applications while reducing the number of storage arrays needed.
ULTRA-SCALABLE
OpenZFS is a future-proof 128-bit "scale up" file system that is designed for decades of continuous use. TrueNAS grows from 10 TB to 10 PB per system and can be upgraded to a highly available configuration. With TrueNAS you don't have to worry about data or its availability.
VIRTUALIZATION FREEDOM
TrueNAS integrates with all major virtual machine environments, enabling you to deploy hundreds or thousands of VMs and virtual desktops (VDI) in minutes and run more operating environments on a single host from a single, hassle-free array.
Virtualization Solutions
With support for several Open Source hypervisors and virtual environments including OpenStack, Cloudstack, and Citrix, TrueNAS is the ideal platform for open virtualization. A plugin can be installed in vCenter to automate the management of TrueNAS systems. Deploy virtual environments quickly and manage them via vCenter and TrueCommand.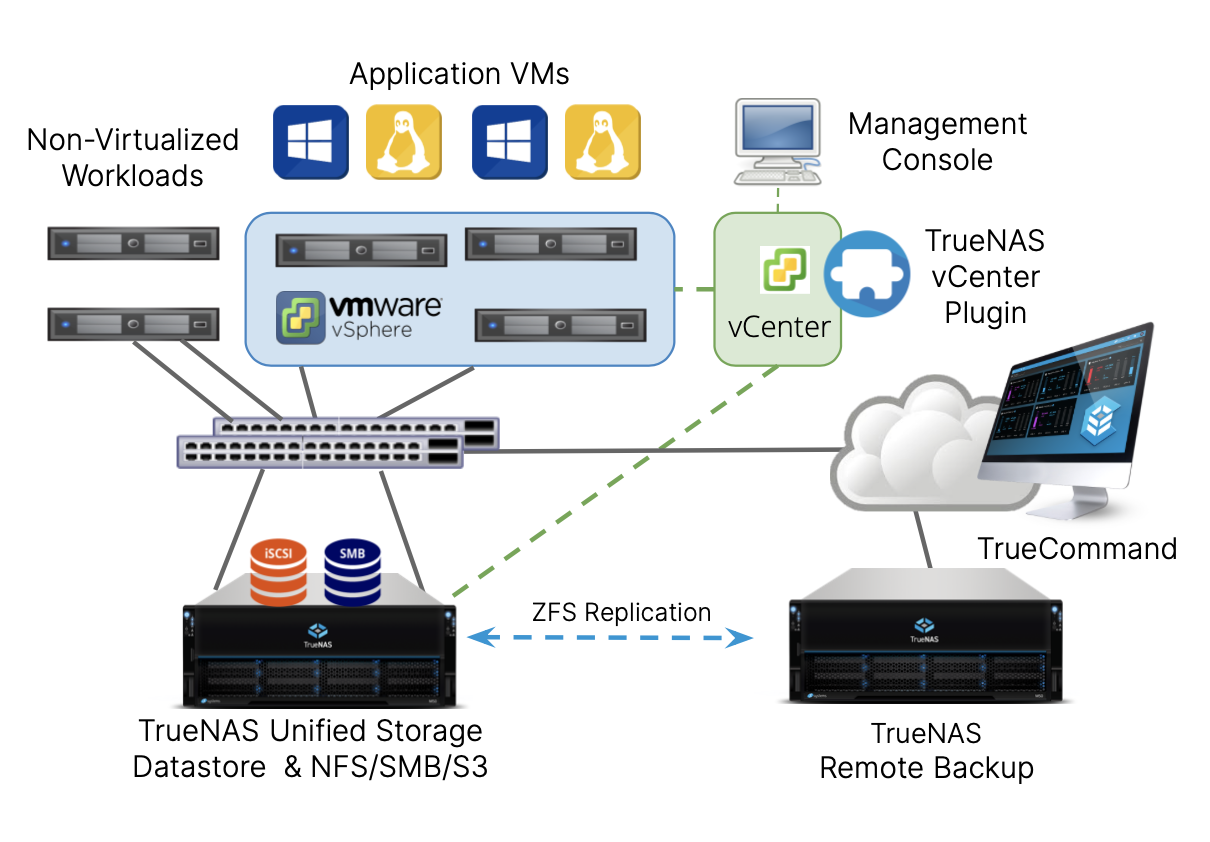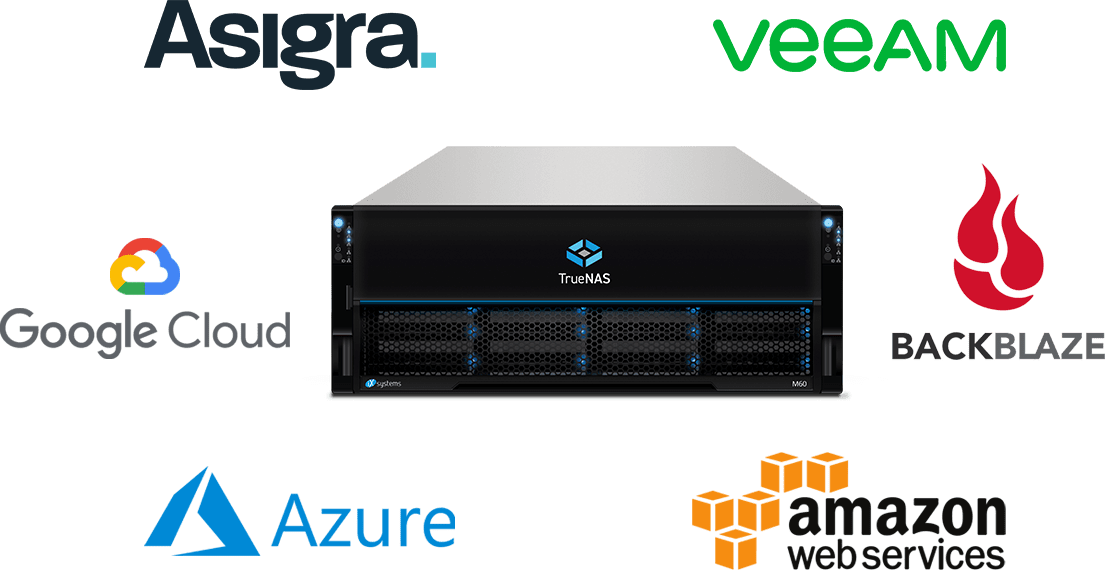 Unified Storage for Any Environment
Consolidate all of your data onto a single, powerful platform. TrueNAS supports block, file, and object storage across all standard file protocols including SMBv1/v2/v3, AFP, NFSv3/v4, S3 API, and iSCSI. Integration via Active Directory, LDAP and Kerberos is included. It is also easy to sync and back up your files to popular enterprise services including Asigra, Veeam, CommVault, Nakivo, and many others.
Integrated Privacy and Security
TrueNAS's built-in ZFS snapshot and replication feature makes it easy to restore your data by rolling back to before the data was compromised. Data restoration is critical after Ransomware attacks, accidental data deletion, foreign intrusion, or natural disasters.TrueNAS supports disk-level encryption using a variety of methods and offers various modes of encryption on data sent over the wire.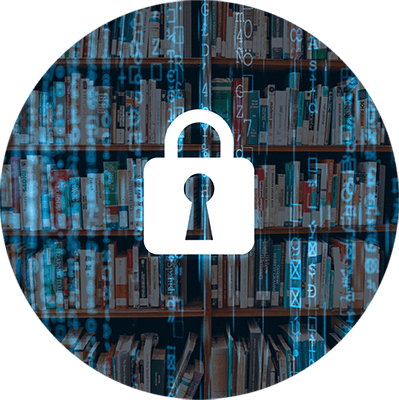 TrueNAS Overview
DCIG TrueCommand White Paper
How TrueNAS Leverages OpenZFS
Take Command with TrueCommand
®
TrueCommand is a ZFS-aware platform designed to help teams manage one or more NAS systems while providing improved systems security and reliability.
NAS Fleet Dashboard
Single Sign-on with Role-Based Access Control (RBAC) to all NAS units
Customized Alerts and Reports
Rapid Fault Management and Diagnosis
Real-Time Data Collection and Analysis