Asigra Backup
The Asigra Backup software suite is a highly-regarded solution for Enterprise and Managed Service Provider data backup.  Named as the #1 cloud backup enabler by backupreview.info, the Asigra Backup solution automatically gathers data from desktops, laptops, servers, SaaS, and Virtual Machines. The data is compressed, encrypted, deduplicated, and sent to your backup repository for safekeeping. Asigra keeps multiple versions of the most important files, making point-in-time recovery simple. Best of all, there's no need to install any agents on your endpoints! Asigra Backup uses standard APIs to reach directly into the devices and fetch the data automatically.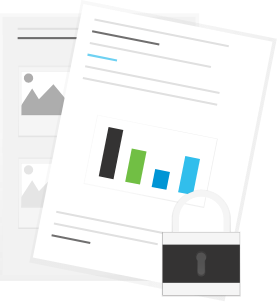 Asigra Backup Features
Full range of sources
Fully agentless
Global data deduplication
Multi-tenancy support
Full encryption with FIPS support
Ransomware-defeating capabilities
Rapid restoration
Asigra TrueNAS®
TrueNAS Asigra was the 2018 winner of Storage Magazine's Backup Product of the Year. The judges were impressed with the power and simplicity of the integration of Asigra with TrueNAS.In the past, backup software typically ran on a separate server from the storage solution. With the new Asigra TrueNAS solution, your backup system can be deployed as a simple, integrated service on TrueNAS! Now you can host enterprise data backup, serve SMB shares, NFS exports, iSCSI mounts, S3 shares, and much more, all from the same TrueNAS system! An Asigra TrueNAS system provides simple-to-deploy and easy-to-manage backup services for Managed Service Providers and enterprises. TrueNAS also supports easy high-availability configurations through a single management platform.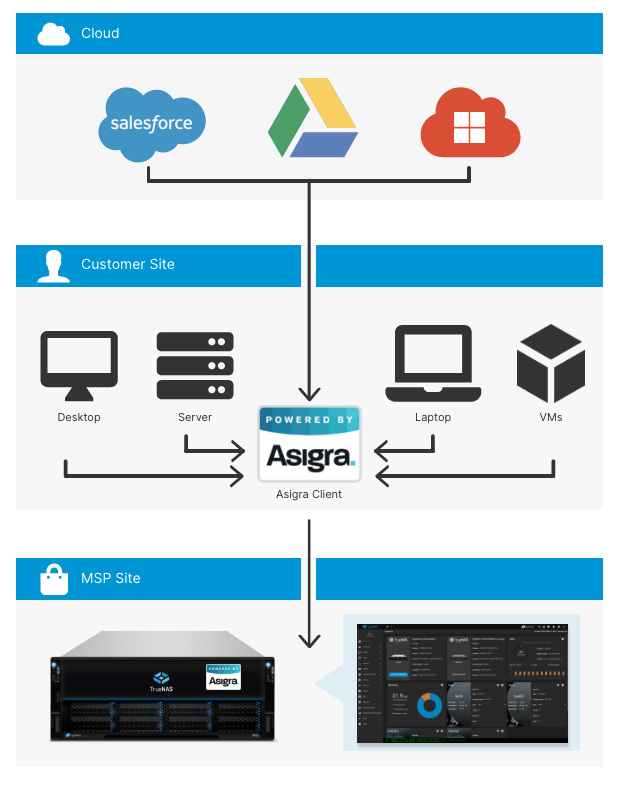 The Asigra TrueNAS MSP Solution
Managed Service Providers (MSPs) deliver service to many businesses and departments of larger enterprises. With the new Asigra TrueNAS Backup solution, a single system can be used as the backup target for many organizations served by an MSP. Each MSP customer runs an Asigra Backup client that aggregates and processes data from customer's desktops, laptops, servers, SaaS, and Virtual Machines. The Asigra client then securely transmits that data to the MSP datacenter for long-term storage. The Asigra on-site client can run on a dedicated server, a VM, or even on a TrueNAS machine.
MSP Solution Features
Unified storage simultaneously supports Asigra Backup service, file (NFS, SMB), block (iSCSI, FC) and object (S3) services
High Availability configurations with 99.999% uptime ensures data is always available
Full suite of ZFS data protection features including RAID-Z, data scrubbing, and full-tree checksumming
High performance Hybrid (HDD/SSD) architecture
Includes thin provisioning, snapshots, storage optimization, replication, and encryption
Ready to learn more about how Asigra TrueNAS can go to work for your organization? Click "Talk to an Expert" and let the iXsystems® team help you get the most out of your storage budget!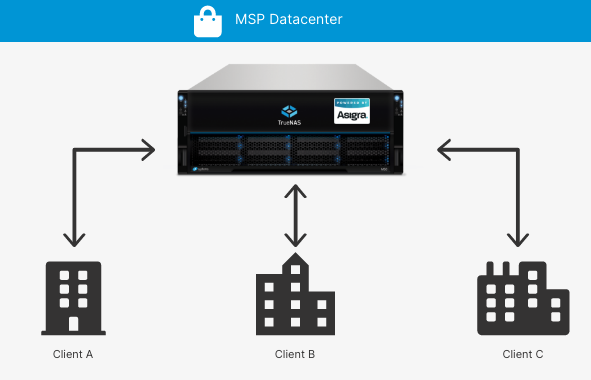 Asigra TrueNAS Datasheet
Asigra TrueNAS Scalable Storage
Asigra Backup Datasheet