Compact Unified Enterprise Storage
The TrueNAS X-Series is our compact 2U enterprise storage system built on the powerful OpenZFS file system for unbeatable value and performance. Available in hybrid or all-flash configurations, the X-Series easily integrates into any environment with support for all major block, file, and object protocols.
A single X-Series system can support up to 1 petabyte of raw capacity and is over 70% more cost-effective over five years compared to AWS and other cloud-based solutions. Powerful enterprise features, like ZFS data protection and high-availability, ensure up to 99.999% uptime to keep your business running even when components fail. Choose from gold, silver, or bronze Enterprise support packages with flexible options from 24×365 support to on-site repair from our US-based team.
IDEAL FOR MANY APPLICATIONS

Virtualization
TrueNAS supports all major hypervisors and private cloud environments including Citrix, VMware, and OpenStack.

File Sharing
Consolidate and share your data from a single platform that supports all standard file protocols.

Multimedia
Scalable up to 1 PB, the X-series simplifies backups with powerful tools to protect data and combat ransomware.

Backup
TrueNAS easily integrates with Windows, macOS, clusters, and rendering farms for reliable storage and editing of multimedia files.
The TrueNAS X-Series is a compact 2U system with 12 drives and expansion to 72 drives and over 1PB of capacity. Each system can be configured for scalable Hybrid capacity or affordable All-Flash performance. The X-Series is designed for industry-leading Total Cost of Ownership (TCO) with <300W power. Pricing is all-inclusive of TrueNAS Enterprise software and TrueCommand can be used to manage the entire fleet.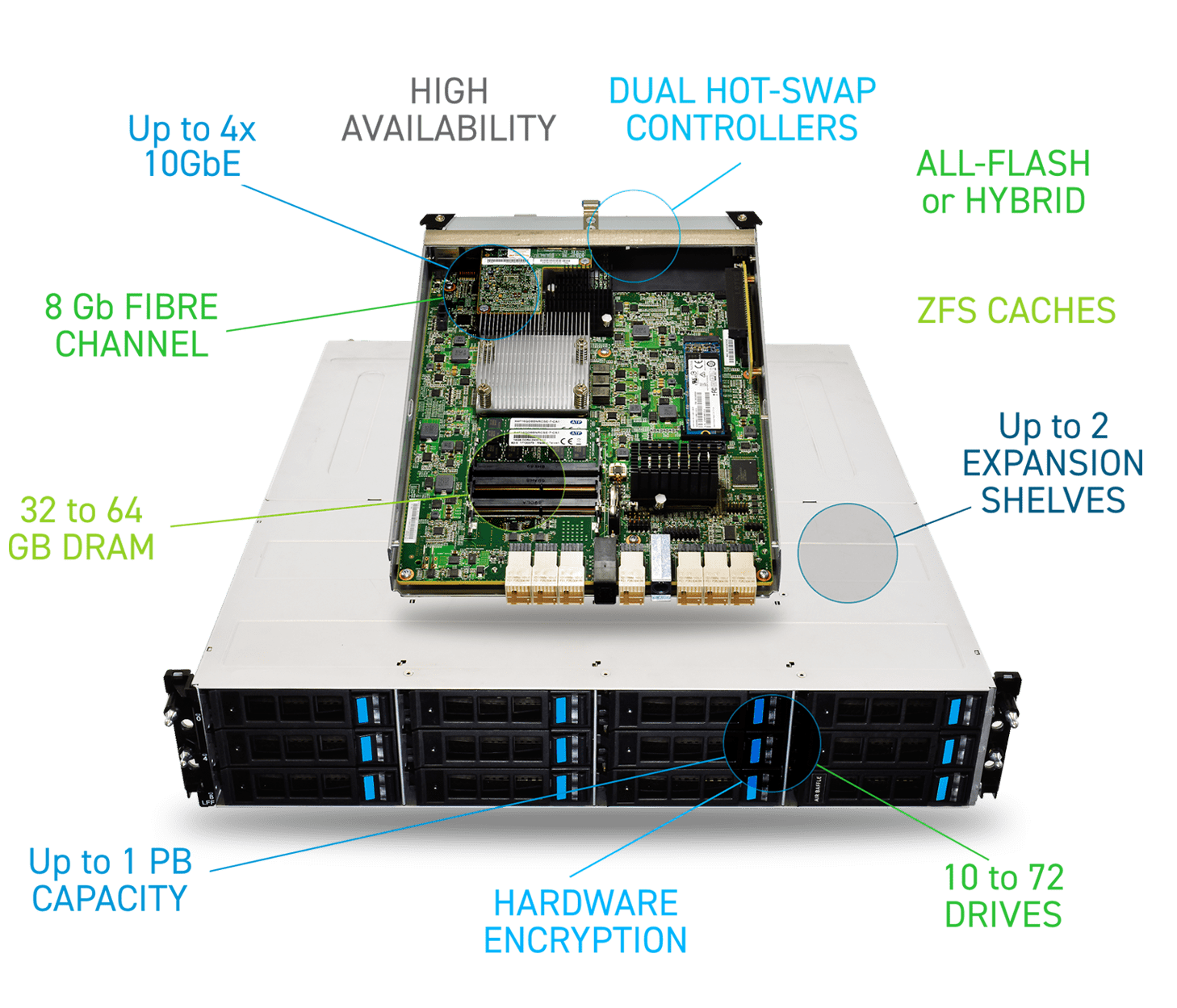 TrueNAS X10
TrueNAS X20
Dual Controllers (HA)
Optional
Optional
DRAM Per Controller
32 GB
64 GB
Max Ethernet Speed
2x 10GbE
4x 10GbE
Fibre Channel (option)
N/A
2x 8 Gb
Expansion Shelves
1
2
Max Drives Supported
36
72
Hybrid Storage (HDD + Flash)
Max Capacity
504 TB
1 PB
Max Effective Capacity*
1.26 PB
2.5 PB
Write Cache
SAS SSD
SAS SSD
Max Read Cache
800 GB SAS SSD
1.6 TB SAS SSD
All-Flash Storage
Max Capacity
180
270 TB
Max Effective Capacity*
600 TB
1 PB
     
Certifications
Citrix Ready, VMware Ready, Veeam Ready, Asigra Integrated
Performance
Varies based on configuration. Contact us.
Pricing
Starting at $4000. Grow HDD capacity at less than $75/TB, All-Flash at less than $395/TB
Datasheets
TrueNAS X-Series Datasheet, TrueNAS Expansion Shelf Datasheet
  * Maximum effective capacity assumes typical data reduction through compression and deduplication.
TrueNAS X-Series Datasheet
TrueNAS Open Storage Product Line
JFK Presidential Library and Museum Case Study
University College of London Case Study