TrueNAS 12.0 was the official merger of FreeNAS and TrueNAS into a unified software image accompanied by a long list of features and performance improvements. In the last three months, about 50,000 systems have upgraded to TrueNAS 12.0. The level of field testing is higher than TrueNAS has ever seen and is comparable to FreeNAS 11.3-U5. TrueNAS 12.0-U2 provides a common OpenZFS base with TrueNAS SCALE, providing the "storage freedom" to migrate between all TrueNAS editions.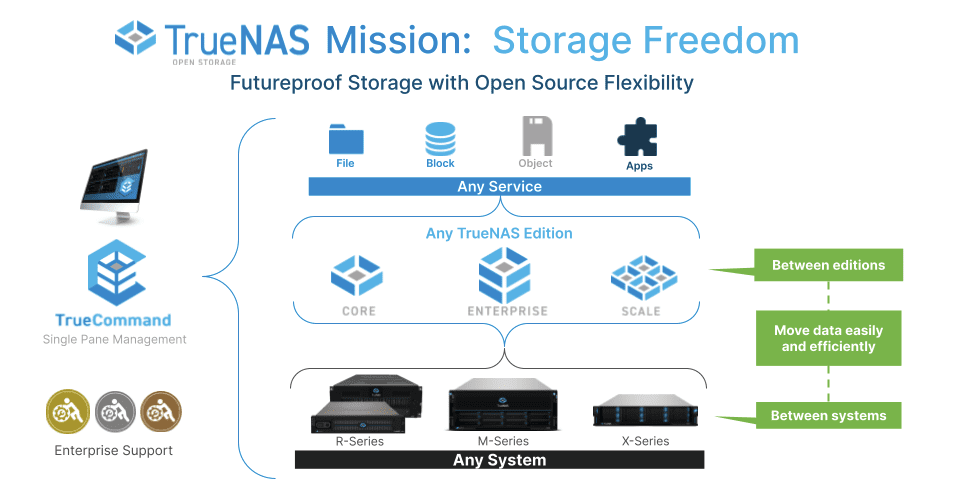 TrueNAS 12.0-U2 resolves some bugs and is an easy web update for CORE users. Enterprise users can automatically update via the web UI on February 23rd. In the meantime, manual updates via a file download are available from iXsystems Support. In all cases, we recommend upgrading to FreeNAS or TrueNAS 11.3-U5 before moving to 12.0. Avoid updating the zpool feature flags so that a roll-back is possible after testing. Once the zpool feature flags are updated, a roll-back to a previous TrueNAS version will no longer be an option.
The history of TrueNAS 12.0 releases has been:
Major Bugs resolved in 12.0-U2 include:
Networking Performance: A performance bug has been found in Chelsio and Intel drivers for FreeBSD 12.2.
OpenZFS ACoW Corruption: While fixed in Hot-Patch U1.1, users still running 12.0 or 12.0-U1 are encouraged to update right away to avoid any potential issues on workloads using another filesystem on top of ZFS (Typically Virtualization Specific).
SMTP Oauth: Resolves an issue with setting up email alerts while using Gmail's Oauth functionality.
Coming Soon!
SCALE Migration: A path to migrate from TrueNAS CORE to TrueNAS SCALE will be documented and made available for testing in the near future. This migration path is for convenience for SCALE enthusiasts who want to experiment with Linux containers and is not recommended for TrueNAS CORE users happy with their deployments.
TrueNAS Quality Lifecycle
While releasing TrueNAS 12.0, we created a new lifecycle model for TrueNAS CORE and Enterprise releases. The table below summarizes our current processes and the dates for TrueNAS 12.0. We always recommend that mission critical use cases should also wait for a version to be widely deployed before deploying it themselves.



TrueNAS 12.0 Documentation has reached content parity with 11.3
TrueNAS 12.0 has moved to a more modern documentation style that encourages contribution. The new and modular documentation is now as comprehensive as that of FreeNAS 11.3. We've now started an initiative to simplify navigation and improve usability. Please check out the 12.0 documentation even if you don't upgrade today. We're grateful for all the contributions received thus far!
Migrating to TrueNAS SCALE
One of the side benefits of the massive TrueNAS 12.0 and OpenZFS 2.0 work is that it paved the way for TrueNAS SCALE. While TrueNAS SCALE 20.12 "Angelfish" is based on 90% of the same software, SCALE is still in ALPHA state. For most users, we recommend moving to TrueNAS 12.0 and OpenZFS 2.0. From there, users can either stay with the CORE edition or migrate to SCALE for Linux services and scale-out functionality. We call this flexibility "Storage Freedom". Post TrueNAS 12.0-U2, we will enable a migration path to TrueNAS SCALE for those that want to test Kubernetes or scale-out before it is fully GA. Like TrueNAS CORE, TrueNAS SCALE is free and Open Source.
FreeNAS to TrueNAS 12.0 Upgrades are Easy
For those with FreeNAS installed on your system, we recommend upgrading to FreeNAS 11.3-U5 first and then upgrading to TrueNAS 12.0-U2 with a single click to retain roll-back options. Otherwise, download TrueNAS 12.0-U2 to get started.
TrueNAS 12.0-U2 can operate on all of the iXsystems platforms from the FreeNAS and TrueNAS Minis, to the power-efficient X-Series, all the way up to the flagship High availability (HA) M-Series. There is also a new R-Series product line that can run CORE, Enterprise, and SCALE editions of TrueNAS.
For those with TrueNAS HA systems and support contracts, we recommended contacting iXsystems support to schedule an upgrade. We will verify your systems' health, configuration, and support the upgrade process to minimize issues.
TrueCommand Cloud
TrueNAS 12.0 also includes support for TrueCommand and TrueCommand Cloud, a SaaS version that includes a VPN capability for managing across private networks. TrueCommand Cloud is generally available and based on TrueCommand 1.3.2. TrueCommand 2.0 will begin to trial this month and includes a storage navigator for browsing files, directories, and datasets.
TrueNAS CORE: Still the best Free NAS
TrueNAS 12.0-U2 improvements continue to make it the best Free NAS system available. If you have any questions or comments, we'd love to hear them on the community forums, on the TrueNAS subreddit, or in response to this blog. If you need additional information on how TrueNAS can streamline, accelerate, and unify data management for your business, please contact us.