Researching and choosing the right storage hardware is an intricate task. With so many choices to optimize for performance, density, and capacity, it's not always easy to determine which one is best suited for your planned workflow on your own. At iX, we have skilled product specialists ready to help you select the best hardware for your project on an individual level. However, you might not be ready to talk to someone just yet, that's why we're excited to introduce our new TrueNAS Recommendation Tool, designed first to guide users to the series of appliances that best match the requirements users enter into the tool.
Let's take a closer look at how the new Recommendation Tool works, its benefits, and how it can help you find the ideal TrueNAS System for your project.
How Does The Recommendation Tool Work?
TrueNAS Enterprise has four series of systems, each with multiple models designed for different types of workflows. Our Recommendation Tool is designed to suggest a TrueNAS Enterprise series based on your specific requirements. To get started, all you have to do is enter some basic information:
The expected capacity needed for the next 3 years
The storage use case (Backup, File Storage, Virtualization, Video Editing, etc)
Sizing details for the use case (How many VMs, Editors, etc)
High Availability requirements including hardware redundancy
Network connection type and speed
Sub-millisecond latency requirements
Price / Performance goals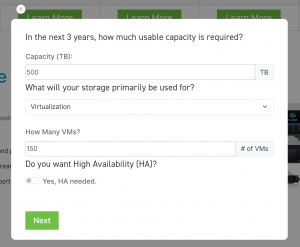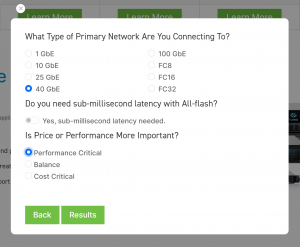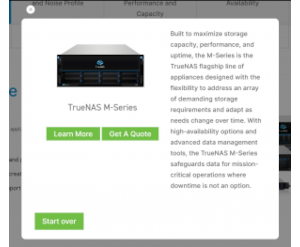 Once you've entered this information, the TrueNAS Recommendation Tool will analyze your requirements and suggest the series of TrueNAS Appliances that are best suited to meet your specific needs. This makes it easier than ever to research and compare different options—our tool does the hard work for you.
So why not give our Recommendation Tool a try today and discover the ideal TrueNAS System to support your operations?
Ready for a system price to consider for a project? Our team of experts is always available to provide guidance and support. You can request a quote for a product online, and can also book a meeting with a product specialist.