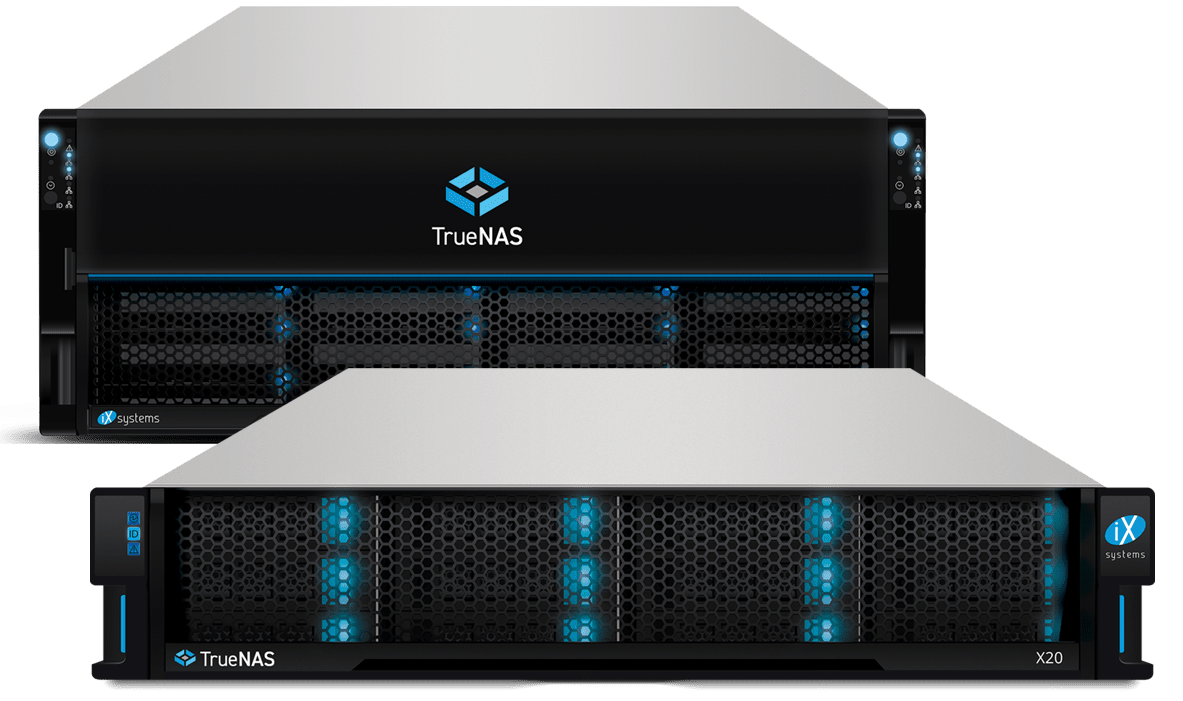 Enterprise-Grade Storage Appliances
Business and Mission-Critical Use
Reliability, Data Protection, Performance
Enclosure Management
Professional Enterprise Support
TrueNAS Enterprise Overview
TrueNAS Enterprise Quick Overview
Enterprise Appliances and Support
TrueNAS® Enterprise systems pair the ultimate data protection and efficiency of OpenZFS with enterprise-grade hardware to take the guesswork and worry out of storage and data management. Flexible configuration options, including high-availability and all-flash configurations, make it easy to integrate TrueNAS Enterprise appliances into any environment.
The Ultimate Data Protection & Storage Optimization
Built on the powerful OpenZFS file system, TrueNAS Enterprise comes with integrated data protection features including copy-on-write and data integrity checks to prevent corruption. Built-in RAID protection, unlimited snapshots, and resilient replication protect your data and facilitate recovery even in the face of hardware failure or malware. Storage optimization features like advanced compression, caching, and thin/thick provisioning maximize storage efficiency.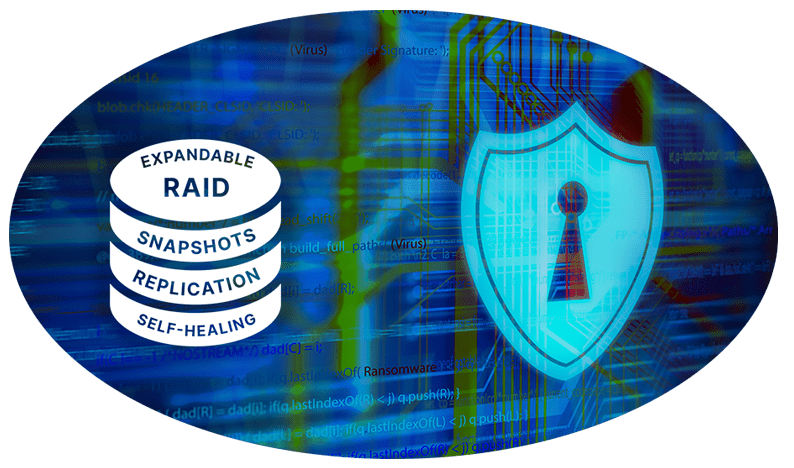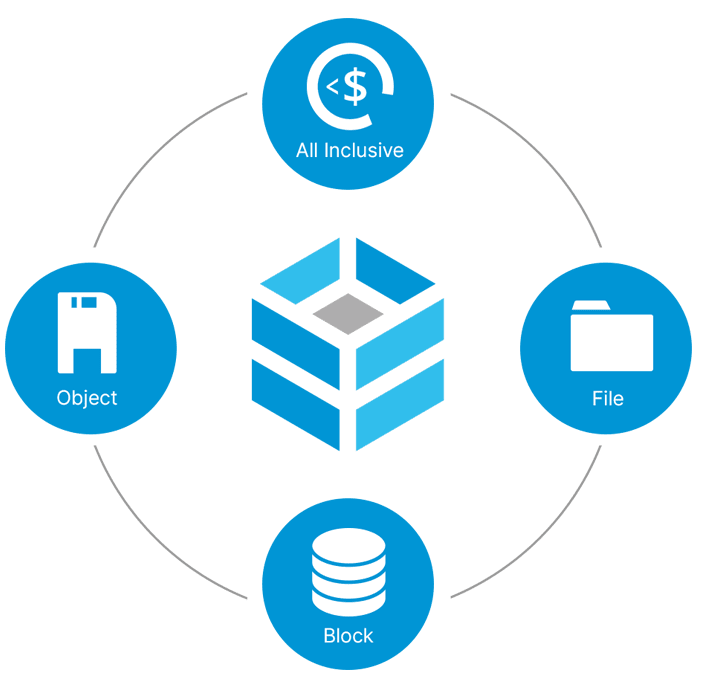 True Data Freedom
Free your data and your budget from proprietary systems and costly vendor lock-in. With our all-inclusive licensing model, you pay one price for all the features with no hidden fees to drive up costs. Available in all-flash or hybrid disk/flash configurations, TrueNAS can be deployed as both a NAS and a SAN and supports block, file, and object protocols.
Flexible & Future-Proof
Whether you need a compact system for a remote office or a high-performance, rack-scale solution, there is a TrueNAS Enterprise system to fit your needs. Grow a system from a few terabytes to over twenty five petabytes on a single head unit. Scalable performance can be tuned to fit the specific needs of your workload or application. Easily integrate TrueNAS into any environment with built-in support for all major hypervisors and cloud backup services. TrueNAS Enterprise is flexible storage that adapts to your ever-changing infrastructure requirements.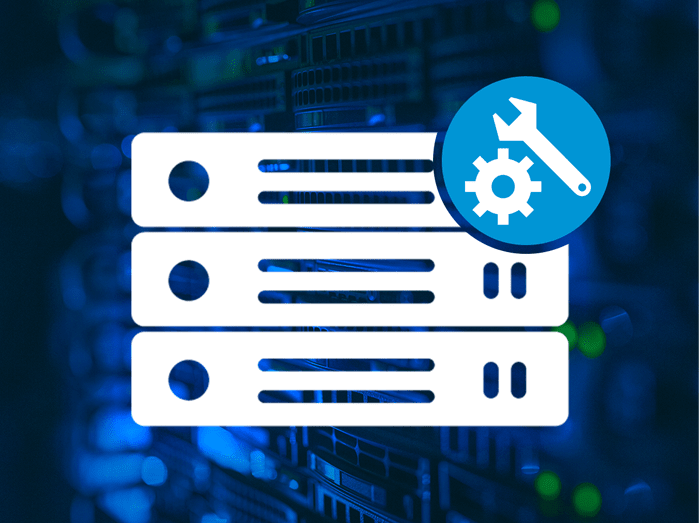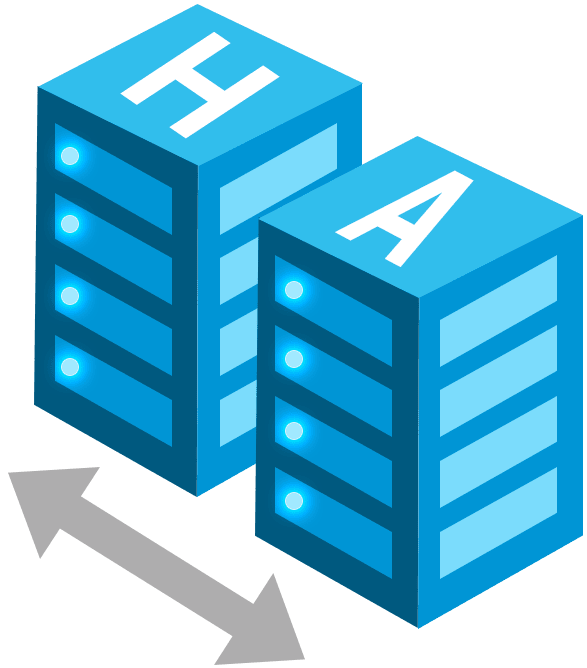 When Downtime is Not an Option
When your business can't afford to go offline, a TrueNAS system with high availability is an ideal choice. Full redundancy of all active components and simple serviceability minimizes failover time and maximizes uptime for mission-critical environments. In the unlikely event that a failover occurs, all services automatically start on the second controller for uninterrupted access.
US-Based Support
Every TrueNAS Enterprise system is fully backed by our dedicated and top-rated professional support team. Enterprise support services with 24×365 coverage and onsite support options are backed by a global spares network to ensure international users receive the same great service.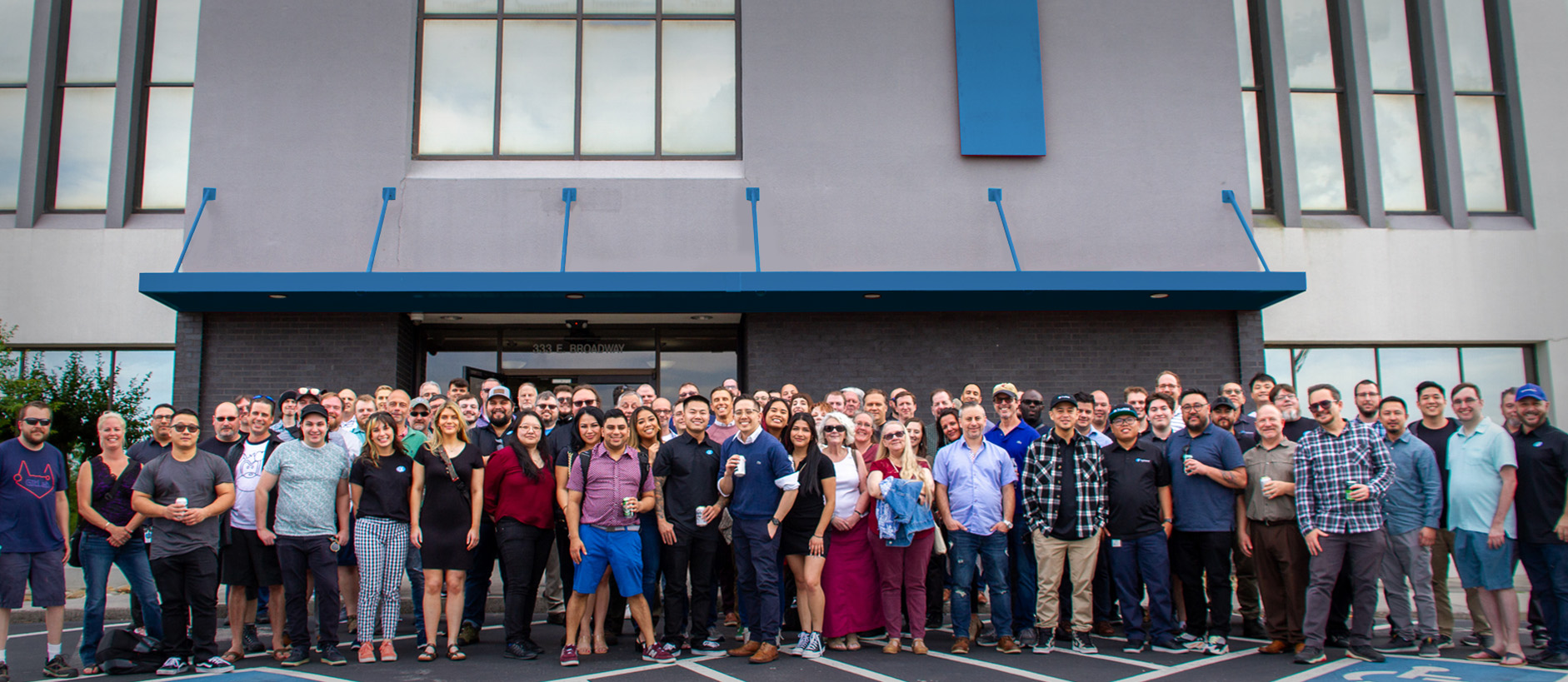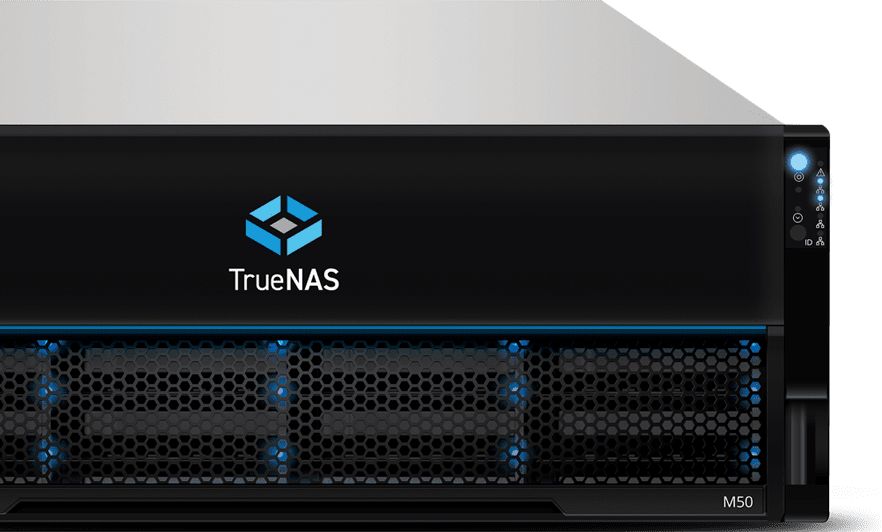 High-Performance Storage Powered by the Latest Technology
For the last word in performance and reliability, look no further than the TrueNAS M-Series.Backed by NVDIMM and NVMe technology, the M-Series is capable of bandwidth up to 10 GB/s and can grow to almost 20 PB in a single rack, enough to support over 10,000 VMs.
Compact Storage with Unbeatable Value
Designed for small/medium businesses, the TrueNAS X-Series is a compact storage appliance that can deliver speeds over 2 GB/s and scale up to 1 PB of raw capacity in 6RU. With high-availability options and top to bottom data protection, the entry-level X-Series ensures maximum uptime while providing the lowest Total Cost of Ownership (TCO).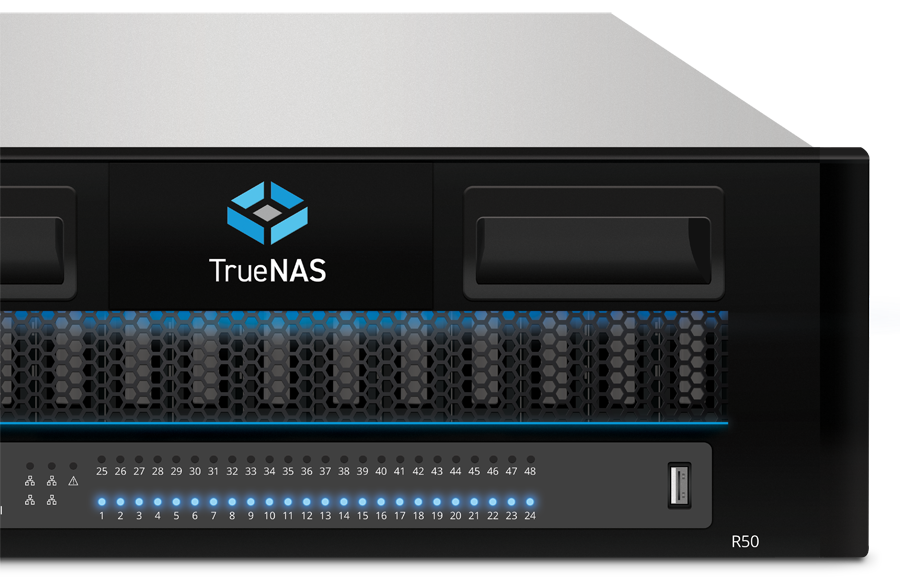 High-Density, Configurable Storage
The TrueNAS R-Series is packed with value and can scale up to 5 PB of raw capacity. Available in both all-flash and hybrid models, these single controller appliances provide excellent storage density and performance. The TrueNAS R-Series can be installed with TrueNAS CORE, Enterprise, or SCALE.
TrueNAS Enterprise: Features
Multi-Systems
TrueCommand, RBAC, Auditing
Single Sign-on, Dataset Management
Alerting, Reporting, Analytics
TrueCommand Enclosure Views, TrueCommand 2.3 SCALE UI (22.12)
Administration
Web UI, SNMP, Syslog
REST API, WebSockets API
NetData (Plugin), Reports
vCenter Plugin, API ACLs and Rootless Admin (22.12)
Systems Utilities
Tasks, Cron Jobs, Scrips
In-Service Updates
Alerting, Email, Support
Proactive Support Monitoring
Clients and Applications
Windows, MacOS, Linux, UNIX, iOS, Android Clients
Many applications via SMB, NFS, or iSCSI
Integrated applications via ZFS and Containers / VMs
GlusterFS client (22.12)
Application Services
FreeBSD Jails or VMs (13.0), Windows, Linux, or FreeBSD, and PCie pass-through (22.12)
Plex, Asigra, Iconik, NextCloud, other Plugins (13.0)
Kubernetes, Docker Containers - App Catalogs (Helm charts), GPU sharing (22.12)
OverlayFS, AlderLake GPU, GeForce 30xx GPUs, Bulk App Updates VMs: USB pass-through, CPU Pinning (22.12)
Directory Services
Active Directory, 2-Factor
Local Users and Groups
NIS, LDAP, Kerberos
Built-in Administrators (22.12)
Storage Services
File: SMB v1/v2/v3, NFS v3/v4, AFP, FTP, WebDAV, rsync, GlusterFS (22.12)
Block: iSCSI, OpenStack Cinder, VAAI, Fibre Channel (13.0)
Object: S3-Compliant API, Minio clustering, Multitenancy, Cloudsync
ALUA, CSI (iSCSA, Gluster, SMB, NFS) (22.12)
Data Management
Unlimited Snapshots, Pool checkpoints
Space-efficient Clones
Replication: Remote, Local, Auto-resume, to Linux ZFS
Improved Storage UI (22.12)
Data Protection
Accelerated Copy-on-Write, Multi-Copy Metadata
Built-in RAID: Single/Dual/Triple Parity, Mirrors, Fast Resilvering, Fast Boot
Self-healing Checksums, Background Scrubbing
iX-Storj Distributed Storage
Data Reduction
Thin/Thick Provisioning
In-line Adaptive Compression
Clones, Deduplication, Trim
Data Acceleration
All Flash, Fusion Pools, Metadata on Flash
Read Cache (ARC/L2ARC): RAM/Flash
Write Cache (SLOG/ZIL): Flash
HA NVDIMM, Dual Port SAS/NVMe (22.12)
Networking
IPv4, v6: 1- 100GbE, DHCP
LAGG, VLANs
Jumbo Frames, TCP options
Fibre Channel (8-32Gb) (13.0)
Data Security
Self-Encrypted Drives (TCG Opal), Dataset Encryption
Encrypted Replication, WireGuard, OpenVPN
ACLs, IP Filtering
KMIP, SEDs, FIPS 140-3 Validated Encryption (22.12)
Foundation
System logging, NTP
FreeBSD, Boot Management, SSH, Local Jails, Bhyve VMs (13.0)
Debian, Boot Management, SSH Kubernetes, KVM (22.12)
Performance Autotune
High Availability
Fast ZFS Replication
Client-based Mirroring
Dual Controller High Availability
10-100 GbE Clustering, VLANs or LAGG (22.12)
Hardware Management
IPMI Remote Management
SAS JBODs, Global Spares
SMART, SSD Wear Monitoring
Visual Enclosure Management (GUI)
Technical Support
Enterprise Support: Up to 24x7