Previously, the community and iXsystems found incompatibilities between ZFS and the new WD Red SMR (Shingled Magnetic Recording) based drives (2 to 6TB), as we documented in a previous announcement. In response, Western Digital has just made a major product announcement via a June 23rd blog about its plans to introduce the WD Red Plus product line and reposition its previous WD Red product line.
What's Old is New Again
Remember Coke Classic?
The tried-and-true CMR (Conventional Magnetic Recording) technology, that provides the solid performance and reliability on which the WD Red line was built, is back and here to stay in all capacities from 1 to 14TB! It just has a new name now to make it easy to identify as "not SMR": WD Red Plus. No more checking model numbers and product codes when purchasing. When you buy a WD Red Plus drive, it will be guaranteed CMR technology in all capacities and function harmoniously with your ZFS NAS.
What's New is Now Old
And, what of the 2, 3, 4, and 6TB SMR drives that were slipped into the WD Red product line and caused problems with NAS systems? Like "New Coke", the market has spoken: most prefer the original flavor.
These SMR drives are now going to inherit the "WD Red" brand. We would have preferred "WD Red-SMR" just to be as crystal clear to customers as possible, but this works. iXsystems and some other major NAS vendors have taken these off their qualified hard drive lists, so these should be avoided or used only in NAS systems with very light workloads (and long periods of inactivity), or where data isn't important, especially if using ZFS.
Confused yet?
You're not alone. This is a complex judo marketing move that WD is making. While there will be confusion in the short term, the resulting product line is more clearly differentiated and better for it. The WD Red Plus will be a solid drive family for the FreeNAS Minis and will span all sizes from 1TB to 14TB each, and there are no expected cost increases from today's WD Red prices. The new WD Red (SMR) line will come in at a lower price.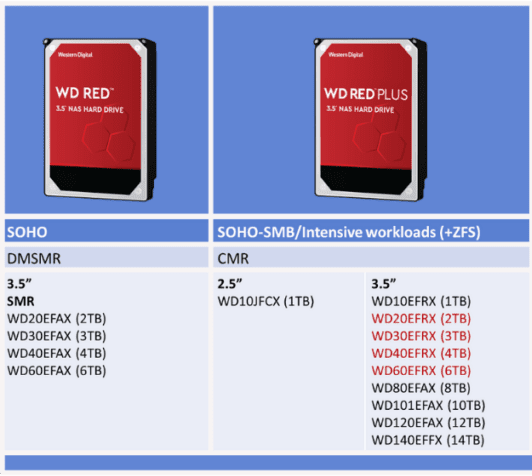 Western Digital has maintained the same model numbers for each of the drives and then sorted the drives into their "new" product families.
What about the FreeNAS Minis?
Our Mini systems will be delivered only with the CMR-based WD Red Plus drives. However, some of those drives are currently labeled "WD Red", but they are not SMR drives. This labeling should be fixed in a few months, but we may have to add a sticker or use a sharpie to add a "plus" to those existing WD RED CMR drives! Or, who knows, maybe these drives will become collectors' items some day?? Kidding about the sharpie, by the way.
And, the "Red SMR" Drives? Will those ever be compatible?
Can TrueNAS CORE or FreeNAS run on the SMR drives, the "new" WD Red drives? At this stage, both iXsystems and Western Digital cannot recommend running ZFS on these drives. The incompatibility that has been found still exists and under some conditions could result in low performance or even data loss. Western Digital and iXsystems are still investigating whether this risk can be reduced or alleviated. In the meantime, if you have WD Red drives with SMR (again, only 2 through 6TB with "EFAX" in the Product Code) in your NAS and are concerned about your data, contact iXsystems Support if you purchased from us, or WD Support if you bought them elsewhere.
Some upside!
The good news is that the WD Red Plus product line will re-enable the Minis with 2TB and 6TB CMR drives. During this SMR investigation, the Minis have continued to ship with CMR drives in all capacities except 2TB and 6TB, since we had exhausted CMR stock and placed a stop shipment on the SMR drives. We expect to enable the full range of sizes from 2TB to 14TB CMR drives during Q3 2020. This will enable the Mini lineup to support raw capacities from 4TB to over 100TB.
If you need one or more smaller NAS systems for a project, you can get a preconfigured Mini system from Amazon or custom spec your own using the online Mini configurator. Our sales team and partners can also provide a proposal for a fleet of Minis and other large systems like the X-Series and M-Series. All of these systems can run TrueNAS 12.0 and be managed via TrueCommand and its single-pane-of-glass interface.