It was just 3 years ago in August 2014 that iXsystems introduced the TrueNAS Z series product line of storage appliance platforms designed for organizations needing enterprise-class storage systems. TrueNAS is based on FreeNAS, the world's #1 Open Source software-defined storage operating system. FreeNAS has the unique benefit of tens of thousands of people around the world helping QA and providing extensive input into each successive release of the software.
TrueNAS provided a unified storage array packed with enterprise-grade capabilities like VMware, Citrix, and Veeam certifications, integration with public clouds, capacity-efficient features like block-level inline compression, deduplication, and thin provisioning as well as other enterprise features like snapshots, replication, and data at rest encryption.
Ever since the introduction of the TrueNAS Z products, customers have asked us for an entry-class TrueNAS appliance. I'd like to announce the arrival of the most cost-effective storage available in the market, the TrueNAS Unified Storage X10. It has a street price of under $10,000 for 20TB of raw capacity, the capabilities that exists across the entire TrueNAS product portfolio are also in the TrueNAS X10. This is no TrueNAS "light" product – rather it extends the TrueNAS product line.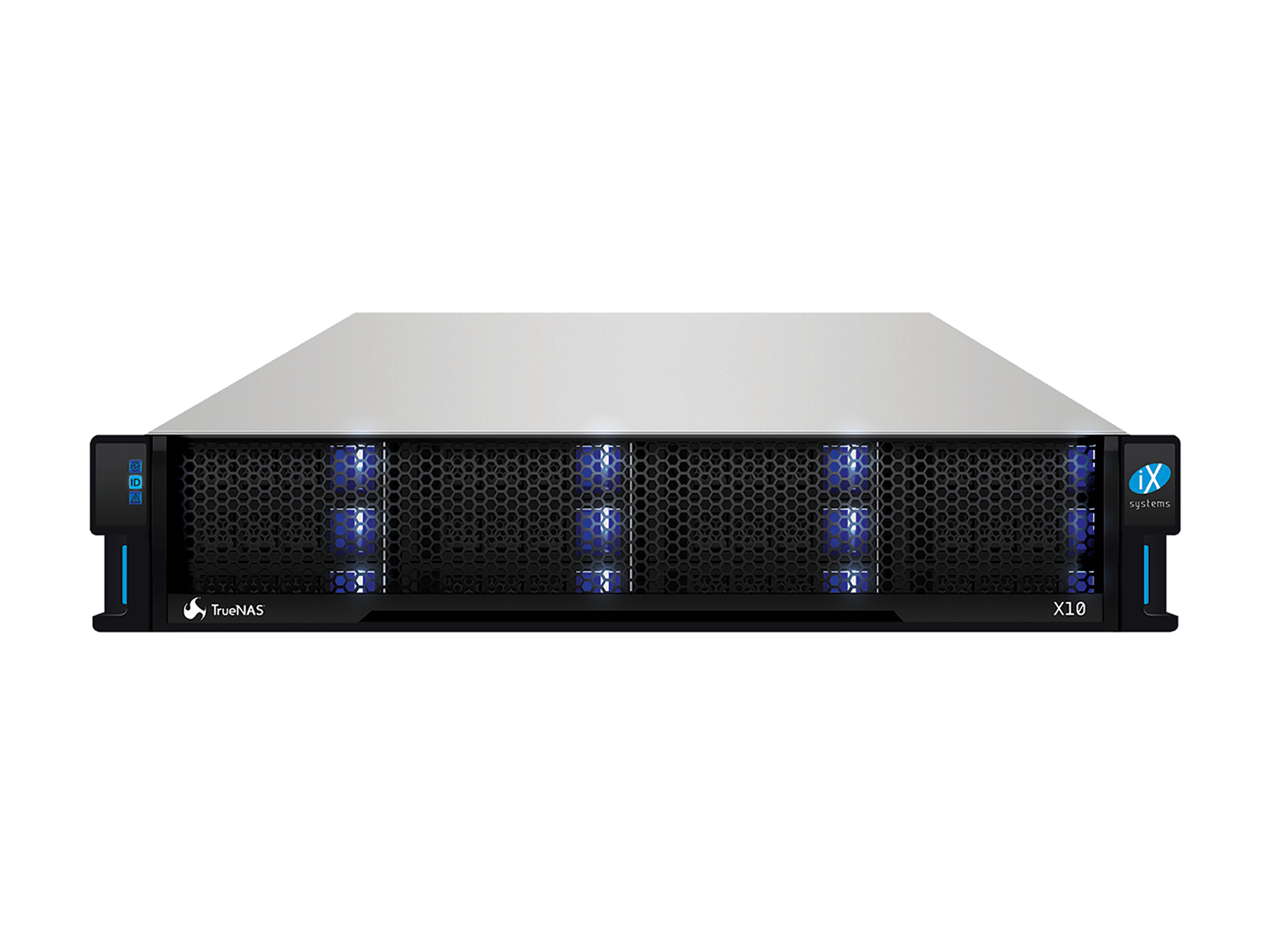 Technical Overview
The TrueNAS X10 is available in a 2U, 12 x 3.5-inch SAS form factor. It supports up to a maximum of 36 front-loading, hot-pluggable drives through the use of two ES12 (12-bay) expansion shelves. The maximum raw capacity is 360TB. It utilizes enterprise-class dual-ported SAS3 drives. Further, the TrueNAS X10 is a hybrid-class array, meaning that it combines RAM and flash SSDs to provide performance acceleration in the form of read and write cache extensions. All TrueNAS arrays can make use of these cache extensions to increase performance and reduce latency.
The TrueNAS X10 incorporates advanced components, which provide the building blocks for a modern enterprise-class solution: Each storage controller is anchored by a power-efficient Intel Xeon D-1531 processor running at 2.2Ghz. This advanced processor is a high-performance systems-on-a-chip (SOC) with 6 cores and is built on top of 14nm lithography technology. The Thermal Design Power (TDP) value is only 45W, so it consumes less power than the lowest TrueNAS Z product. A M.2 mSATA SSD device is used to boot the storage operating system. The use of error correcting 2133MHz DDR4 ECC SODIMM modules reduces the potential for in-memory data corruption.
The native PCI Express bus is PCI Express (PCIe) Gen 3.0. The storage server connects to storage through a LSI (12 Gb/s) integrated SAS3 controller and expander. The TrueNAS X10 comes standard with dual-integrated LAN GbE ports for data access. Customers can upgrade to 10GbE connectivity if more throughput is required through a PCIe x8 slot located in each controller. Electrical and optical interfaces are both supported. Remote management is provided by a dedicated GbE port through a custom-built BMC module in each storage controller.
Like all products in the TrueNAS family, the TrueNAS X10 is available in a single-controller or a dual-controller configuration. For customers requiring high availability (HA), the dual-controller configuration is a requirement. Customers with financial constraints may opt for the single-controller version initially and then upgrade to a dual-configuration at a later point when budget permits.
The TrueNAS X10 is smaller and greener than the original entry storage array, the TrueNAS Z20. The TrueNAS X10's storage controller is 10.9" in length, 8.3" width, and 1.5" (height). This is roughly the size of a ream of paper. Power consumption is less than 40% of the Z20, yet the TrueNAS X10 is one third smaller than a Z20. It conforms to the 80Plus Gold standard.
The TrueNAS X10 is a unified storage platform supporting many file, block and object protocols including SMB, NFS, iSCSI, AFP and WebDAV. Also supported is file syncing to the Amazon S3 cloud.
Well, that is a quick rundown of the technical merits of the new TrueNAS X10 from iXsystems. I'll be back shortly with part 2 of this blog to discuss the business value offered by the TrueNAS X10, including use cases and applications.
Steve Wong, Director of Product Management