Dear FreeNAS (and soon to be TrueNAS) Community,
We are making some changes to the FreeNAS and TrueNAS bug tracker that'll give you yet another way to help contribute and democratize enterprise storage!
As many of you know, we've historically had three ticket types available in our tracker: Bugs, Features, and Improvements, which are all fairly self-explanatory. After some discussion internally, we've decided to implement a new type of ticket, a "Suggestion". These will be replacing Feature and Improvement requests for the TrueNAS Community, simplifying things down to two options: Bugs and Suggestions. This change also introduces a slightly different workflow than before.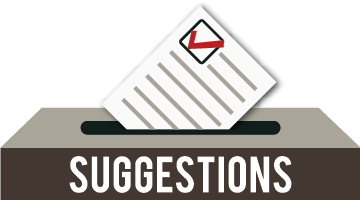 One issue we've had in the past with Features and Improvements is that just about all the ideas submitted have been "good" ideas. The challenge was determining which ideas were "best" or most desired by the community, which at times made it difficult for engineers to determine which ought to be integrated into our development roadmap.
Just because we think something is a "good" idea, or a community member submits a well-laid out feature request, we didn't have a great way of determining how many people are interested. This made the process of picking and choosing too arbitrary. To address this, the Suggestion ticket has been created to help us better gauge interest in particular requests by implementing the concept of "voting" into the workflow: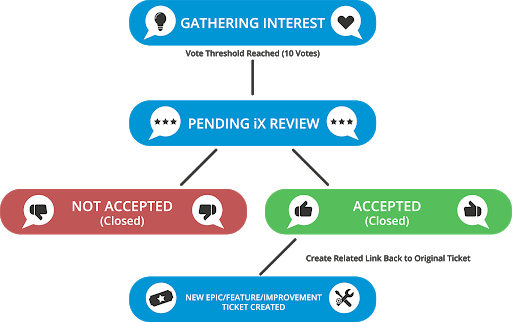 As demonstrated above, we're going to be looking to the community to help "Vote" on issues to provide an indication to our team what kind of interest there is for any particular idea. Once a Suggestion has reached the vote threshold (10 votes for the time being), we will then put it into a Review state, and then make a determination of if/when it should land on our TrueNAS roadmap.
So, how do you vote for a Suggestion? Easy! Simply login to our ticket system, find your issue, and click the "Vote for this issue" link on the top right of each ticket. If you can't find a Suggestion that addresses your issue, create a Suggestion and let us know why it's important to you.

The rest is up to you! To help create interest or garner more support for your own suggestions, you can solicit your Suggestion requests here on the community forums, social media, Reddit, email campaigns to friends and colleagues, etc.
Democratizing storage requires collaboration, and we're expecting that this new process will allow us to be more responsive to the needs and wants of our community and prioritize changes to the product accordingly.
Thanks for reading, and as always, feedback is welcome!