In our last post, we shared the number-based results of our recent user satisfaction survey. We also had a good amount of constructive feedback provided to us, as well as requests for new features. Here is some of the feedback and suggestions we received from the survey.
Constructive User Input
Please keep TrueNAS CORE free!

Applications like a file manager and activity log reviewer would be helpful.

Can you provide better consumer cloud integration options?

I wish there were more applications integrated into the platform

GPU passthrough to VMs is a must for some workloads. Please allow more flexibility with hardware and SCALE.

Please provide better guides or documentation for what everything does for people who are new to the NAS community.
Getting Involved
Want to get involved and have your feedback heard? Join our Community Forums and chat about all the things you'd like to see in TrueNAS. You can submit feature requests and bug requests here on our Jira tracker. You can also look to see if there is a similar ticket in Jira with the built-in search functionality. Lastly, you can vote on issues you would like to see implemented in TrueNAS!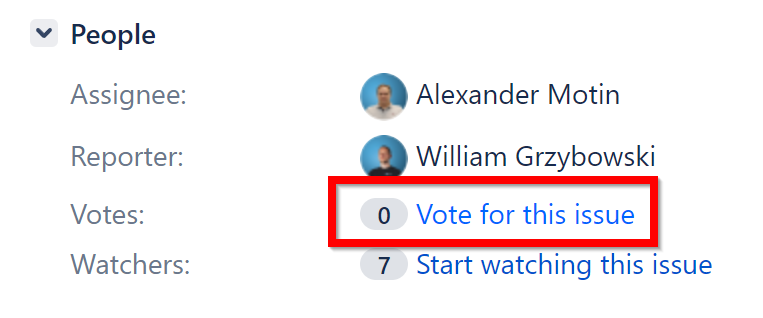 Feedback and iteration are two of the most important components of any new technology or product. Build something for someone to use, listen to them, improve the product, repeat ad-infinitum. FreeNAS and TrueNAS have gone through many of these feedback loops (more efficiently than any comparable proprietary products, a feature of open source) to reach where we are today.
User Comments
"We have used FreeNAS/TrueNAS for 6 years in our company. We have found it to be efficient, reliable, and economical. I am glad I discovered it and have been able to incorporate it into the IT structures in our business."

"TrueNAS saved my life—August 2021, my client was on fire. Two months before, I made a disaster recovery plan with TrueNAS. All the data was saved – thanks to FreeBSD, ZFS, rsync, and TrueNAS!!!!"

"Keep up the good work! TrueNAS has replaced my 15 year old Gentoo install. Using VMs, containers, and built-in services. Thank you so much."

"Thank you all for your hard work. TrueNAS as a whole is amazing for a large number of use cases. Moved from ESXi and a self-configured NAS to just using TrueNAS SCALE for both service hosting, VM hosting, and as a NAS. And it's awesome how it holds up to everything."

"Keep it up! I can't wait for when I have some more time to try out more features on my newly acquired test server! Definitely looking forward to an alternative to VMware's vSAN!"

I have spent my career in IT leadership, managing global networks, infrastructure, and operations. When a need arose for network storage on a less than multi-million dollar budget, I started researching solutions and decided to give TrueNAS a try…I was pleasantly surprised! I was impressed with the ease of installation, robustness, and reliability of the TrueNAS product. Thank you!"

"Everything is progressing really well, iXsystems got me started in servers and ZFS and now I couldn't imagine life without it. Thanks for all the hard work over the years."
Do You Know TrueCommand?
We also found that almost 90% of users have yet to try TrueCommand, with nearly a third of those users simply not yet aware of what TrueCommand is used for. For the uninitiated, TrueCommand is a management dashboard designed for easy monitoring and management of TrueNAS systems and drives, as well as the cluster manager for TrueNAS SCALE. 
While many users have small environments, TrueCommand is available to manage up to 50 drives for free. Given TrueCommand is meant for managing Enterprise environments, it makes sense it has fewer users overall in our community. Among those who have used TrueCommand, most are satisfied with its performance, so we hope you take the time to test it out!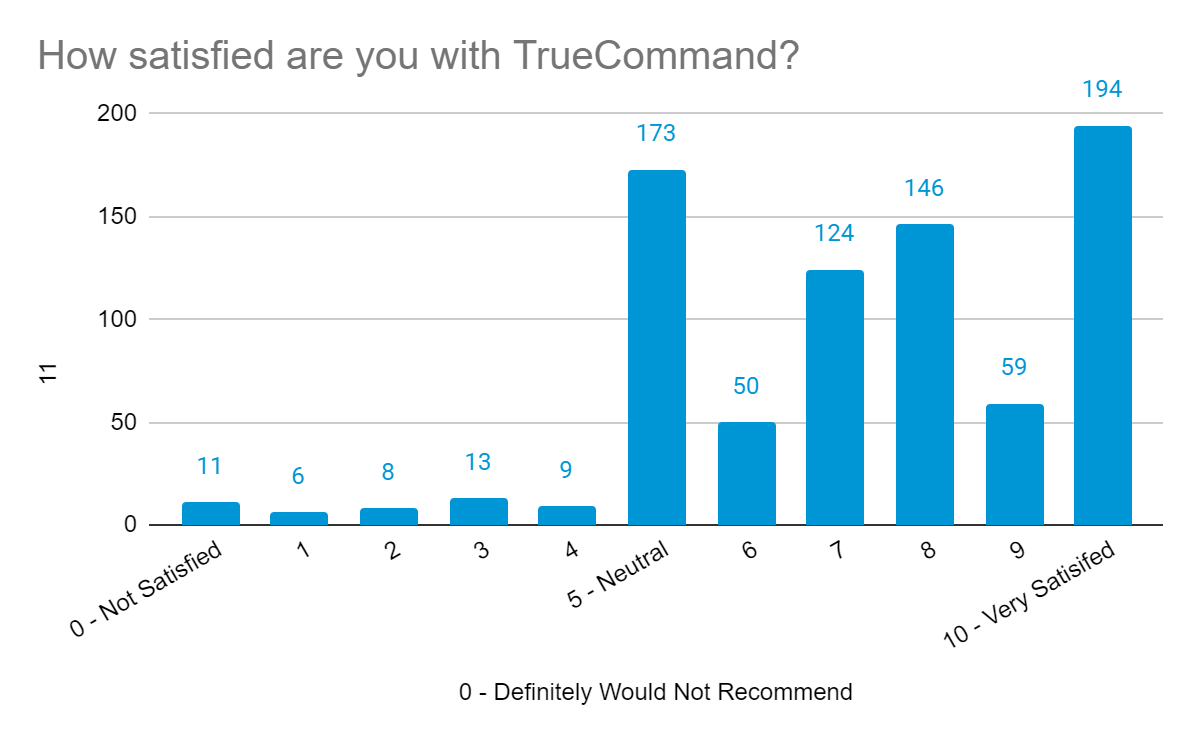 Net Promoter Score (NPS)
As a whole, the numbers show that 93% of all free TrueNAS users (CORE and SCALE) actively recommend the software. With over one million deployments worldwide, that means there are hundreds of thousands of happy users. We're proud that so many of our users are already advocates of TrueNAS. It speaks to the quality of our free software and the influence of our community. 
With a Net Promoter Score (NPS) of 64.8, we are pleased to be in the "great" category, within striking distance of 71 and a coveted "excellent" score range. As our community grows, iX is growing to support continued engineering and continued improvement in user experience. Speaking of growth, iX is also a most excellent place to work. Are you an iXian?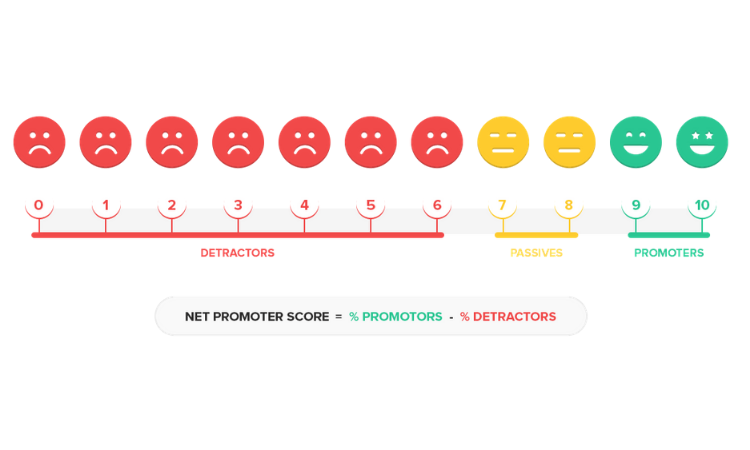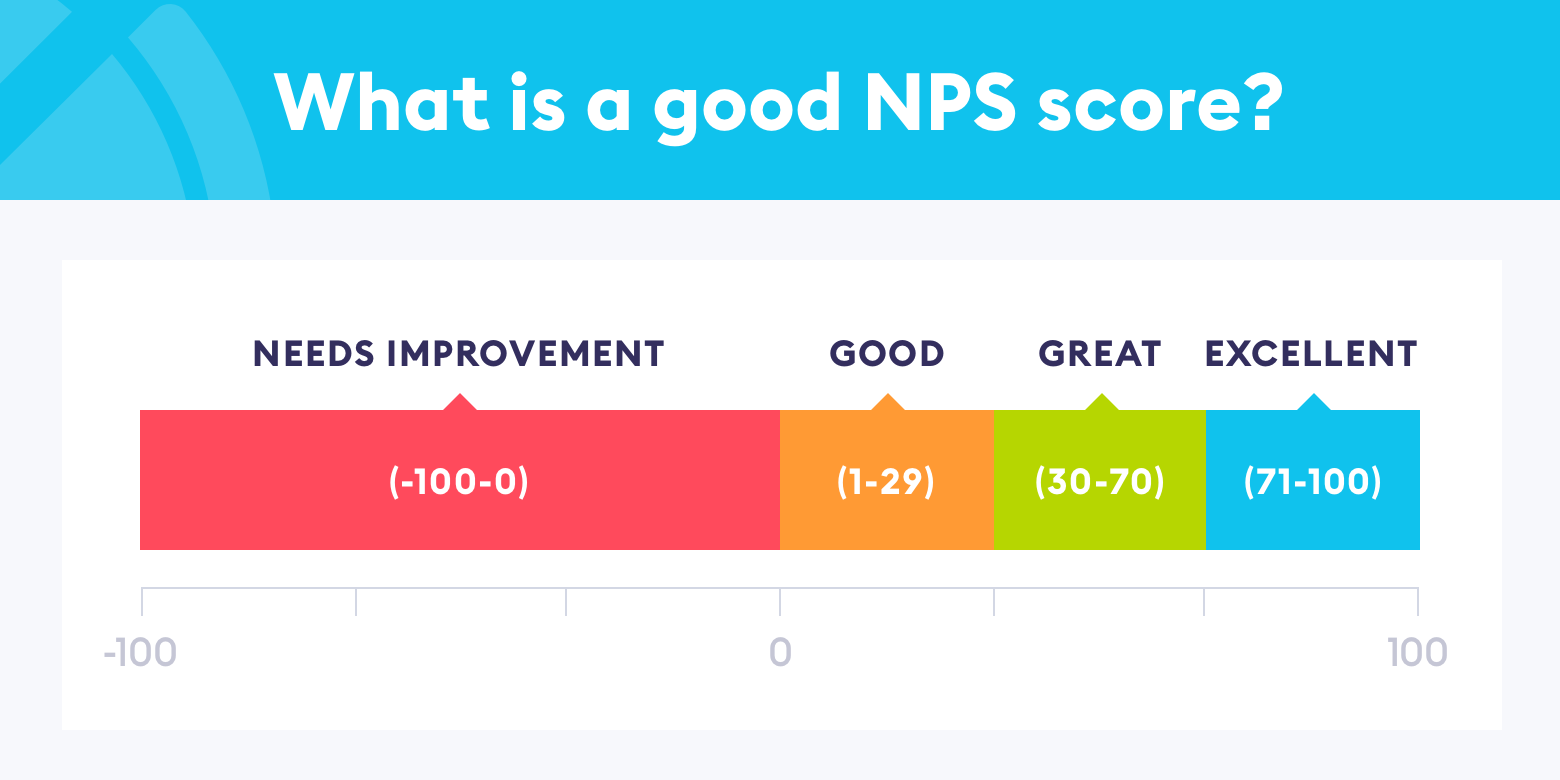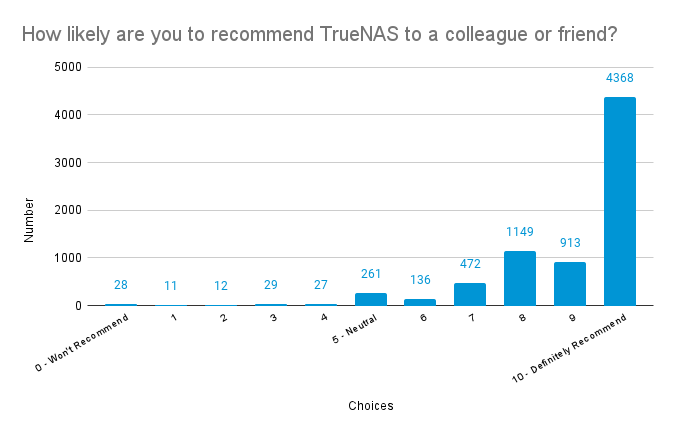 Thank You Again!
As mentioned in Part 1, one of our core values is "pursue kaizen", another way of saying "continuous improvement". It is something we apply both to our products and ourselves. Another big thanks to our users for sharing their comments and feedback. We gained a lot of insight into our community and how we can improve TrueNAS for our users.