The latest version of the #1 Open Source Storage OS is on TrueNAS Enterprise Platforms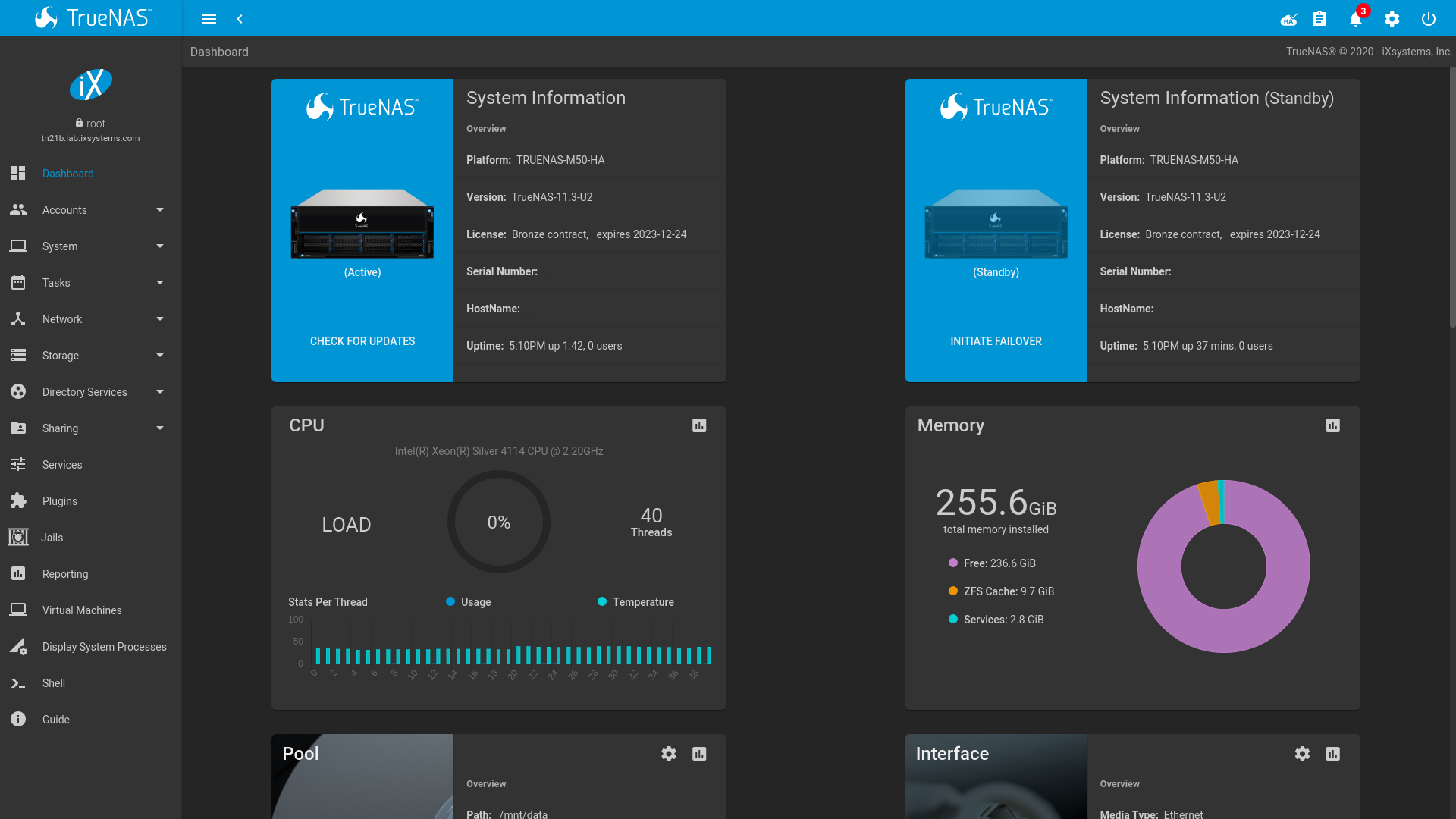 Monitoring TrueNAS High-Availability is simpler than ever
TrueNAS 11.3-U2.1 is generally available as of 4/22/2020. This update is based on FreeNAS 11.3-U2 which has had over 50k deployments and received excellent community and third party reviews. The Release Notes are available on the iXsystems.com website.
TrueNAS 11.3 represents another major advancement in the quality and functionality of the leading Open Storage platform. TrueNAS 11.3 supports the very popular API and Web UI improvements of the previous FreeNAS release. It also introduces easy-setup wizards, major replication improvements, and over 500 other enhancements.
This new TrueNAS version also inherits an abundance of vetted FreeNAS features from previous releases, including the ability to use and manage jails, plugins, and VMs. All of these features have now been integrated with the TrueNAS platform's high-availability and enclosure management features. TrueNAS 11.3 is available on the X-Series and M-Series platforms which scale from 10TB to over 10PB with hybrid or all-flash media. It is also available for prior Z-Series models as well.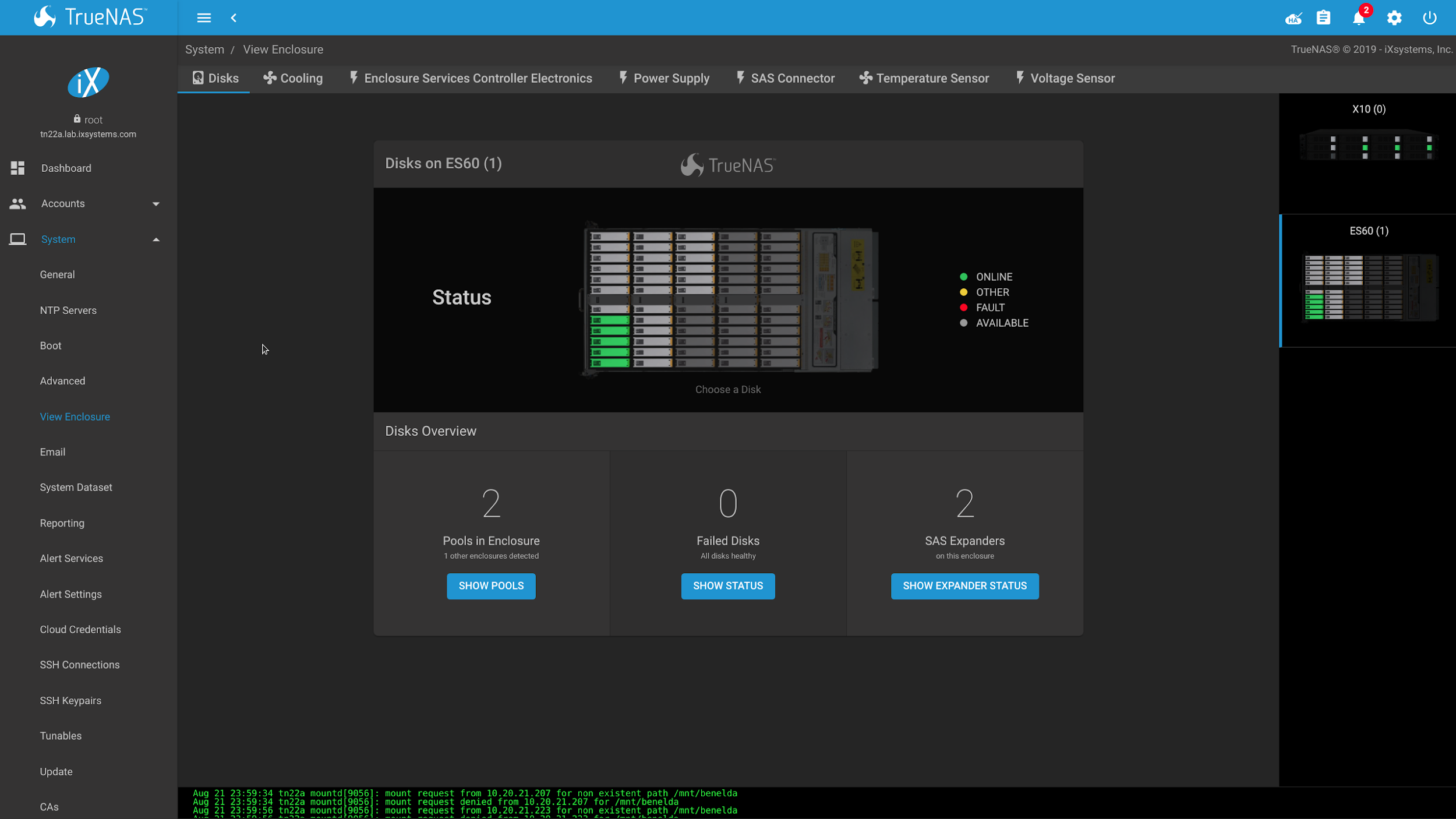 New TrueNAS enclosure management provides visual drive and pool status
The TrueNAS 11.3 User Guide has been published. Key Features of TrueNAS 11.3 include the following major improvements:
ZFS Replication: >8X performance (5TB/hr), Parallel tasks, Auto-resume
Simplified Setup with Wizards: iSCSI, SMB, Pools, Networking, Replication
SMB improvements: User quotas via AD, Shadow copies, ACL manager
Easier Plugins: UI redesign, Categories, NAT reduces IP addresses
Dashboard and Reporting: Faster response, more relevant data
Configuration Management: API enables config save and audits
Graphical enclosure and High-Availability management
The TrueNAS 11.3 series also resolves issues related to changes that Microsoft has made in Active Directory security defaults. These changes may cause major issues with older FreeNAS and TrueNAS releases when used in Active Directory environments. Please read this related Technical Note for more details.
With TrueNAS 11.3, the TrueCommand unified management interface can now also provide configuration save/restore functionality as well as auditing of configuration changes. TrueCommand also provides sophisticated reporting and Role-Based Access Control (RBAC).
TrueNAS 11.3 has been optimized for both high-performance SSDs and (Read Intensive) RI-SSDs based on lower cost QLC technology. Enterprise Strategy Group (ESG) validated the performance and cost benefits of TrueNAS 11.3 with extensive testing. ESG concluded that "The combination of ZFS, Open Source, and a lean sales force provides efficiencies that enable iXsystems to offer high performance, feature-rich solutions at high-value price points. We calculated a significant delta. Based on our testing and analysis, we found that iXsystems can typically offer up to double the performance at half the cost of their major competitors."
A major investment in automated testing over the past 18 months has ensured significant improvements in software quality and ease of use, confirmed by FreeNAS 11.3 being the smoothest release in the history of the software. Customers should contact support@ixsystems.com if they are interested in the TrueNAS 11.3 upgrade. The upgrade is available from the 11.2 web interface.
TrueNAS 11.3 Screenshots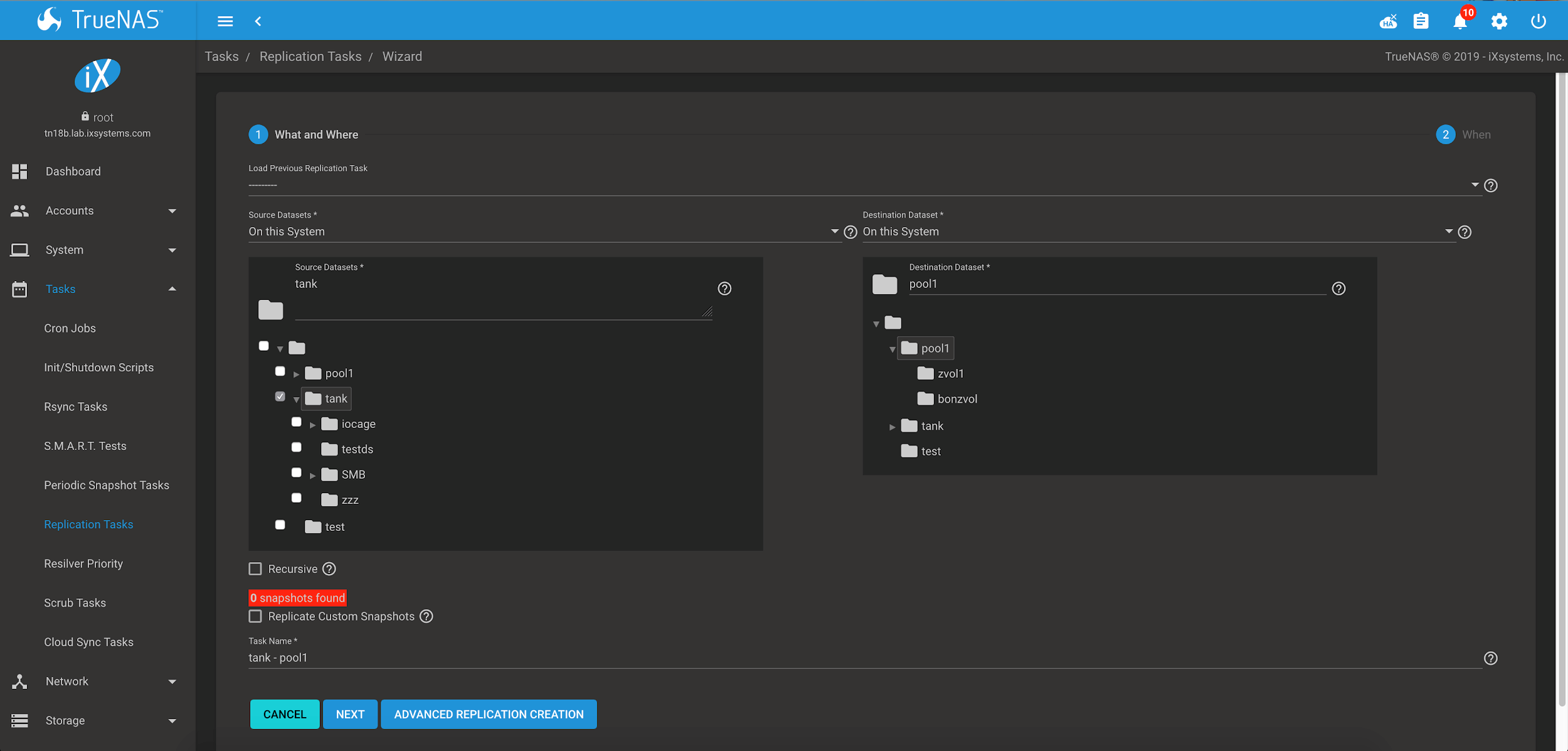 The Replication Wizard simplifies backup between two NAS systems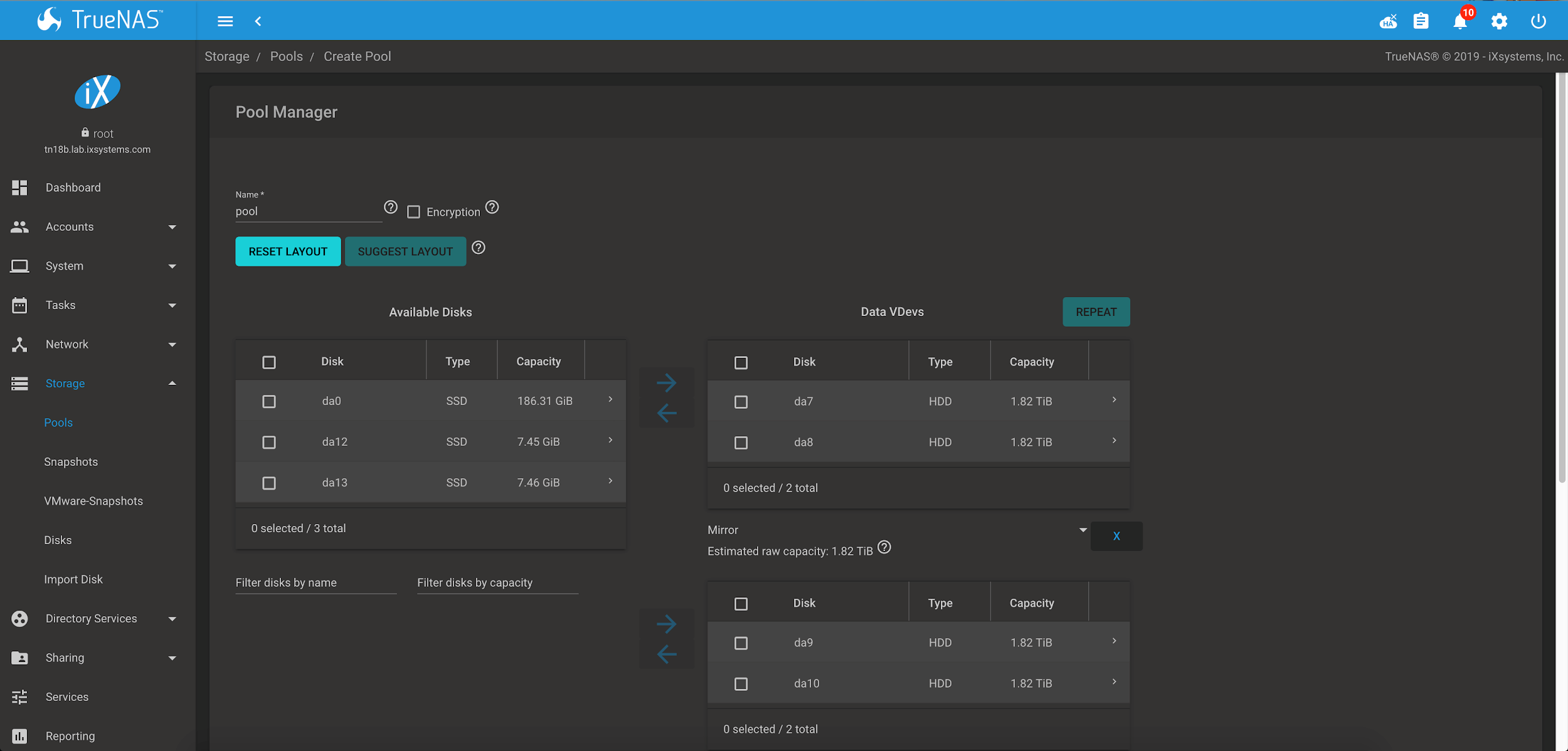 The Pool Manager makes it easier to set up larger pools