NOTE: This is historical content that may contain outdated information.
Hundreds of thousands of FreeNAS and TrueNAS systems are deployed around the world, with many sites having dozens of systems.  Managing multiple systems individually can be time-consuming. iXsystems has responded to the challenge by creating a "single pane of glass" application to simplify the scaling of data, drive management, and administration of iXsystems NAS platforms. We are proud to introduce TrueCommand.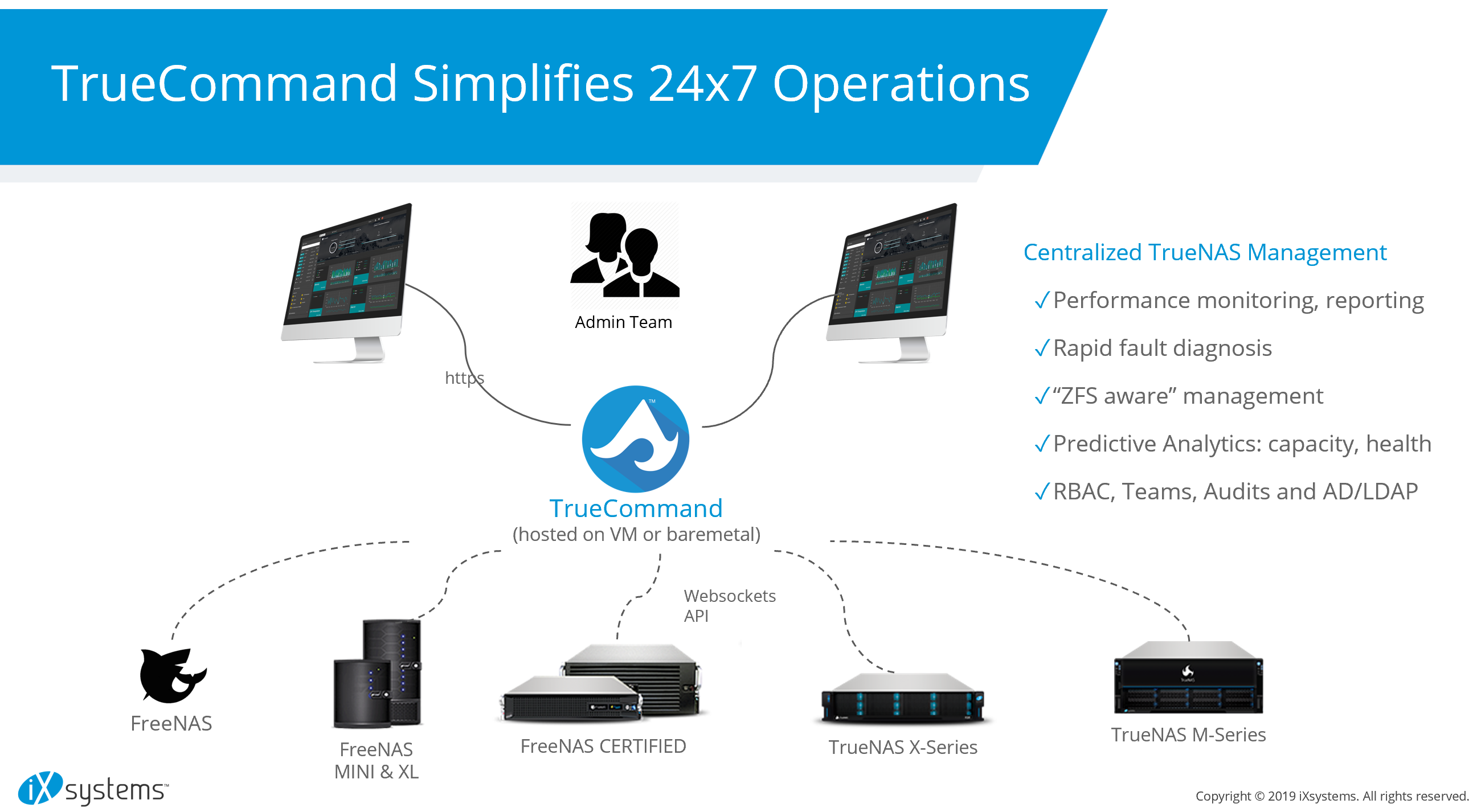 TrueCommand is a ZFS-aware management application that manages TrueNAS and FreeNAS systems. 
The public Beta of TrueCommand is available for download now. TrueCommand can be used with small iXsystems NAS fleets for free. Licenses can be purchased for large-scale deployments and enterprise support.
TrueCommand Features
TrueCommand expands on the ease of use and power of TrueNAS and FreeNAS systems with multi-system management and reporting:
Centralized NAS Fleet Management
Single Pane of Glass Storage Control

Single Sign-on to iXsystems NAS Units

Customized Alerts and Reports
Consolidated Monitoring and Reporting
Rapid Fault Management and Diagnosis

Real-Time Data Collection and Analysis

Predictive Analytics to Maximize Uptime

Two-Year Statistics Retention
Team-Based Global Operations & Security
Role-based Access Control (RBAC)

NAS System Groups Assigned to Specific Teams

Audit Logs for Increased Security
Easy Deployment
VM or Physical Hardware Installation

Secure Deployments on Air-Gapped Networks

Simple User Interface Based on the Angular UI Framework
For details, please see the datasheet or TrueCommand Guide.
Community Benefits
TrueCommand with community support is available without any purchase or contract. It provides the capability of managing up to 50 total drives spread across multiple NAS systems.
Expanded licenses and support contracts are available for enterprise use. Pricing is based on the number of drives and desired level of support. Please contact iXsystems to obtain a quote. Special rates are available for non-profit organizations.
Release Plan
TrueCommand 1.0 Beta is available now. FreeNAS 11.2 and TrueNAS 11.2 or newer are supported.
TrueCommand 1.0 Release will be available in Q2 2019.
FreeNAS and TrueNAS: Even Better with TrueCommand
iXsystems is committed to providing the community with a great open source platform for storage and plugins. The FreeNAS version is increasingly popular and the TrueNAS appliances continue to deliver great value to enterprises, universities, schools, studio design houses, and other organizations.
TrueCommand builds on the benefits of FreeNAS and TrueNAS. This unique combination provides open source economics, enterprise-grade software, and 24/7 operation management. TrueCommand will revolutionize the way you manage your NAS fleet!