Veteran technology writer Jim Salter wrote an excellent guide on the ZFS file system's features and performance that we absolutely had to share. There's plenty of information in the article for ZFS newbies and advanced users alike. Be sure to check out the article over at Ars Technica to learn more about ZFS concepts including pools, vdevs, datasets, snapshots, and replication, just to name a few. 
For his testing, Jim Salter used OpenZFS 2.0 software that is in TrueNAS 12.0. One of the more interesting data points in the article was the major performance advantage of ZFS replication over standard rsync (which can also be used between ZFS and other file systems). ZFS replication (which is labeled "syncoid" – Open Source software that sets up ZFS replications) is more than 1,000 times faster at finding and sending the deltas between files.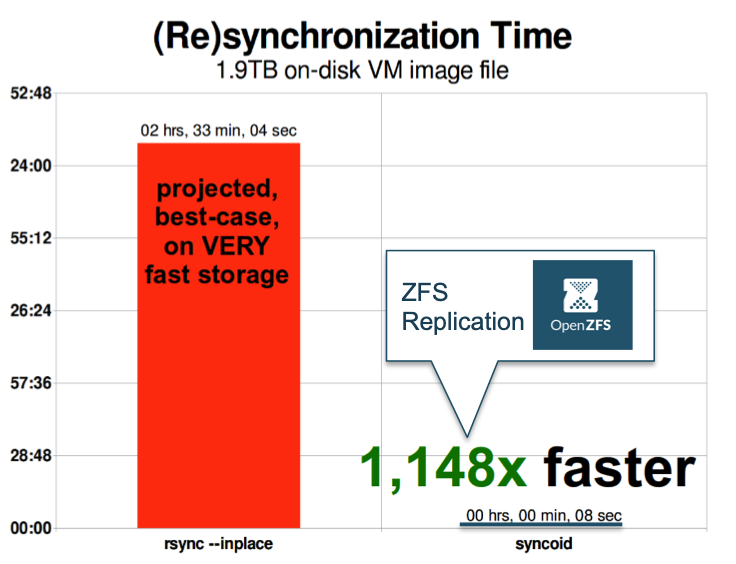 TrueNAS systems are built on the legendary stability of FreeNAS and the OpenZFS (ZFS) file system, leveraging the underlying ZFS technology to easily recover from ransomware and other active data threats. For more information, reach out to an iXsystems Solution Architect and get your completely free and no-pressure quote on the complete line of TrueNAS storage systems.
For more information on ZFS (or if you just need some pointers for your next FreeNAS or TrueNAS CORE build), check out these additional resources and let us know what articles or how-to videos you'd like to see next in the comments below.
ZFS 101—Understanding ZFS storage and performance >> Read the Article (Credit Jim Salter for Ars Technica)
Sign Up for our Free ZFS Webinars >> Sign Up for Free
Introduction to ZFS >> Read the Article
ZFS Drive Size and Cost Comparison Spreadsheet >> Read the Article
iXsystems, FreeNAS, TrueNAS, and OpenZFS Videos >> Visit the Channel
[xyz-ihs snippet="HS-popup-quote-form"]