NOTE: This is historical content that may contain outdated information.


Ohio Linux Fest 2018 was held in Columbus at the Hyatt Regency. Warren Block, Dru Lavigne, and JT Pennington attended from iXsystems and staffed the FreeBSD booth in the expo area.
After driving up Thursday, Dru and I set up the booth for the Friday night welcome session from 5:00 PM to 7:00 PM. The new model of daemon blinky horns was immediately very popular, and we noticed that they were a big improvement over the previous model. The failure rate was very low, the LEDs were bright, and the flash rate could be adjusted. Within an hour, blinky horns were widespread through the exhibition area.
Saturday was a full day, starting early. JT arrived and helped staff the booth. The crowds were cyclic, increasing as the talks let out. Many booth attendees were already familiar with FreeNAS and using it in their home or work environments. More than a few wanted the iX magazine for more information on TrueNAS for their employers. Several times, attendees explained how awesome FreeNAS was to other attendees. The FreeBSD and FreeNAS stickers were the first to go, followed quickly by the remainder of the blinky horns. A few malfunctioning blinky horns were recycled into a boat for a Lego Tux, and the windup Arista mascot encountered some friendly FreeNAS shark keychains.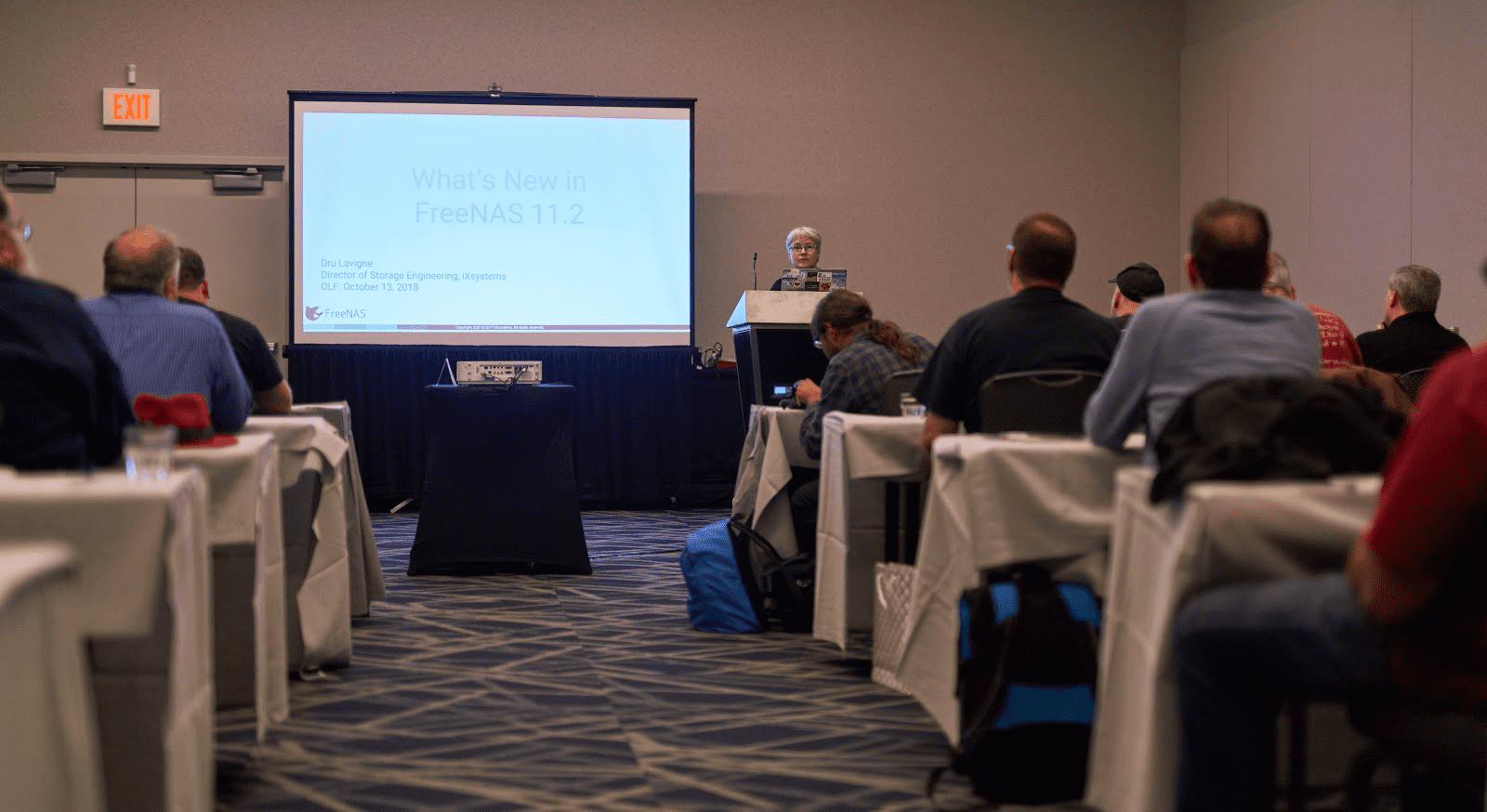 There was great interest in what was new with FreeNAS. Dru gave a presentation to a full room on what was coming up for FreeNAS 11.2 this year and hinted at new features that would be arriving in 2019. The presentation focused on POLA, the Principal Of Least Astonishment as it applies to FreeNAS upgrades. FreeNAS 11 has a new and different user interface, but we have concentrated on POLA, making sure users will still be able to do the same things as always. At the same time, numerous new features have been added and integrated with the new user interface.
Most attendees who came through the exhibit hall at OLF 2018 were enlightened about FreeNAS, TrueNAS, and FreeBSD. The nice part was that many were already aware and stopped to tell us how happy they were to see us there again as a standard fixture at Ohio Linux Fest.
Warren Block, Technical Information Manager