The all-new TrueNAS Mini R is the first rack-mountable TrueNAS Mini from iXsystems. Like the other members of the professional-grade Mini product series, the new Mini R provides unified file, block, and object storage. It is fully supported by both TrueNAS CORE and our newest hyperconverged solution, TrueNAS SCALE.
The rack-mountable TrueNAS Mini R offers 12 lockable and hot-swappable 3.5" drive bays for more than 200TB of raw capacity when fully populated with 18TB drives. Optional adapters for 2.5" SATA SSDs are also available, for a total supported capacity of over 90TB of flash storage with 7.6TB drives. These maximum capacities will go up as higher-capacity drives reach improved $/TB.
The Mini R comes standard with dual 10GbE RJ45 interfaces, with an optional dual 10GbE SFP+ card available. An included IPMI out-of-band management interface allows for secure remote administrative access. We built the Mini R with a low noise profile in mind, so it's just as comfortable being in an office on a desktop or shelf with rubber feet as it is mounted in a rack in a datacenter. The 2U Mini R comes with a short rail kit, and an optional long rail kit is also available.
The new Mini R is ideal for small and home offices and can also serve in parts of enterprise deployments for remote sites, backup, labs, and non-critical departmental applications. Customers with TrueNAS Enterprise systems can include the Mini R in their support contracts to ensure they are fully supported no matter what they need help with.
The TrueNAS Mini R appliance starts at under $2,000. It is now available to order from iXsystems and will be coming to Amazon in March. Appliances ordered via TrueNAS.com can be preconfigured with either TrueNAS SCALE or TrueNAS CORE.
Want more information on what the Mini R can do for business use cases? Contact us or reach out through real-time chat and we'll put you in touch with a product specialist.

Key Specifications:
CPU: Octa-core Intel Processor (C3758)
32 or 64GB ECC RAM options
Networking: 2×1/10GbE RJ45
12 x 3.5" Hot-swappable Bays (can support 2.5" drives with optional adapters)
Lockable Bezel and Drive Bays
Dedicated IPMI (10/100/1000 MbE) with full KVM over HTML5
M.2 NVMe boot device (250GB)
Rear-mounted USB 3.0 port
Standard 19" Rackmount Width, 2U height, and a Depth of 21"
Short rails for compact racks (19" to 26.6")
Adhesive rubber feet for desktop/shelf deployments
Office-quiet – 45dB Idle and 52dB Peak
Non-Redundant 100V-240V AC, 50/60Hz Single Phase Power Supply
Less than 170W fully populated under load
Comes with TrueNAS CORE or an optional sidegrade to TrueNAS SCALE
Several add-on options are available:
2.5" drive adapters
Dual 10GbE SFP+ NIC
Long rails for deeper racks (26.5" to 36.4")
The New TrueNAS Mini Series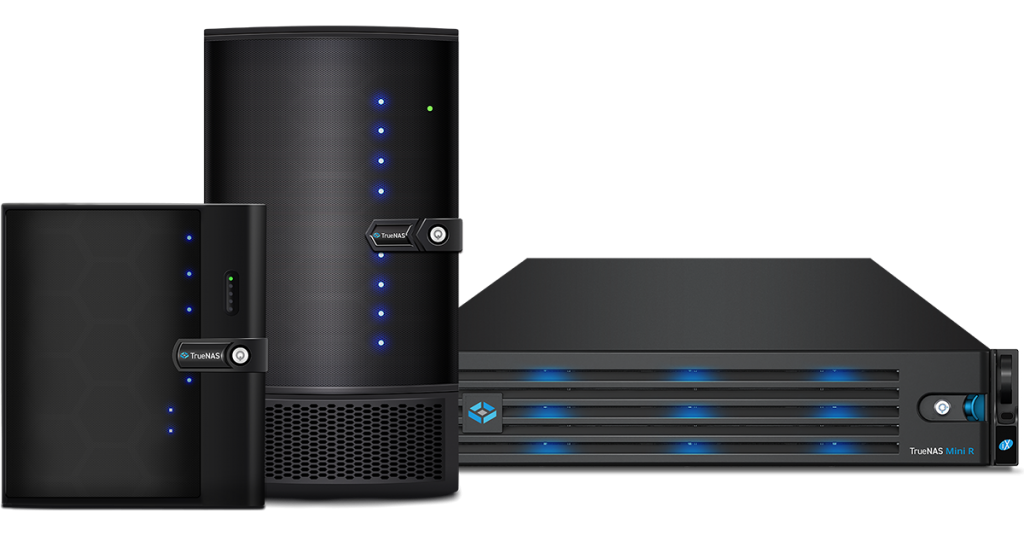 The TrueNAS Mini R extends the Mini Series with a rack-mountable chassis and more drive bays. The Mini X has five hot-swappable 3.5" bays and 2 SSD Bays. The Mini XL+ has eight hot-swappable 3.5" bays and 1 SSD bay. Drives and 3.5" trays from the other Minis can be removed and installed into the Mini R. The entire Mini Series is designed to be professional-grade and quiet and are ideal for office environments and audio/video work.
Videos: