Last weekend, we were excited to attend Kansas Linux Fest for the first time, even though it was projected to be a small conference. As the only expo table at the event, we had the opportunity to speak in depth with those that approached our table. Due to the numbers attending, we thought we would have more down-time but this was not the case. There were typically three to four people around our booth at any given time asking questions or listening in on us talking about FreeBSD/FreeNAS/TrueOS with others. For being a small conference, it was extremely busy but it was rewarding being able to speak with people who were deeply interested in FreeNAS and TrueOS. Below, we have Joe Maloney and Ken Moore's personal blog posts detailing their individual experiences at the event.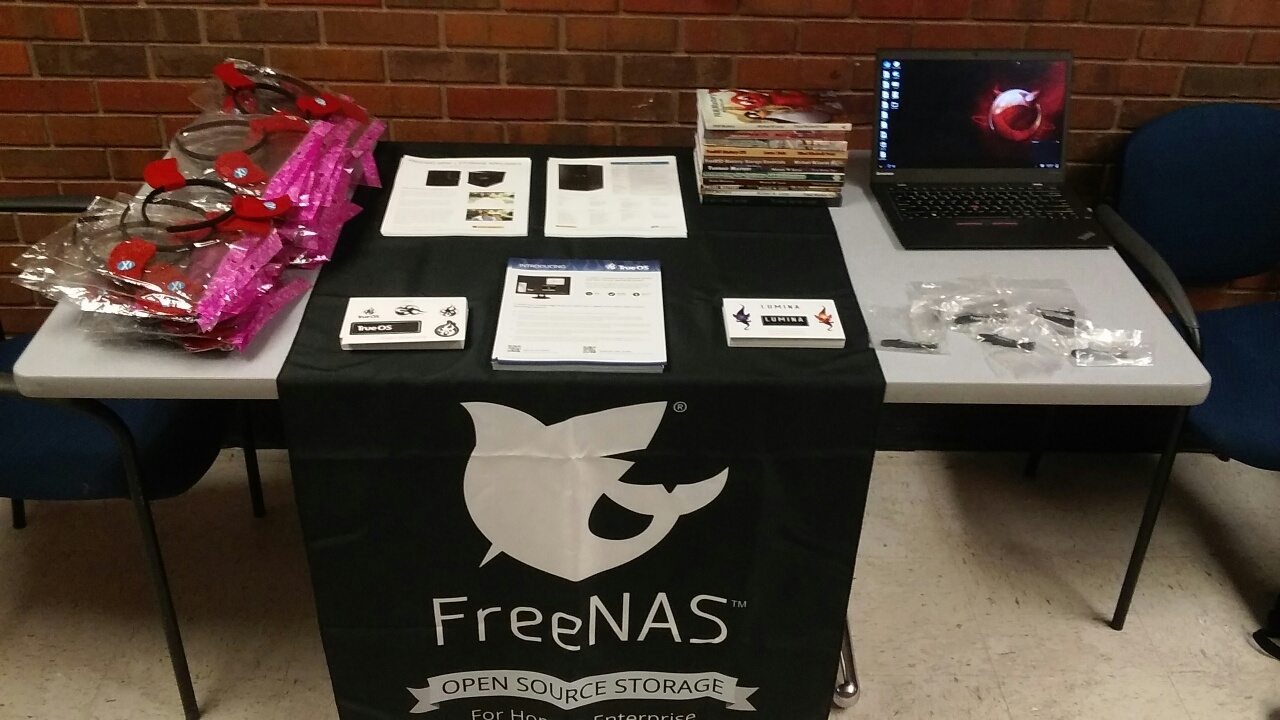 Ken Moore: I had a great time in Wichita this last weekend when Joe Maloney and myself attended Kansas Linux Fest. While the event itself was a fair bit smaller than we initially expected, the level of interaction we were able to have with others at the conference was incredible. We were able to sit and talk with attendees almost nonstop the entire time of the conference, and that was only interrupted when it was time to listen to one of the amazing talks/sessions that the conference had scheduled. In fact, there were so many people talking to us about the BSD family of operating systems that some attendees requested (and the organizers agreed to) an impromptu session called "BSD Q&A" to fill in a slot where the presenter canceled the day before. We got to talk about the four main BSD operating systems and how they all had distinct areas of interest/development, as well as go into a lot more detail about FreeBSD (since that is primarily what we use) and help to compare/contrast it with the Linux distributions that people were using.
I also gave my scheduled talk about the Lumina desktop on Sunday, and basically dove into the foundational elements that make up a desktop environment and how they are designed/implemented to interact with particular operating systems. This session spurred a lot of conversation afterward about TrueOS and led to questions such as future plans for commercial application support which is very difficult to obtain within the fragmented "Linux" ecosystem.
Joe Maloney: On Saturday, I gave a talk about OpenRC integration into TrueOS. As expected, a lot of the folks understood why we made the change away from FreeBSD's RC system. While explaining some of the additional functionality of OpenRC, and what we could do with it in TrueOS, it seemed to trigger the most engagement during the talk. In particular, users were very interested in our ideas for network profiles, recovery options for system mis-configurations, and so on. There was also quite a bit of interest in how FreeBSD's current RC system worked, and I was able to provide a lot of education on that topic.
Ken and I had many lengthy conversations with visitors at the booth which inspired a lot of new ideas for the TrueOS project. As usual, we are seeing that more and more users are aware of FreeNAS. I believe we made a lot of good inroads to introducing people to our hardware offerings as well. Also on Saturday, I joined in on an impromptu talk given by Ken to answer additional questions about FreeBSD to a wider audience.



For a new conference, we were impressed at how well things were organized, how smoothly the event went, and how accommodating the volunteers were to our needs. iXsystems had a fantastic time at Kansas Linux Fest and we would highly recommend it to anybody who lives in the general vicinity (or even a couple hours away) of Wichita, Kansas.