NOTE: This is historical content that may contain outdated information.
Once a year, the Hollywood Professional Association (HPA) holds an industry retreat in Palm Desert, California. This year's theme was Navigating Media Production Workflows.

The HPA Retreat also offers an invitation-only Innovation Zone, where HPA attendees can discover the latest technology from selected vendors.
On the heels of several Media & Entertainment (M&E) wins for TrueNAS, iXsystems submitted an application to participate. The HPA agreed that our technology met the Innovation Zone standards and invited us to display and demo TrueNAS at the retreat.
The TrueNAS X20 uses OpenZFS and offers lower latency, higher read/write performance, and unparalleled reliability compared to legacy M&E storage products. OpenZFS is a self-healing, copy-on-write file system that allows editors to protect their creative products from corruption, bit-rot, data decay, and computer or human error.
Rius Chua from our Sales Team joined me so that he could meet with our many partners and customers in attendance. I demonstrated how to use DaVinci Resolve 14 and Wondershare Filmora for editing 4K video stored on a TrueNAS X20. Everything went smoothly and we gave many demos over the course of the event.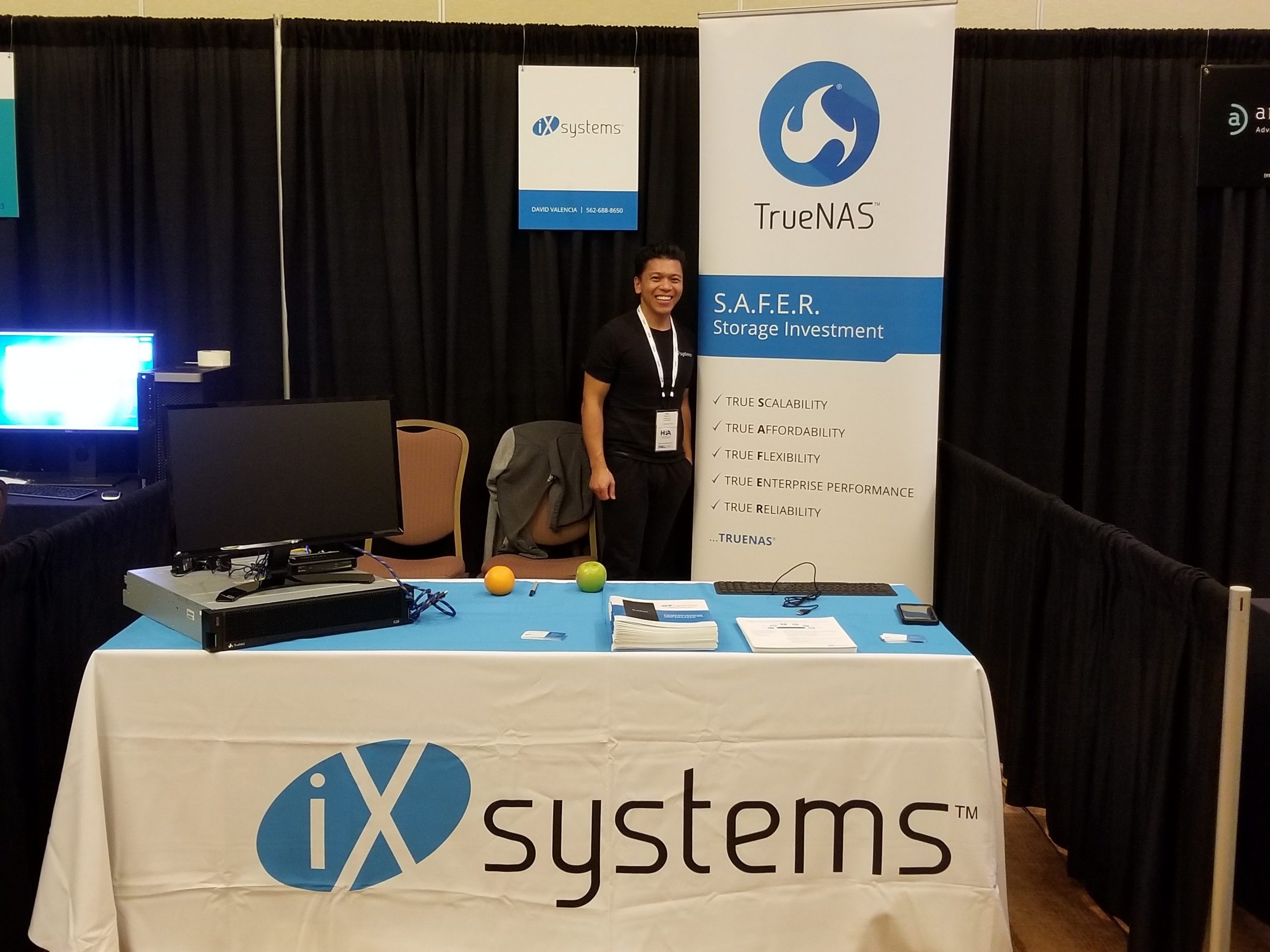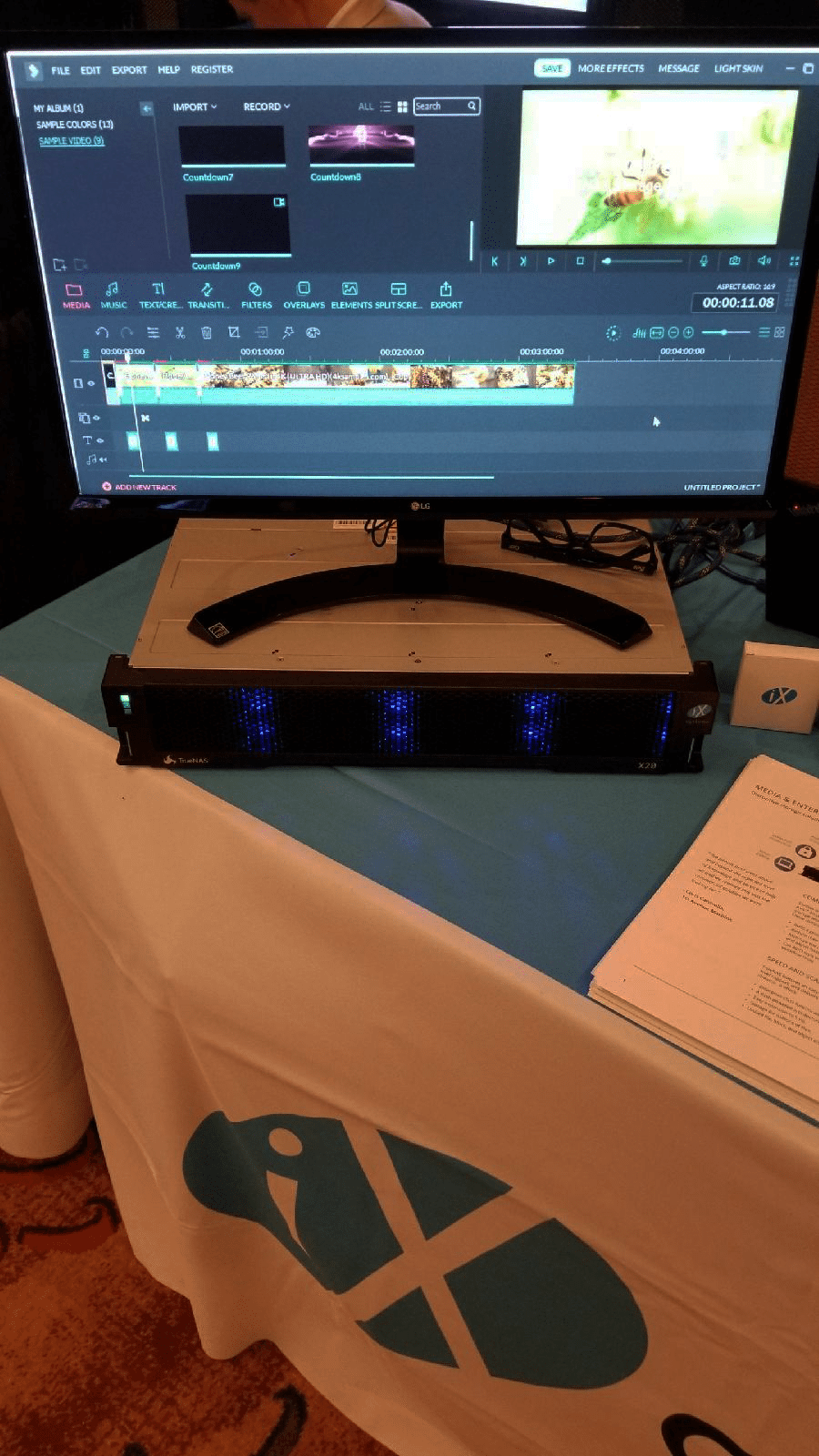 We can never do a public event without a FreeNAS user visiting and complimenting us on our great product and thanking us for our generosity. FreeNAS is 100% free and the world's leading open source storage solution with over 10 million downloads. We had an interesting visit from a FreeNAS user that was building out a large scale production environment at a major Hollywood studio. The conversation went something like this…
Recognizing iXsystems as the authors of FreeNAS, our visitor asked me about paid support. I told him that while we don't directly support FreeNAS, we do have a robust community with forums and other self-support options. I handed him my business card and said that I was a long time FreeNAS user, and, being a member of the FreeNAS community, I would be happy to help him. I also said that should he need additional help, then I would point him to a contractor that offers paid block support for FreeNAS.
As we discussed support, our visitor's supervisor joined him and asked about TrueNAS. I explained that it was the supported version of what his employee was building at the studio. He said, "Support?" then turned to his employee and said, "you know, it's good to have a throat to choke if things go wrong and that goes for me too."
Because the HPA Retreat isn't a sales-driven venue, we were asked to pay a visit to the major studio and go over all of the details. We thanked them both and I told the FreeNAS user, "Don't worry, we can use your existing build for a disaster recovery option," and he smiled affirmatively.
To further your understanding of TrueNAS, you can read our article on the benefits of having a TrueNAS system for your media environment in the January issue of Post Magazine.
Contact us at info@ixsystems.com if you'd like a personal consultation about how a major national broadcaster replaced their AVID ISIS with TrueNAS, and in turn, received AVID ISIS compatibility while saving thousands of dollars.
Learn more about deploying TrueNAS for Media & Entertainment here: https://www.ixsystems.com/media-entertainment/
* iXsystems is not affiliated in any way with AVID® Technology, Inc.
David Valencia, Channel Sales Manager