FreeNAS 11.2-BETA2 is available!
The second BETA of FreeNAS 11.2 is here with a new graphical user interface and countless improvements based on community feedback. You can download it here.
---
How to Configure an APC UPS for FreeNAS
nixCraft demonstrates how to configure an APC UPS on FreeNAS to protect against a power failure.
---
Visit iXsystems at VMworld at Booth #2224
We're counting down to VMworld 2018 (August 26-30) and hope to see you there! The iXsystems team will be out in full force showcasing how the TrueNAS M-Series and X-Series storage systems combined with iXsystems servers are a perfect match for your VMware infrastructure.
---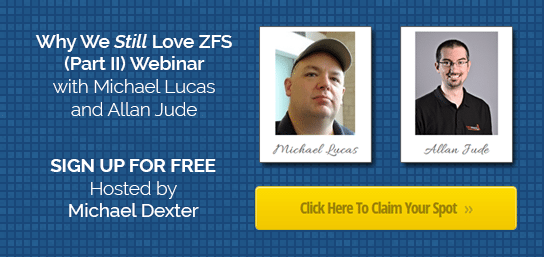 ---
FreeNAS 11.2-BETA Review
Thomas of Lawrence Systems reviews iocage, iSCSI, Plugins, and Backblaze B2 on FreeNAS 11.2-BETA.
---
FreeNAS Performance Testing by Lawrence Systems
Thomas Lawrence conducts performance tests on FreeNAS using an Intel i5-4570 equipped server with 36TB via iSCSI.
>> Watch Here Now
---
eBook on Open Source Storage by iXsystems and ActualTech Media
This free eBook explains how proprietary and cloud storage falls short and why Open Source is a better development model for storage systems. Learn about the advantages of NVMe/NVDIMM storage for the modern enterprise and why businesses need a unified data platform.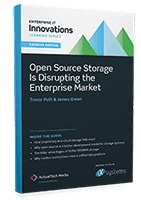 ---
MeetBSD 2018 Registration
MeetBSD 2018 will be hosted at Intel's campus in Santa Clara on October 19-20. We invite speakers from every corner of the BSD community to submit a topic about BSD success stories, new development, and innovative strategies. For those looking to attend, registration is open! Take advantage of the early bird registration price of $100 through August 31st.
---
On-Demand FreeNAS Training

Online training modules from iXsystems are designed to quickly get you up to speed for getting the most out of your FreeNAS system. Each training module is 30 minutes long and cuts to the core information you need to become an expert in FreeNAS and OpenZFS.
---
Tech-Tip #56
Suspect that a disk or controller has disappeared? Type 'sysctl kern.disks' in the Shell to list all recognized disk device names. Check the hardware if any disks are missing.
---
Links of the Month
---
Quote of the Month
"We have established a multi-tier data protection strategy that works well for us. VMware VMs running on top of VSAN handle the first level of failures, while replica VMs that are stored on the TrueNAS is the second tier of protection in case something would happen to VSAN. In addition, we perform full VM backup with NAKIVO Backup & Replication running on top of the TrueNAS appliances and FreeNAS servers. Lastly, we use backup copy jobs to send backups offsite." – Doug C., Senior Network Engineer, NAKIVO