After 13 years, Taiwan is back in the BSD Conference spotlight. On November 11th and 12th, representatives from iXsystems and more than 100 BSD developers, users, enthusiasts, and academic professionals from around the world came to Taiwan to participate in the 2017 BSDTW event, held at the Beitou Resort in Taiwan to discuss BSD.
Co-hosted by the Open Culture Foundation (OCF) and Skymizer, the two-day conference was jam-packed with multiple presentations covering BSD technologies and projects. It was billed by the organizers as a venue "to exchange knowledge about the BSD operating systems, facilitate coordination and cooperation among users and developers, and to promote business-friendly BSD-licensed open source software."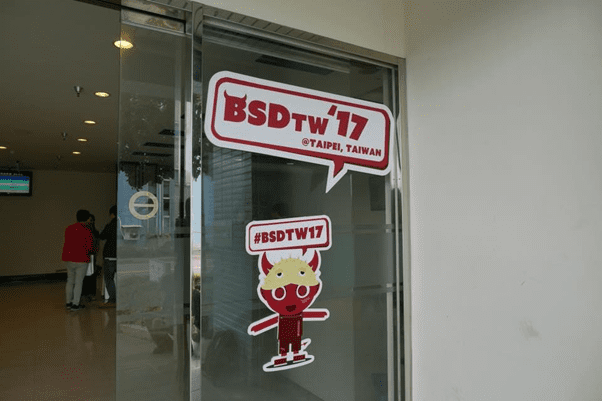 At the start of the event, the organizers of BSDTW reported that attendance had exceeded their expectations and that all tickets were sold out. During this time, they also took the opportunity to thank the staff and sponsors of BSDTW. iXsystems was both excited and proud to be a sponsoring company for this event. Other sponsors included Microsoft and Oath, a subsidiary of Verizon.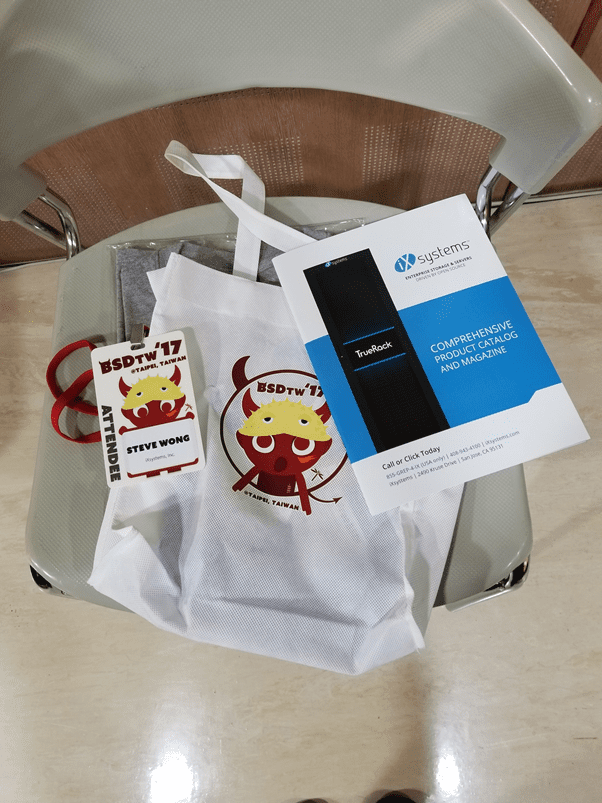 On the first day, the presentations by Johannes M. Dieterich on High Performance Computing (HPC) and GPU acceleration, Peter Grehan on Graphics Support in bhyve, and Allan Jude on ZFS Advanced Integration were particularly interesting and thoughtful.
Johannes gave an amazing overview on high performance computing, computer languages used, and FreeBSD's involvement in that realm. We learned that FreeBSD needs a lot of work to compete in an HPC playing field that is currently dominated by Linux. Johannes also discussed how he is using FreeBSD to develop software for HPC and what else is required to drive more FreeBSD deployments in HPC environments.
Peter Grehan's topic is something that we at iXsystems can relate to as we have been doing a lot of work around bhyve. Peter reviewed the history of graphics support in bhyve and the plans to add FreeRDP and spice support.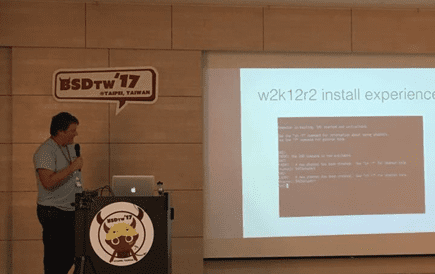 Original Photo: https://twitter.com/bsd_tw/status/929271181663858689

After an inspiring first day, we gathered for a banquet dinner at the La Villa Danshui restaurant in the Tamsui District. Located in Northern Taiwan, Tamsui is a charming seaside town and a popular destination for tourists. Also, renowned as a place to view sunsets, it gave everyone the perfect opportunity to relax, unwind, and reflect on what we learned that day.
The following day, OpenBSD founder, Theo de Raadt and FreeBSD developer Ruslan Bukin gave presentations that were particularly interesting.
Theo gave a talk about mitigations and other real security features and explained how attackers can discover bugs in your software and what mechanisms one could use to prevent that from happening.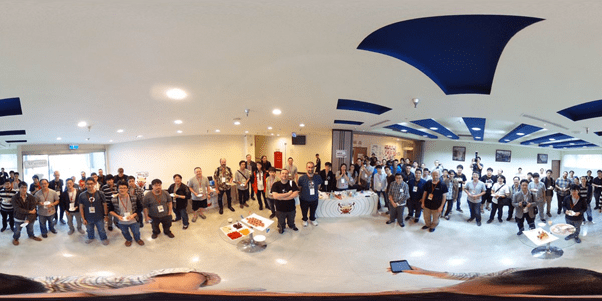 Photo Credit: Li-Chi Ku
Original Photo: https://twitter.com/bsd_tw/status/929616812764831744

Ruslan discussed his efforts to port FreeBSD to the RISC-V platform. He talked about the work needed to 'make the system boot' and then 'be able to launch/run in a shell'. It was a remarkable project. His talk left quite an impression on us, especially this quote: "It is not common that a new computer architecture appears. It takes years. I worked very hard day and night so as to not lose this opportunity."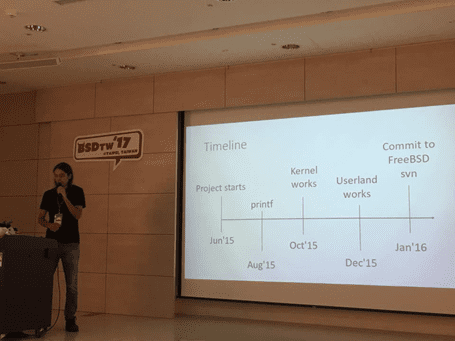 Original Photo: https://twitter.com/bsd_tw/status/929559743575638017

For many of us, one of the most enjoyable aspects of the conference was to meet and catch up with friends and acquaintances. We are looking forward to the event next year!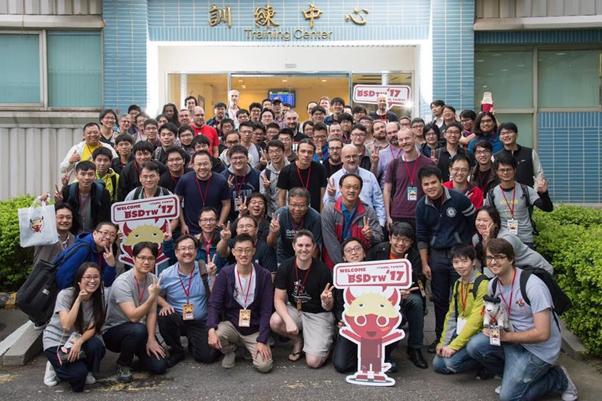 Original Photo: https://twitter.com/bsd_tw/status/930122764744138754
Photo Credit: CYJ , License: CC-BY-SA 3.0

Marcelo Araujo, Software Engineer
Steve Wong, Director of Product Management