Joined

May 28, 2011
Messages

8,949
So I moved from a nice house where I could easily run Ethernet cable (any hard line) into a new nice house where I have very few possibilities to run hard lines. This left me in a pickle as the the location I wanted to place my servers and printer and what not had no prewired Ethernet cable. I do have a coax cable so I will look into some sort of converter (one must exist) but it's not a high priority for me as my server is mainly just backup data. Anyway from my main computer to the Router is Cat 5E, from my Router to my computer room is WiFi (Asus RT-AC68W) now as an AP (Media Bridge) and the two are separated by about 20' and two walls made of drywall material (so they are physically very close together) and I have a very good connection in my opinion.
The purpose of this posting is to clearly state that
WiFi is NEVER as fast as most people think it is.
While I was maxing out my Ethernet throughput on my 1Gbit connection, now I am lucky to get 55MiB/s during a backup operation using SMB protocol (did not test any other). Attached are two tests I performed just to show the comparison between the two and the WiFi connection screen.
WiFi Connection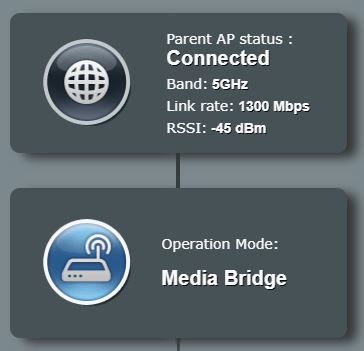 Ethernet Throughput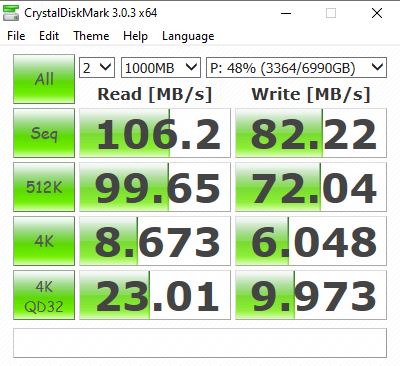 WiFi Throughput