Joined

Dec 4, 2019
Messages

12
Greetings Everyone,
(Scroll down to See photos and updated information!)
I have been away for a bit and had to put my server build on hold. However, I am back now. I have jumped back into things and finished putting together my server. I actually modified some Cryorig H7 coolers (I had them laying around and intended to use them on some pc's but gave those away so never used them.) and installed them on the Supermicro X9DRI-F motherboard. *Please note, these will not work out of the box, if you are not prepared to do some fabrication and come up with some ideas then avoid attempting this.* I know they are not designed for narrow ILM but I was able to make some custom brackets and get them in there. I figured what they heck, why not try? they are sitting here and not being used, I am mechanically, inclined and cheap. I came up with some ideas for brackets and had a go at it. They are huge and they fit and still have a very small around of room from the top when you put the lid on the 4u case. Note for anyone who may consider this or any other cooler that has no brackets for narrow ILM processors, you will definitely need to come up with some kind of brackets on your own. My total for the expense of adding these is as follows:
1. Cryorig H7 $32 (new off ebay)
2. Cryorig H7 $39 (new off ebay)
3. Aluminum for creating bracket (From the local metal shop) $5
4. Various aluminum bolts and nuts $3
total: $79 (total cost for both fans and all supplies)
5. Note: Cryorig H7's include QF 120 balance fans, which is what I used in this build. However some have used 120mm fans from other manufacturers such as Cooler master, and of course Noctua. Research Gear also has other fan models for this cooler should you choose to purchase them.
Fan Models
QF120 Silent Fan
Rates Speed: 200 ~ 1000 RPM ±10 %
Noise Level: 5 ~ 19 dBA
Air Flow: 44 CFM
Air Pressure: 0.79 mmH2O
Ampere: 0.15 A
QF120 Balance Fan (Used for this build)
Rates Speed: 300 ~ 1600 RPM ±10 %
Noise Level: 25 dBA
Air Flow: 59 CFM
Air Pressure: 1.65 mmH2O
Ampere: 0.16
QF120 Performance Fan
Rates Speed: 600 ~ 2200 RPM ±10 %
Noise Level: 13 ~ 37 dBA
Air Flow: 83 CFM
Air Pressure: 3.33 mmH2O
Ampere: 0.5 A
After test fitting and measuring I cut the aluminum to size, used a tap and die to create holes for the bolts to screw in on both the brackets and Cryorig H7 coolers. After completion I added thermal grease and powered on the server for the first time. Everything appeared ok and the bios appeared after the splash screen with the various potential error numbers at the bottom. After booting into Fedora, I was immediately greeting by a vacuum sound as the aftermarket cooler fans kept revving up and down over and over and over. For a minute or so they would be low and then they would rev up to max speed. I tried everything, trying different OS, checking connections etc. After scouring the internet I was getting bits and pieces of things that could help from all over but nothing worked. I finally found a thread
here
on the iX forums that solved it!! (Thanks to everyone here, the knowledge base is excellent.) to make a long story short I wound up installing ipmitool and adjusting the values of the fan lower and upper limits for both CPU fans. The stock values were way off. This did the trick, worked like a charm and immediately the revving went away. I Now I can move to the testing phase, ram, processors and Hard Drives. currently my CPU' temperatures according to IPMItool and various other linux sensors are CPU1 - 34 CPU2 - 32. Great temps for idle. The Cryorig H7 has adjustable fans which helped it to fit and clear the ram on the board. In the morning I will run Prime95 and get some stress test temps. I will add pics later. Any questions feel free to ask.
Photos !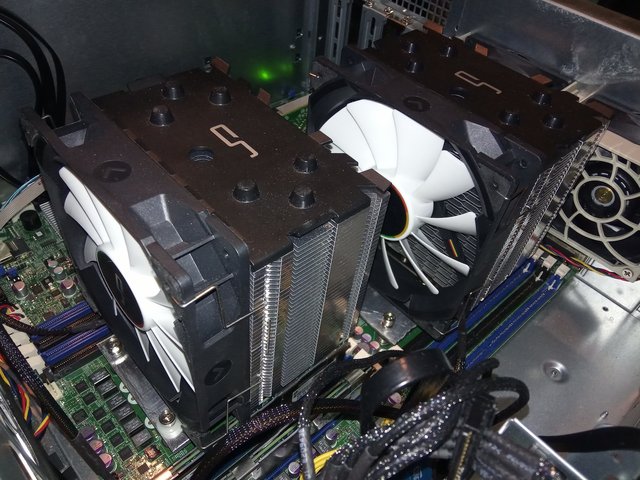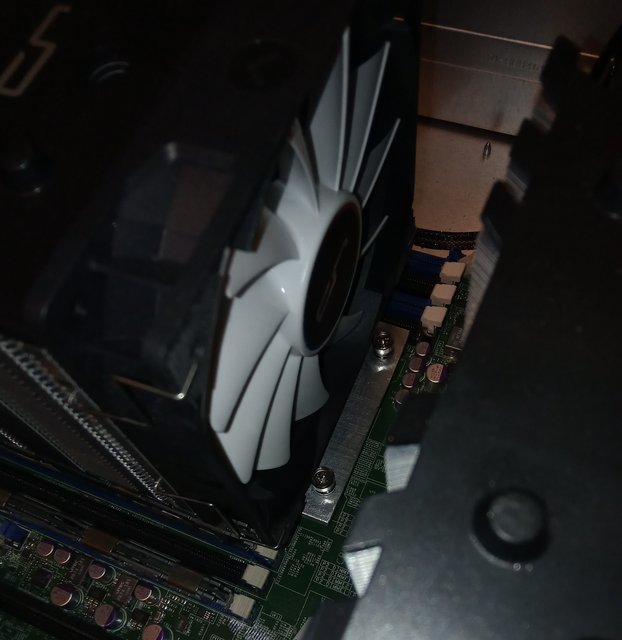 Quick updates
1. I have been running this in my build from day One. If you are not comfortable with IPMI tool and changing fan values then find someone who is, or stick with stock fans. (Perhaps this may not be the case on other motherboards, but on my supermicro X9dri-F, the fan values were way off. I think 20,000 was the upper non-recoverable value and 10,000 was the lower nonrecoverable Value, I cannot remember. Whatever the numbers were (cannot remember them exactly now) they were waaaaay out of range for the Cryorig fans.
2. Passed stress test multiple times with flying colors. don't have the figures anymore.
3. On my build the system never crosses 50c even under heavy load the coolers have never had trouble keeping it below 50c.
4. Currently I only use one fan on each cooler. (Reason: You run into clearance issues.) The Cryorig H7 is designed for dual coolers, yet space limitations on the Supermicro X9dri-F motherboard prevent this. I had anther 120mm fan sitting around and if you attempt to add the fan to CPU#2's cooler it will not fit between the two coolers. If you attempt to add it to the cooler for CPU #1 (The rearmost cooler sitting in front of the super micro rear case fans, (brown cases There is not enough clearance. The only way around this would be to install slim case fans. (I have ordered two but they have not arrived. Perhaps they will make no difference in temperatures. Either way, this cooler is excellent and keeps my server very cool.
5. In the photo you can see the metal brackets that I fabricated. There is no narrow ILM bracket for this cooler. If you decide to attempt this modification, keep in mind you will need to make your own brackets. Additionally you will need to make adjustments to the Fan limitations (Ranges).
6. The brackets are simply pieces of aluminum (forgot the thickness). I used a tap and die set to make holes in the side of the cooler. I then made holes in the aluminum pieces and tightened them onto the cooler with nuts and bolts (One piece of aluminum on each side of the cooler). I also drilled two holes in each aluminum piece to make holes for the motherboard mounting screws. After assembling it all, I added thermal paste, tightened the new Cooler with the modified brackets onto the motherboard and powered up the system. It worked!!!!!
7. The coolers are huge, but they fit in the 4u Supermicro case (24 Bay). There is still a little room above them but not much.
Last edited: