Joined

Jul 3, 2013
Messages

14
Beste,
Niet al te lang geleden heb ik mijn FreeNAS een opfrisbeurt gegeven door mijn oude schijven te vervangen door een nieuw aangeschafte WD Red 3Tb (inmiddels tevens een 1Tb aan toegevoegd), m'n oude werkgeheugen van 2 x 4Gb te vervangen door 2 x 8Gb en de laatste versie van FreeNAS (9.3-STABLE) te installeren. Echter kreeg ik al vrij snel de melding dat m'n ZFS pool 'degraded' (zie hieronder) was. In beginsel ging het slechts om een paar errors, welke ik handmatig heb verholpen door de betreffende files te vervangen, echter haalde dit niets uit en krijg ik alleen maar meer errors. Als gevolg hiervan ontvang ik continue foutmeldingen tijdens kopieeracties en heb ik te maken met bestanden, die niet meer te benaderen zijn.
Kan iemand mij vertellen wat hier aan de hand is en wat de oorzaak van mijn probleem is? Wordt dit bijvoorbeeld veroorzaakt door m'n nieuwe WD Red 3Tb schijf, welke 'bad sectors' o.i.d. bevat en moet ik hiermee terug naar de winkel of moet ik de oorzaak ergens anders zoeken!?
N.B. Probleem deed zich eigenlijk direct voor na het plaatsen van de nieuw aangeschafte WD RED HD, heb er vervolgens een 2de 1Tb schijf aan toegevoegd om te kijken of dit effect had, maar helaas...
Bij voorbaat dank voor jullie reactie/hulp :)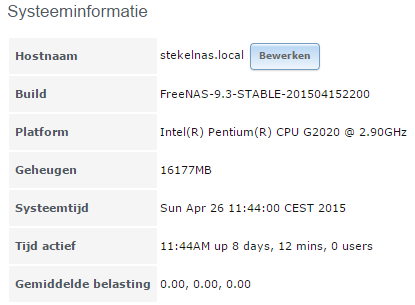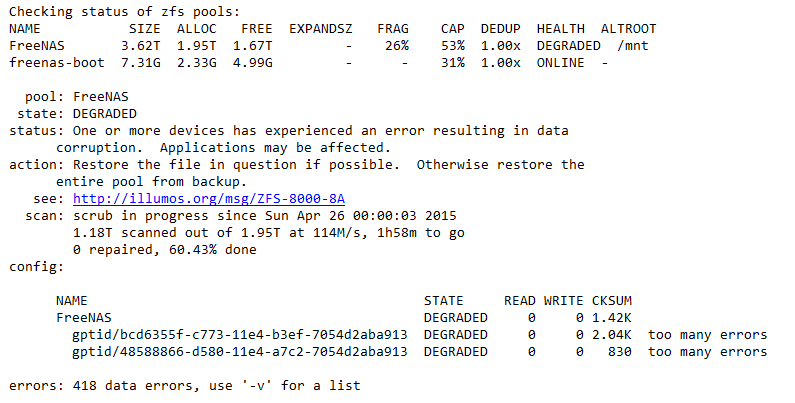 Last edited: