Joined

May 16, 2016
Messages

1,077
Win a 70 TB TrueNAS Mini X and Help End Hunger!​
Leave a TrueNAS review using the links found on our
Gleam Giveaway Page
for a chance to win a
70 TB TrueNAS Mini X
and other awesome prizes, including a $200 gift card! We partnered with Western Digital to offer a Mini that comes with five 14 TB Drives. Additionally, TrueNAS is partnering with G2 to raise money for those affected by natural and humanitarian disasters. For every review left on their site, G2 will donate $10 to support
World Central Kitchen
.
Leave your reviews and be entered to win
HERE
!
TrueCommand 2.2 is Available NOW and Enables Clustering
TrueCommand
has been the multi-system manager for TrueNAS for nearly three years. With the availability of TrueCommand 2.2, it is evolving to manage
TrueNAS SCALE clusters
and now makes use of additional APIs for Gluster and Clustered SMB for
TrueNAS SCALE 22.02.2
. For more information about other significant improvements to performance and reliability, check out the additional resources available below.
Upgrading My TrueNAS Server
Watch HardWare Haven upgrade his DIY TrueNAS Home Server with a new motherboard, 32 GB of DDR3-1333 Unbuffered RAM, and an i3-4160 CPU.
Exclusive Offer for TrueNAS Users & Customers: All-Flash Starter Kit
It looks like lead times are still tough in the marketplace, but iX has models across the entire TrueNAS portfolio in stock. For a limited time, we are offering a special promotion on an
All-Flash Starter Kit
starting with 64 GB RAM and 40 TB of All-Flash capacity. With room for optional cache SSDs and 13 additional drives for expansion, the M30-HA is designed so you can upgrade to a higher-capacity M40, M50, or M60 as you grow.
40 TB All-flash HA Unified storage system =
$25,000
. Don't miss out on this special price! This exclusive offer is only available through September 23, 2022. Choose between Enterprise or SCALE, or start with Enterprise and upgrade to SCALE when the time is best for you.
Latest Releases
TrueNAS Stable – 13.0-U1.1
Release Notes
TrueNAS Legacy – 12.0-U8.1
Release Notes
TrueNAS SCALE – 22.02.2.1
Release Notes
TrueCommand – 2.2
Release Notes
Become an iXian!
iX is expanding, and we want people who are passionate about TrueNAS and Open Source (like you!) along for the ride.
Check out our careers page
to learn more about how to become a part of the team leading the Open Storage Movement.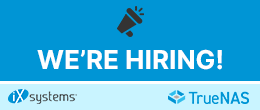 Tech Tip #114
TrueCommand Cloud is a secure SaaS offering that includes a WireGuard VPN capability to connect TrueNAS systems through firewalls. TrueCommand Cloud requires TrueNAS versions 12.0+ or SCALE for the Wireguard VPN capability.
Download TrueCommand HERE
.
Links of the Month
Top Storage Virtualization Trends in 2022
(Enterprise Storage Forum)
How to Add Groups to the TrueNAS SCALE Network Attached Storage Solution
(Tech Republic)
The post
Win a 70 TB Mini X! | TrueCommand 2.2 Now Available!
appeared first on
iXsystems, Inc. - Enterprise Storage & Servers
.
Continue reading...