Joined

Feb 14, 2018
Messages

15
Hello,
As as long time 9.10 user I recently made the jump to 11.2 One of the features I've long anticipated trying is the built in support for VM's
System specs:
-Intel(R) Xeon(R) CPU X5675 @ 3.07GHz (24 cores)
-64GB RAM
-240GB SSD for VM/Jails
Have to say, it's been a mixed bag with how well they've been working.
I deployed an Ubuntu server with PiHole as my first test, this worked rather ok.
But recently I deployed a Windows 10 VM and the experience has been horrible.
-Installation took over 2 hours, installing onto a ssd based zvol
-It's always stuck at 100% cpu utilization, changing my core count hasn't helped. ( from what I can tell it only even see 1 core, whether I assign 4 or 8 )
-interacting with it through VNC is basically impossible, its constantly locks up and freezes.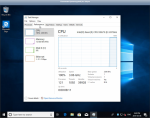 Is this an active issue for others using 11.2? or an isolated case on my part? Is it being looked into?
Last edited: