We (iXsystems) posted a blog on the upcoming TrueNAS 12.0 (CORE and Enterprise) features at
https://www.ixsystems.com/blog/truenas-core-features/
The feature summary text is below:
The features in black were existent in FreeNAS 11.3 and are shared by both TrueNAS CORE and TrueNAS Enterprise. The features in blue are new features being added with TrueNAS 12.0. The column to the right displays features that are available in TrueNAS Enterprise only. As you can see, no existing FreeNAS features have been moved over to the Enterprise column.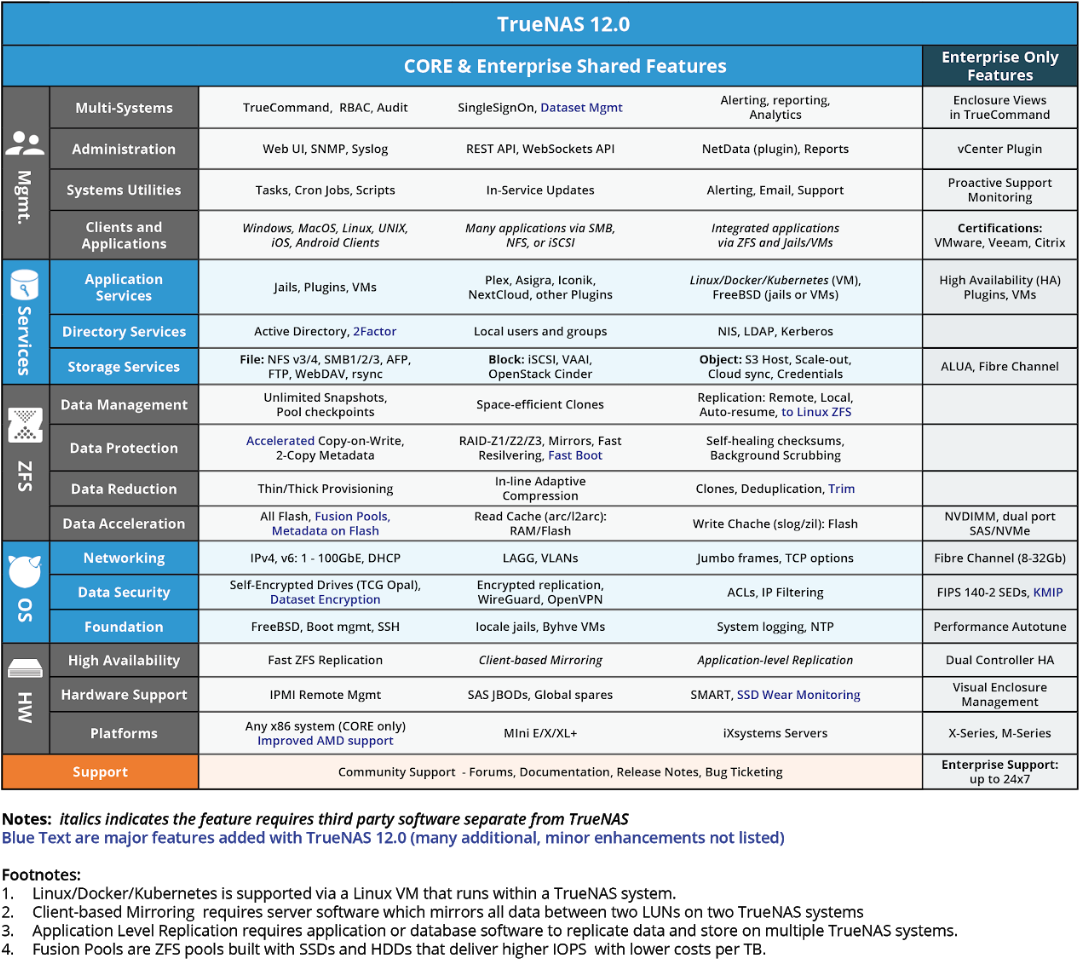 TrueNAS Enterprise has additional features that are needed for deployment in production applications. Many of these features are tied to the ability to support High Availability (HA) systems. By default, all new TrueNAS 12.0 features are included in both TrueNAS CORE and Enterprise. The feature additions for TrueNAS 12.0 can be summarized as:
Metadata on Flash:
Special SSD vdevs can be used for Metadata acceleration. This can include both file systems metadata and dedupe tables. This is one of the core features of
OpenZFS 2.0
.
Fusion Pools:
The special SSD vdevs can also be used for data based on I/O write size. This is configurable on a per dataset basis. Users can accelerate database datasets or special VMs.
SSD Wear Monitoring:
Any SSD (Boot, L2ARC, slog or vdev) can be monitored for wear and alerts created.
Dataset Encryption:
Specific datasets can be selected or deselected for encryption with a user-provided key. When replicating the dataset to another TrueNAS, the key does not have to be provided and so the data can be transmitted and stored in the original encrypted state.
Asynchronous ZFS Trim:
Trim commands free up space, particularly within SSDs. By making these Trim commands asynchronous, they scale and perform better. This is particularly useful for deduplication of flash storage and can significantly reduce costs.
Faster ZFS Boot:
OpenZFS 2.0 includes a more parallel process for importing a ZFS pool with many drives. This reduces boot and failover times.
ZFS Linux Compatibility:
Linux and FreeBSD are peer operating systems for OpenZFS 2.0. Compressed, deduplicated, and encrypted data can be efficiently replicated from a Linux host to a TrueNAS system for backup and archive. It is also possible to import a pool (drive set) from Linux to TrueNAS.
Accelerated ZFS:
Several performance improvements have been made to reduce both drive IOPS and the CPU cycles required. More features and higher performance together is a big win for ZFS users
.
OpenVPN Client and Server:
VPNs provide security for remotely accessing storage services, such as SMB or NFS, across the Internet. This feature enables the
OpenVPN
Client or Server to be included in the NAS for simpler administration and lower costs. The other end of the VPN connection can be any OpenVPN client, such as another NAS, Firewall Device, or Personal Desktop/Laptop.
Two Factor Authentication:
For increased security, two factor authentication is highly desirable. TrueNAS ensures that a compromised root password cannot be used by itself to gain access to the administrator interface.
API Keys:
Access to the REST / WebSockets API can now be done by API key. Keys can be created and revoked directly via the WebUI for additional security.
KMIP Support:
Key Management Interoperability Protocol (
KMIP
) is an enterprise-grade approach to securing systems and data through a centralized key management system. This feature will be available in TrueNAS Enterprise to secure drives or datasets.
TrueCommand Dataset Management:
TrueCommand is joined at the hip with TrueNAS and will provide some exciting features, including snapshotting, replicating, and migrating datasets between systems.