Joined

Mar 10, 2019
Messages

181
Ok, some thoughts... Yes, you can build a FreeNAS system for less. And yes, you can spend much more money on a FreeNAS build.
Here's what I want to do: I want to build a FreeNAS system which only purpose is being a reliable filesserver! So no jails, no plugins, no Plex/Emby or something like that just pure FreeNAS. It shall be upgradable (storage- and ram-wise), it must be a rack server and being just a little quiet (compared to enterprise grade stuff) would be nice... (I'm not planning to install this in my living room but not wanting another screamer in my Startech rack ;))
Chasing unicorns? yeah, maybe, but let's see :)
Being used to enterprise grade hardware and loving the easy maintenance and the reliability of it I for sure could have just bought a new e.g. Dell R740 (way above 1000$) or e.g. an older Dell R710 (cheap, realiable but a little noisy under load) and upgrade it a little bit. Or I could've started with pure consumer grade hardware to stay in budget. But I thought maybe one could get a little bit of both worlds thats why I kept thinking of a "prosumer" build. Yeah I know we could debate for hours about this topic alone ;) I'm sure there a 1000 different ways to reach that goal but here's a way I thought of. Of course this build contains no storage HDDs because the individual storage needs may be very different from e.g. the 200GB photo archive backup dude to the 80TB data hoarder.
(I only use enterprise grade Seagate Exos X10 ST100000NM0086 10TB drives. Take a look @Backblaze statistics :) They come with a 5 year warranty so no problems with bad drives and on this side of the pond they are just 5-10 bucks more than the WD RED NAS HDDs)
EDIT: Exos 10 HDDs not recommended anymore (why?
please take a look here
)
So I'm really looking forward to your comments, productive criticism, thoughts and tips. Thank you in advance :)
Case:
Intertech 4U 4129-N
(in the US it's
Norco RPC-450 4U
, but it's sold there without the hot pluggable 120mm fans) (good airflow and lots of upgrade space)
Case rear fans: 2x
Noctua NF-A8 PWM
(silence please)
Backplane: 2x
ICY DOCK FatCage MB155SP-B 5 Bay
(room for up to 10 HDDs, fans have to be exchanged to silence them see below, no enterprise grade, still there's room for a third one = up to 15 HDDs in the case)
Backplane fans: 2x
Noctua NF-A9 FLX
(take the heat out in silence)
PSU:
bequiet Dark Power Pro 11 550W
(platinum grade efficiency, very silent, lots and lots of sata/sas rails for HDDs, 5 years warranty)
Motherboard:
Supermicro X11SSM-F
(it's Supermicro
)
CPU:
Intel Core i3-7320
(no jails, no VMs, no Plex/Emby, not more than 4 concurrently users using this machine)
CPU Cooler:
Noctua NH-D9L
(silent ice ;))
RAM: 2x 8GB ECC Ram
Samsung M391A1K43BB1-CRC
(to be upgraded later)
HBA:
LSI 9211-8i
(for up to 8 HDDS/SSDs, already flashed to IT mode)
Boot: 1x
Intel SSD SSDSC2KW128G8X1 545s 128GB
(slow write, cheap, 5 years warranty)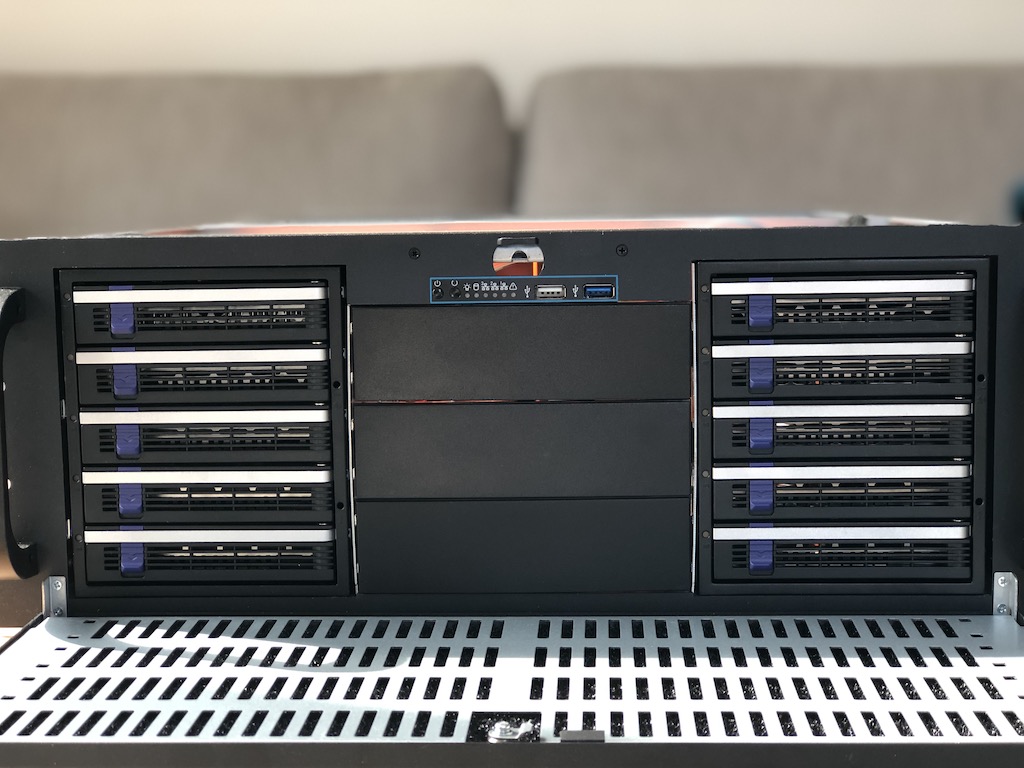 (open front view of the
Intertech 4U 4129-N
case, still more room for another
ICY DOCK FatCage MB155SP-B 5 Bay
in the middle section)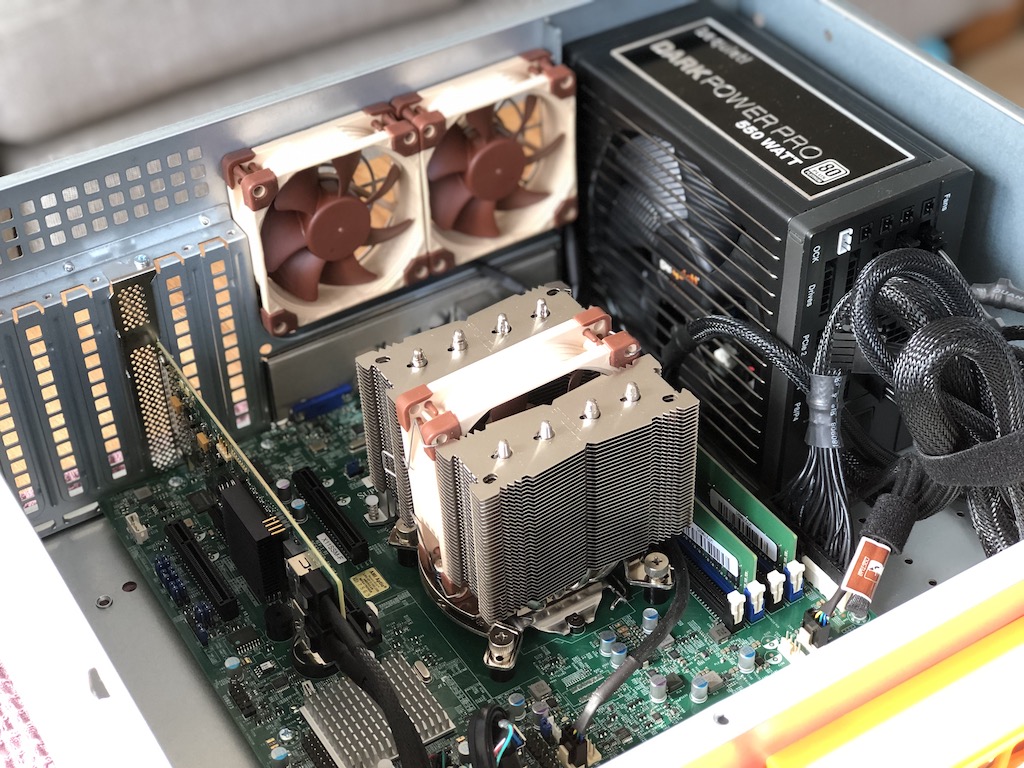 (detailed view from left to right:
LSI 9211-8i
(HBA), CPU Cooler:
Noctua NH-D9L
, PSU:
bequiet Dark Power Pro 11 550W
)
Thanks for your feedback. Will it FreeNAS? EDIT late march 2019: yes, definitely
EDIT 2019.03.19: added HBA and changed Boot
EDIT 2019.03.26: changed rackmount case
EDIT 2019.04.13 added some photos
EDIT: 2020.11.24 Exos 10 HDDs not recommended anymore (why?
please take a look here
)
Last edited: