He of the long foot
Moderator
Joined

May 13, 2015
Messages

2,258
Does anyone know how to build FreeNAS 9.10?
I've set up a build system (a VM using FreeBSD 10.3-RELEASE) and pulled down the master branch from GitHub at this link:
https://github.com/freenas-build.git
I follow the instructions and -
voila!
- after several hours I get a successful build of FreeNAS-10-MASTER. But how do I build version 9.10?
I'm a newbie at using GitHub, so that may be the problem. But I thought that 9.10 and 10 were both built from this branch, and there's a FreeNAS 9.10 folder that makes me think I'm hot on the trail: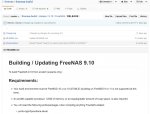 Anyway, I'm stumped... and I'm hoping one of the experts here can help me out. Thanks!