Joined

Jun 29, 2015
Messages

134
I set up a new TrueNAS machine back in December. It is just running pretty much as a backup machine right now and my main server is an older FreeNAS machine. On the FreeNAS machine, I set up the SMB shares following a YouTube video and they have all been working for years flawlessly. With the TrueNAS machine I have never been able to get them set up correctly.
I first noticed that all wasn't well when I couldn't install a program file that was saved on the server. I have to copy the exe to the workstation to install. I usually keep copies of updated programs on my server and once a month update all the out of date programs on a workstation. Think Firefox, Thunderbird, Glary Utilities, Libre Office... That worked fine with the FreeNAS, but not on the TrueNAS machine. Next I noticed that I cannot open files from the TrueNAS machine using command line from a windows machine. I can with the old FreeNAS Machine. I posted a thread about this but never got a solution. See...
https://www.truenas.com/community/t...ne-cant-open-from-cmd-line.90347/#post-626636
Today, I found a new problem that is even more serious. Something has changed. When I try to create a new folder on the TrueNAS machine, Windows immediately give me an error saying "Destination Folder Access Denied"... "You need permission to perform this action."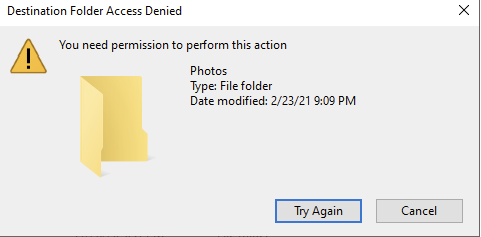 It goes ahead and creates a folder named "New folder" but I can't access it. I can't delete it. I can't even view security permission for it. I get this error: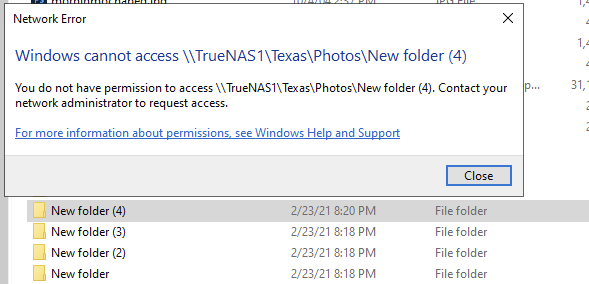 Now, this gets weirder, I can add folders under different subdirectories that I can read and write to.
I am completely at a loss what to try. I don't really understand how permissions work and though they were set up ok. Apparently not.
Thanks,
Kirk