Joined

Apr 17, 2016
Messages

150
I have been fighting with this bloody thing all afternoon now. I've read the docs, searched the forums and searched google with no luck. If the answer is out there, I can't find it.
I have a bunch of shares set up. With default FreeNAS permissions I can access them all, no problem, with the corresponding owner user and users within the owner group. I can change the specific permissions for the owner user and owner group from within windows. I can change the owner user and owner group within FreeNAS and it updates in Windows. Cool!
HOWEVER I can NOT add new users or new groups from within windows. I was following this guys guide and everything works perfect except I can't add users/groups using the windows security panel as he does. He makes it look really easy and I get a supremely irritating error:
https://youtu.be/QhwOyLtArw0?t=6m48s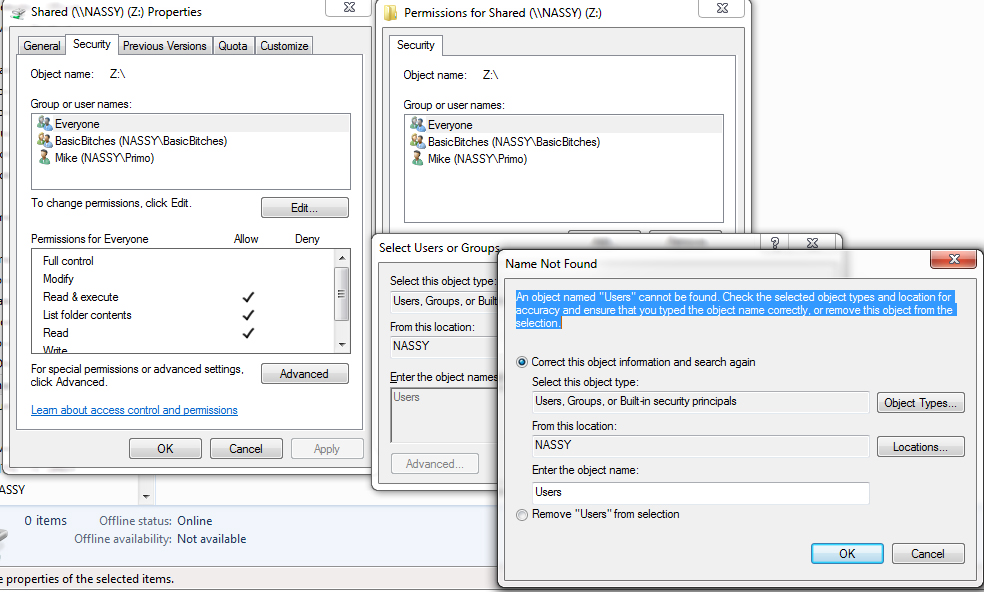 I get the same error regardless of whether I'm searching for a group or user BUT I can set those groups or users as the Owner Group or Owner User and those changes are easily reflected.
As far as I can tell, not being able to add other groups or users will REALLY limit my ability to set up multiple groups or users with different read/write privileges.
Is this a bug or am I screwing something up?