Joined

Oct 18, 2018
Messages

969
Hey folks. Though this build is nothing special I've seen a few folks posting about this case so I thought I'd provide a quick writeup of my build to help others get an idea of what a build in this case looks like.
tldr
: The Fractal Design Define R6 easily holds 12HDDs, 4 SSDs, and 9 case fans. It is well-protected against dust, quiet, and keeps my drives cool. The drive trays are somewhat less than ideal, see below.
The Build:
Case:
Fractal Design Define R6 White
Included with the case

Fan Controller: 6 x non-PMW headers + 3 PWM headers
3 x 140mm fans
6 x HDD trays
2 x SSD trays
Motherboard:
SuperMicro Motherboard X11SSM-F mATX Board
CPU:
Intel Core i3-7100
CPU Cooler:
Cooler Master Hyper RR-T4-18PK-R1
Memory:
32 GB of 2x16GB Crucial CT16G4WFD8266 DDR4-2666 ECC
PSU:
Seasonic Prime 650 Titanium
HBA:
LSI/Broadcom SAS9207-8i HBA
Storage:
12 x HDDs as storage pools. 5900RPM Seagage IronWolf NAS drives where possible.
Additional Accessories:
Case selection
The R6 has a few variants. I picked whichever color was cheapest at the time of purchase and made sure to get the solid-sided variant because those side panels have the ever-desirable noise-dampening panels. The only modifications I made to the case were to remove the top and front panels. This increases airflow significantly.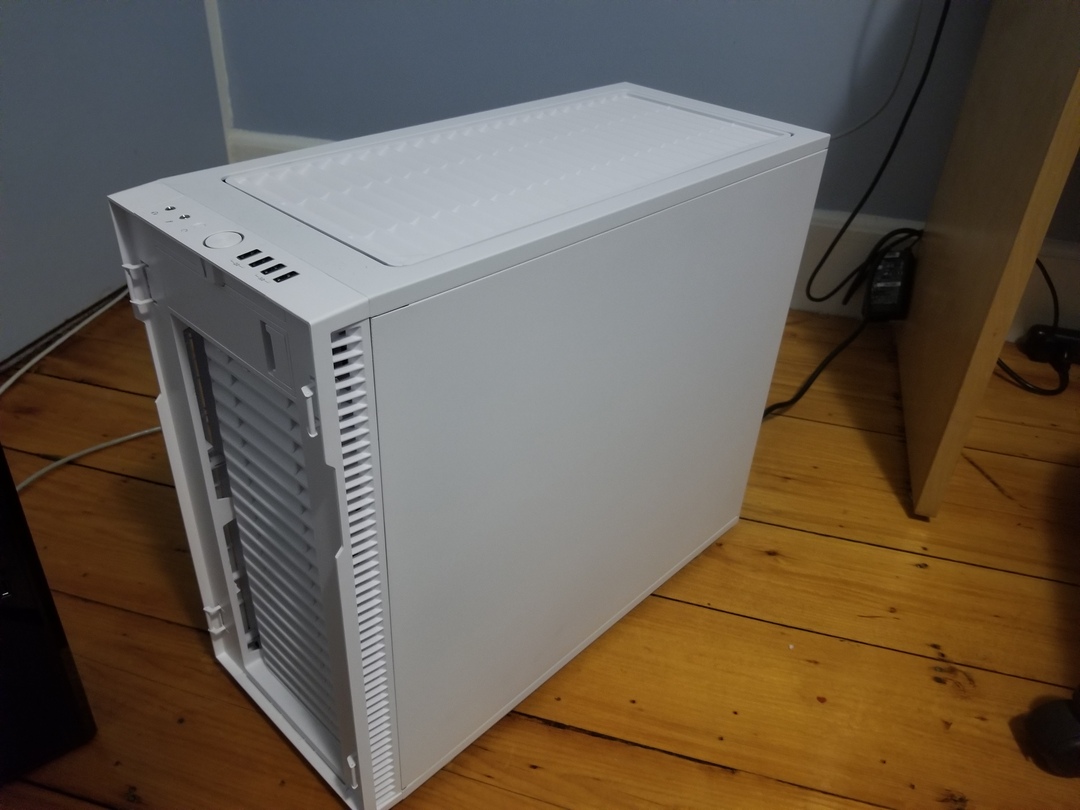 Removing the front panel involves removing a few small screws. The top panel consists of an outer panel with a noice dampening layer attached (screw-less) to a removable fan filter. These two parts simply pull apart; you can store the outer panel and place the fan filters back into the case. Note the black noise dampening paneling; this is the same paneling on both sides of the case and contribute significantly to keeping the case quiet.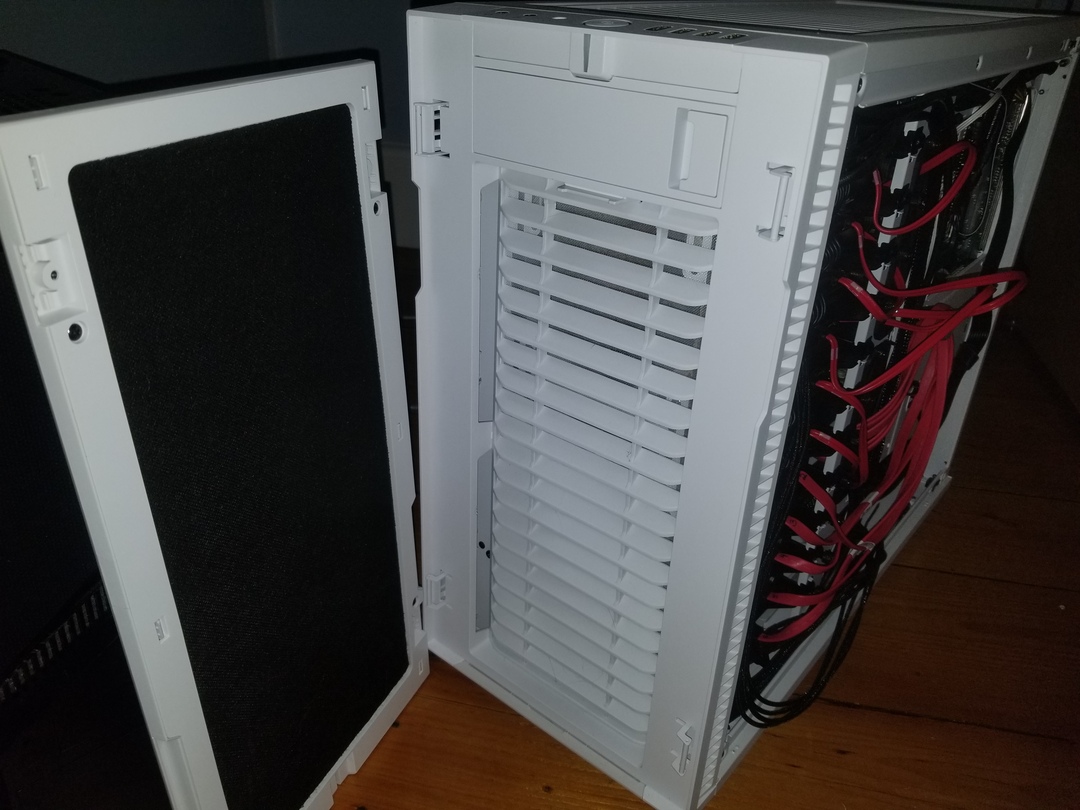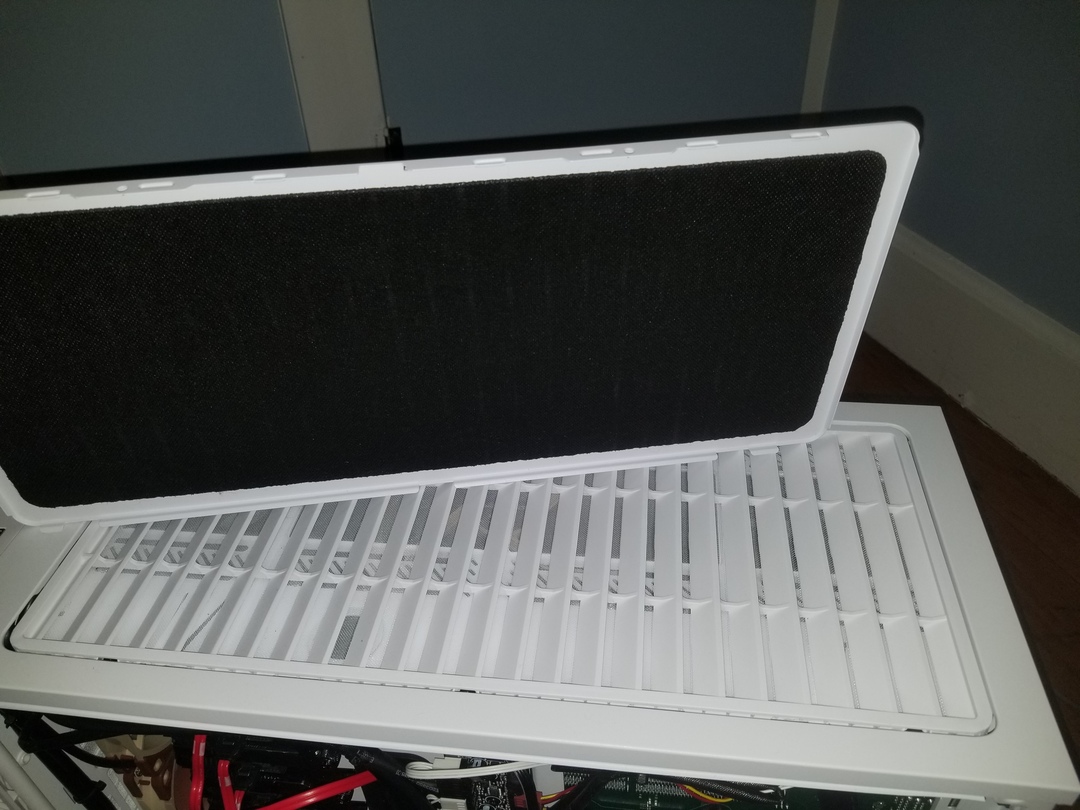 Fans
The case holds 9 fans just fine. 3x120mm up front, 2x140mm on the bottom, 2x140mm + 1x120mm up top, and 1x140mm in the back. Do note that the fans are a tight fit. The bottom most front fan was so tight I had to remove the rubber anti-vibration pads that ship with noctua fans. These fans keep the drives nice and cool. Only my 7200rpm drives climb into the mid to high 30s during heavy use. I did remove the front and top panels to improve airflow and even so the case is quieter than expected. I also took care to move cables such that they do not block airflow.
The case comes with 3 x 140mm fans. I had a few extra 140s and 120s lying around and purchased a few extra to give myself a total of 5 x 140mm + 4 x 120mm fans. Do note that my CPU cooler came with a fan as well for a total of 10 fans inside this case. Because the fan controller only contains 9 (6xnon-PWM|4xPWM) headers I opted to plug one case fan into a fan header on the motherboard.
Note that the two fans touching on the bottom and the missing rubber anti-vibration pads. These had to be removed to make space and doing so did not increase noise noticeably whatsoever.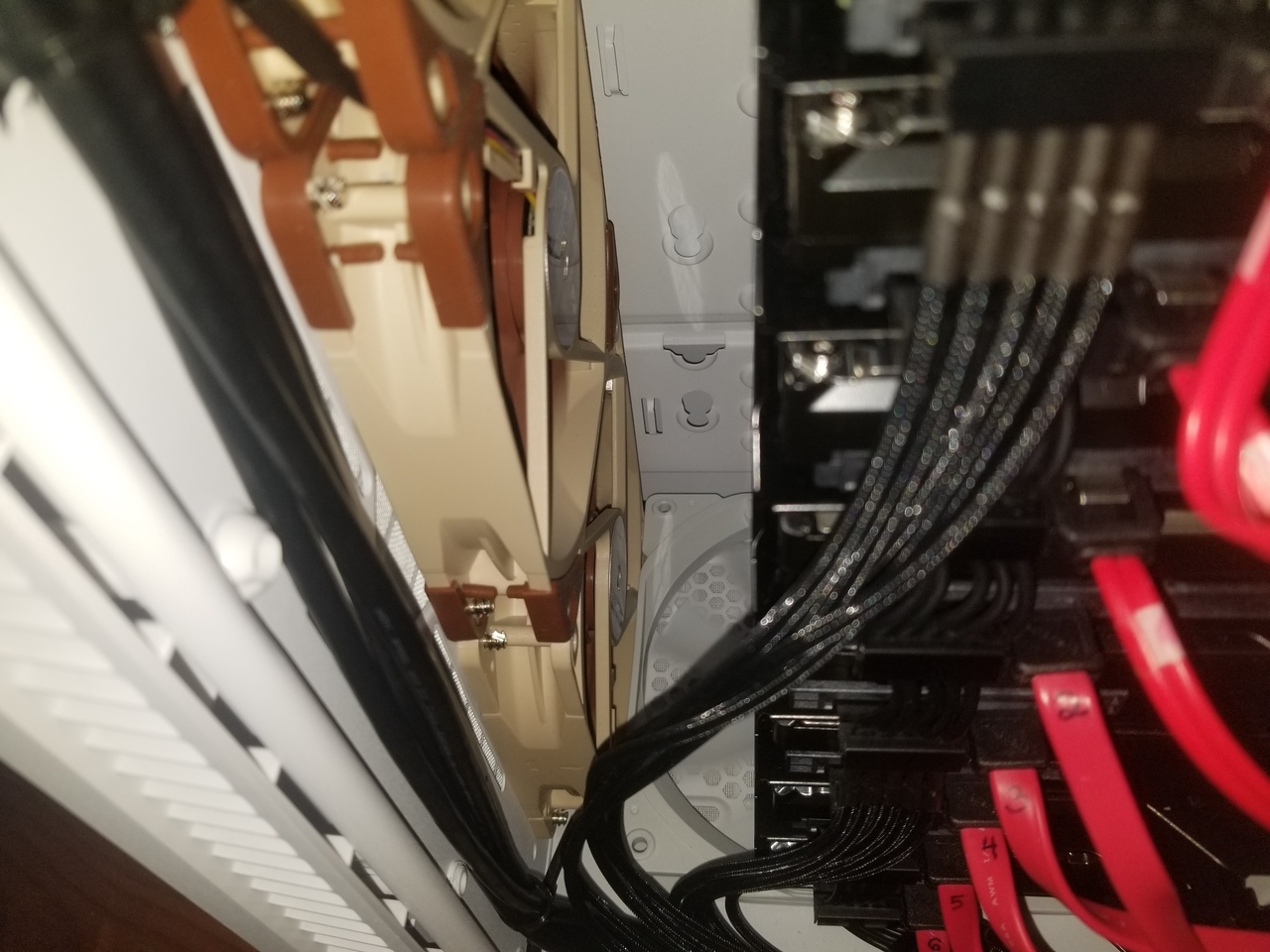 Storage:
The R6 ships with 6 HDD trays but supports 5 additional trays. Annoyingly, Fractal Design sells
2-packs in either black or white
. Thus, I purchased 3 2-packs and have 1 spare/wasted. For the 12th HDD I added a
PCI Slot to 2xSSD + 1xHDD Bracket
. I selected this bracket because it was all-metal, supported 2 SSDs in addition to the single HDD, and does not block PCIe cards or Fractal Design SSD trays.
The case also ships with 2 SSD trays but has 4 convenient mounting points. If you grab the bracket I described above and a
pack of 2xSSD trays
the case supports 6 SSDs just fine. Do note that the 2 of the SSDs mount on the bottom of the main chamber between the PSU and motherboard chamber. This will reduce airflow from the bottom intake fans somewhat; though I do not imagine it would be too significant.
You'll note here that I have one of the trays SSD trays on the lower right removed. Behind each tray in this location is a very small hole. I had more need of that small hole for cables than I did the tray so I removed it.
Also note the custom SATA power cables. These saved a lot of space in the case by limiting excess cabling.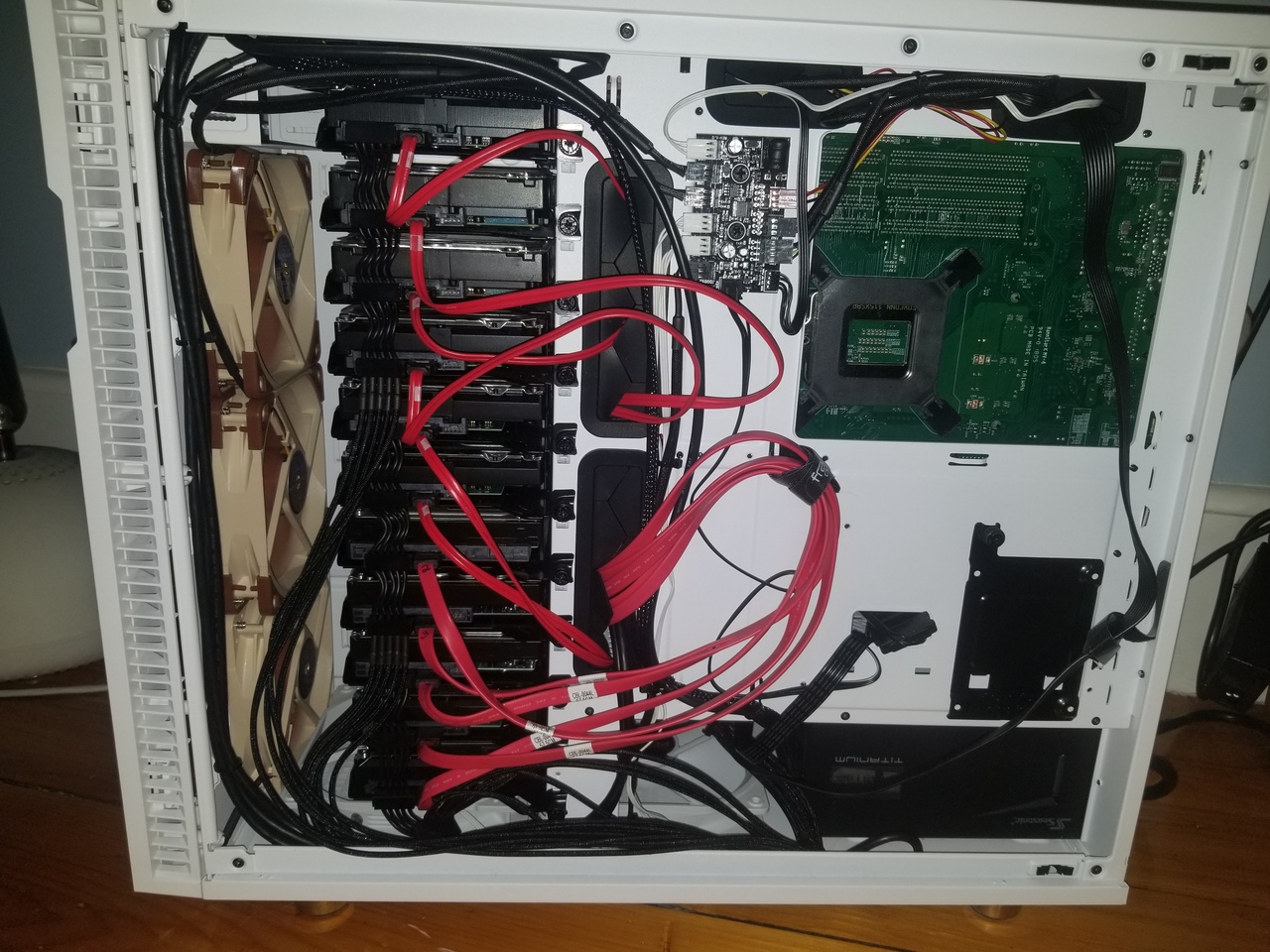 Here you'll note that the HDD/SSD bracket I selected not only does NOT block the placement of the SSDs in this location; it also would not block the use of full-height cards such as NICs or HBAs in any of the PCIe slots on this motherboard.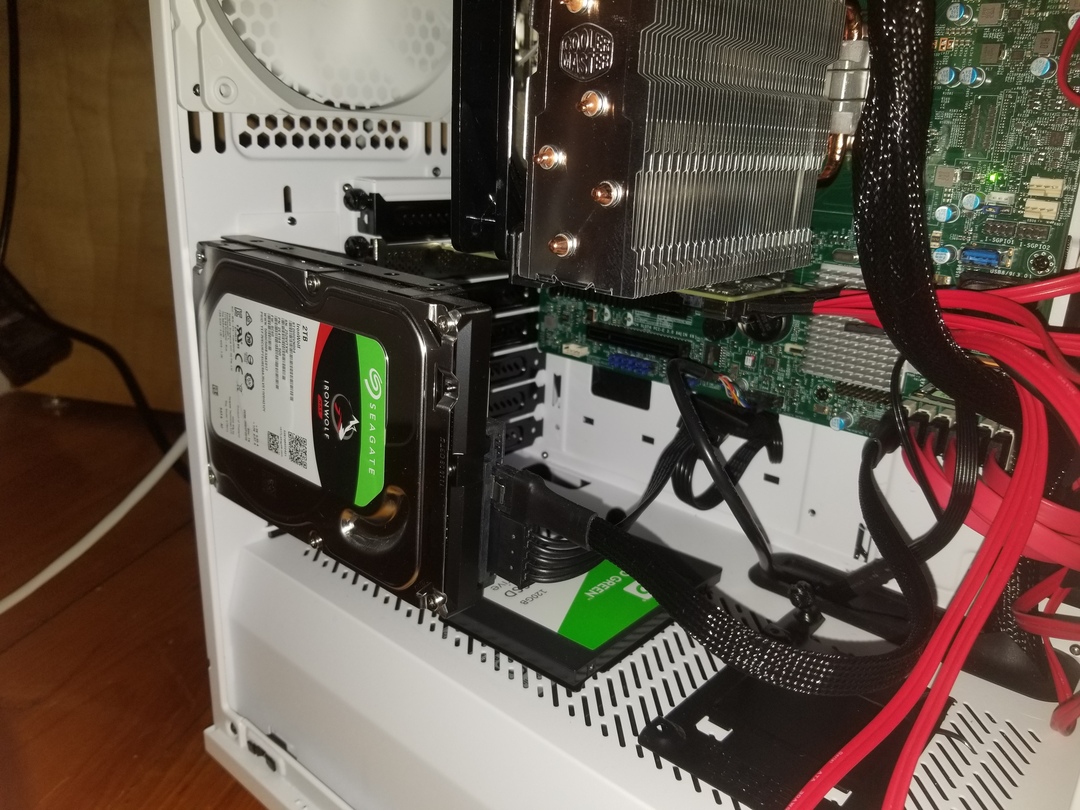 This is a strange angle, I apologize. This image shows that the rear bracket I purchased has space for 2 additional SSDs and will not block any of the PCIe cards.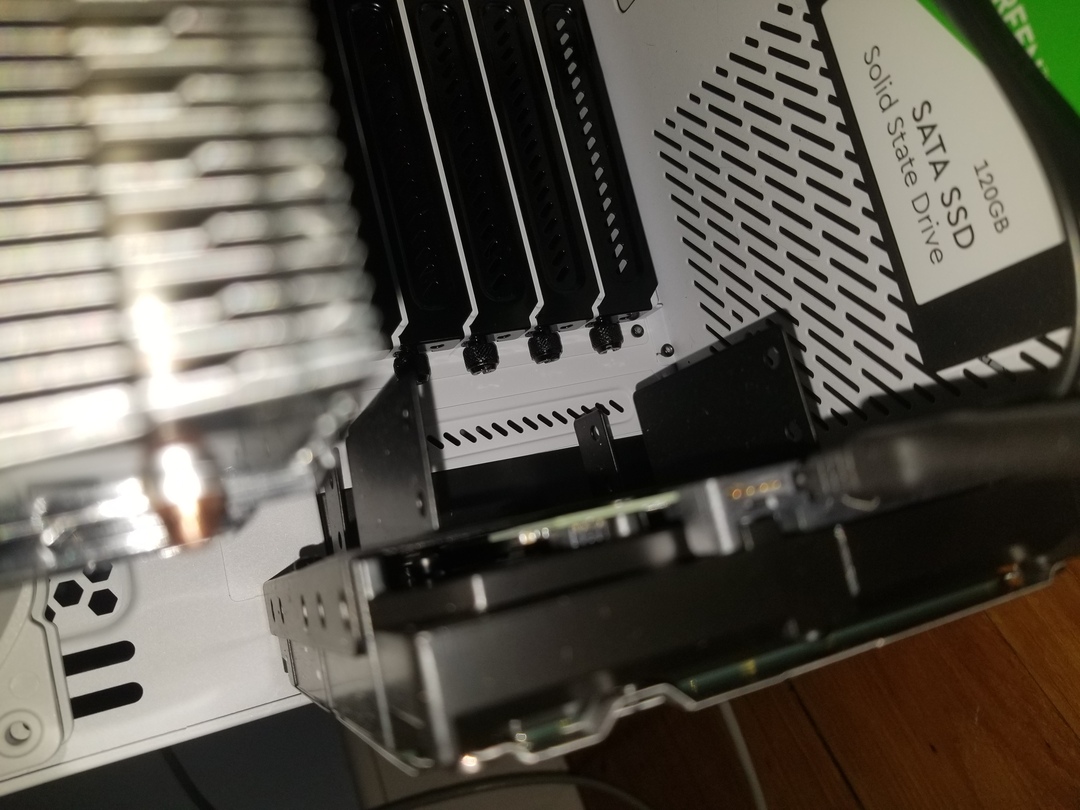 CPU Cooler
It's one I had lying around; and it does not block any of my memory slots. It DOES block one of my PCIe slots, so when I add a 10G NIC I'll be replacing this CPU cooler.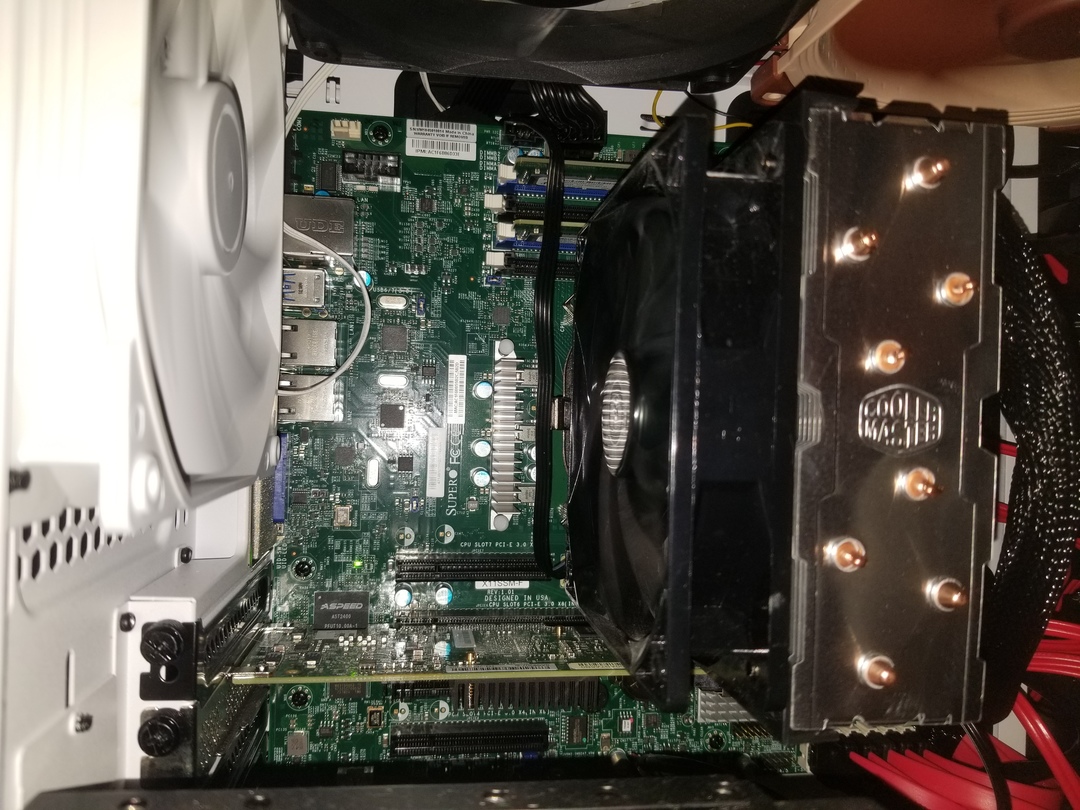 Criticism:
Alright, here is my only real criticism of this case. You'll note that the HDD trays mount in only three corners; two against the back of the HDD cage and once on the right of the near side. This means the fourth corner sags. Two pairs of my drives seem to be in contact with the tray above them. I can't say how much of an impact on longevity this will have on my drives. All of the trays contain silicon anti-vibration washers which likely helps but the point of contact is in fact the primary screw which threads through this washer and goes directly into the drive above. My plan is to buy some very thin silicon and glue it to these screws to mitigate vibration. I will use the smallest piece possible so as to not block any airflow.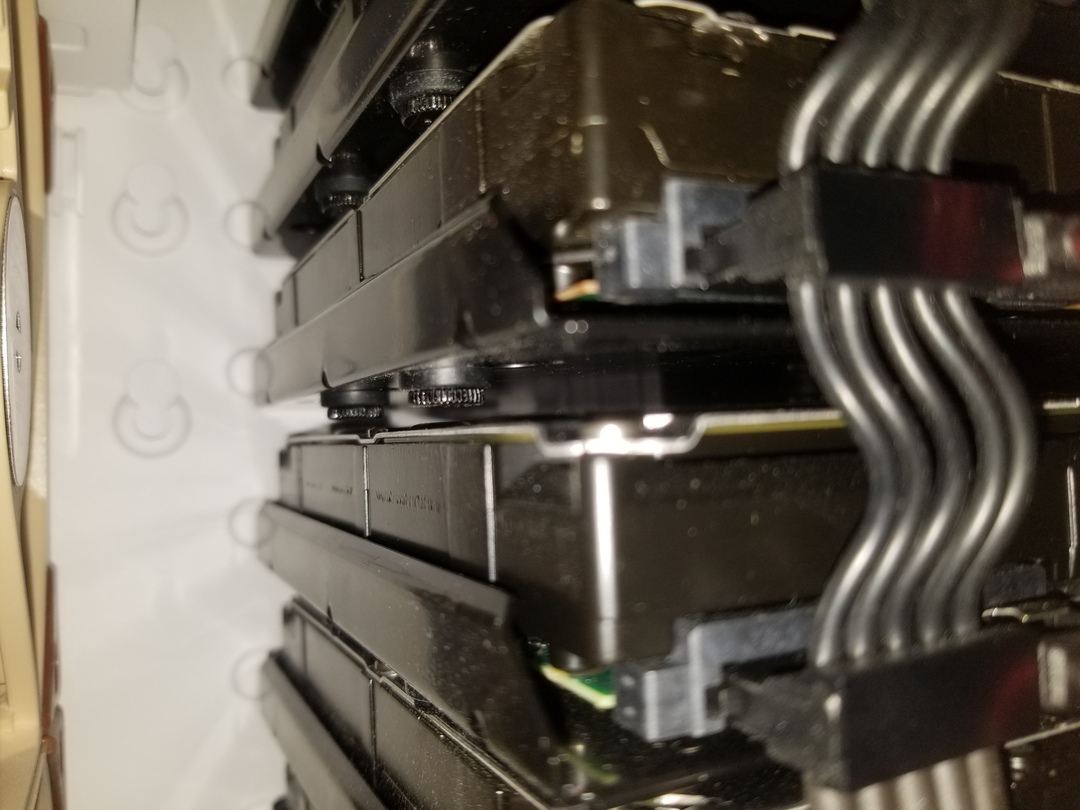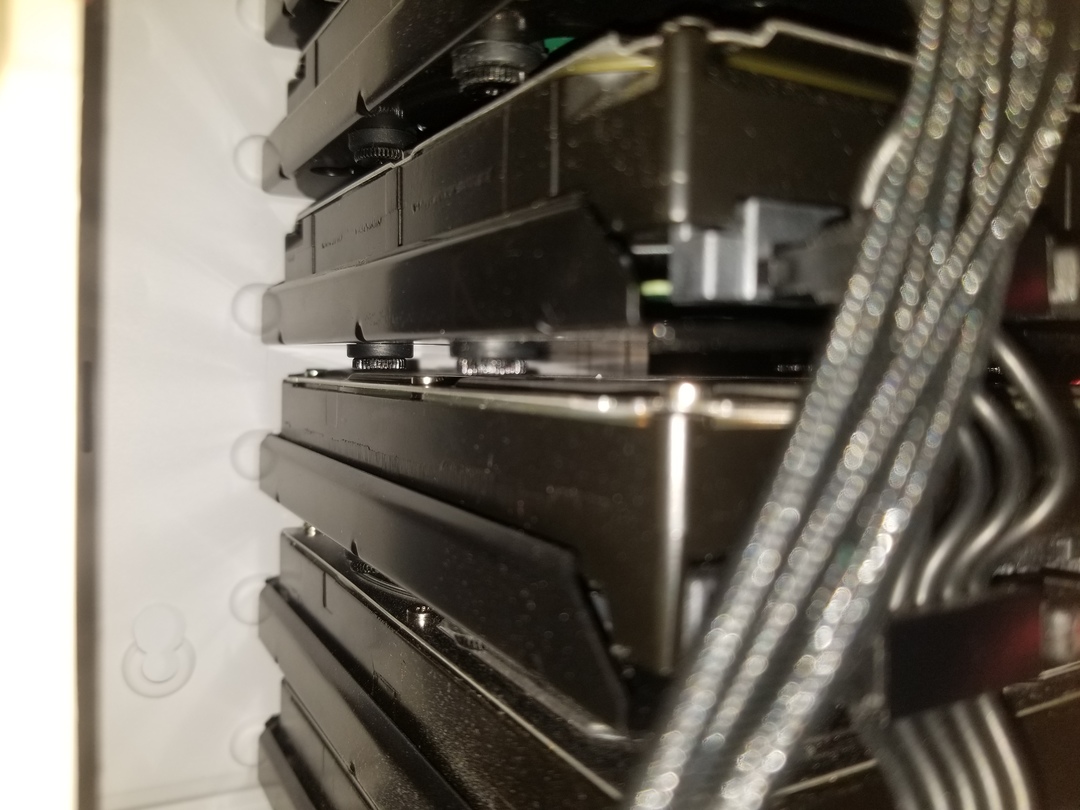 Cost

:

I did not spend a ton of time optimizing for cost. Thus, I won't bother quoting what I paid here. If I get time I'll do some research on good prices for these parts (used where appropriate) and update.

I hope this was helpful to someone. If something is not clear please let me know. I'm also happy to answer any follow up questions folks may have. I do reserve the right to edit this post for clarity.

EDIT:

I've retired this build and now use a Supermicro CSE846. The primary reason was that I needed this R6 case for a flight sim build.
Last edited: