SVP of Engineering
Administrator
Moderator
iXsystems
Joined

Nov 12, 2015
Messages

1,242
After a very successful development cycle with thousands of downloads, TrueNAS SCALE 21.02 is now available. TrueNAS SCALE "Angelfish" is rapidly maturing for single node use and is now being tested for multi-node or scale-out use. The KVM Hypervisor and Kubernetes capabilities are ready for enthusiasts to take for a spin.
As our initial
community post
and
blog
indicated,
TrueNAS SCALE
is defined by its acronym:
Scale-Out ZFS: Capacity & Performance
Converged compute and storage
Active-Active reliability
Linux containers & virtualization: Docker, K8s, and KVM
Easy Setup & Management
TrueNAS SCALE starts from the TrueNAS 12.0 base which includes OpenZFS 2.0, all the file, block, and object storage services, the middleware to coordinate these, and the web UI to present a user-oriented view of the system. This base has been tested by hundreds of thousands of users over the last few years and is very similar to the
TrueNAS CORE 12.0-U2
release that came out last week.
The major new capabilities are based on Debian Linux and these define the new opportunities for SCALE:
KVM Virtualization: Mature Hypervisor with good reliability, Guest OS support, and enterprise features. This is already in a more mature state than Bhyve is on TrueNAS CORE.
Kubernetes: 3rd Party Applications can now be deployed as single (docker) containers or "pods" of containers. Using Helm Charts, complex applications can now be easily deployed with dynamic charts. TrueNAS SCALE 21.02 also now includes the ability to register and use
community-provided repositories
.
Scale-out ZFS: SCALE will enable datasets to be defined as ZFS datasets or cluster datasets which span multiple nodes and ZFS pools. Cluster datasets will have a variety of redundancy properties. The APIs for these have been completed and the UI in TrueNAS SCALE is being tested before trial release in the next few weeks.
Unlike other Hyper-converged Infrastructure solutions, TrueNAS SCALE will have deployment benefits as a single node, a dual-node "high-availability" system, or as a cluster of multiple nodes. You can start off with a single node system today, and in the future, you will be able to scale-out.
The high level release plan follows this updated process which has a two month cadence.
Angelfish is the codename for the feature set described by a set of feature groups. Each "feature group" is described as either
PREVIEW, ALPHA, BETA, RC, or RELEASE quality
. This third version is called
TrueNAS SCALE 21.02 (Angelfish)
and is described as follows: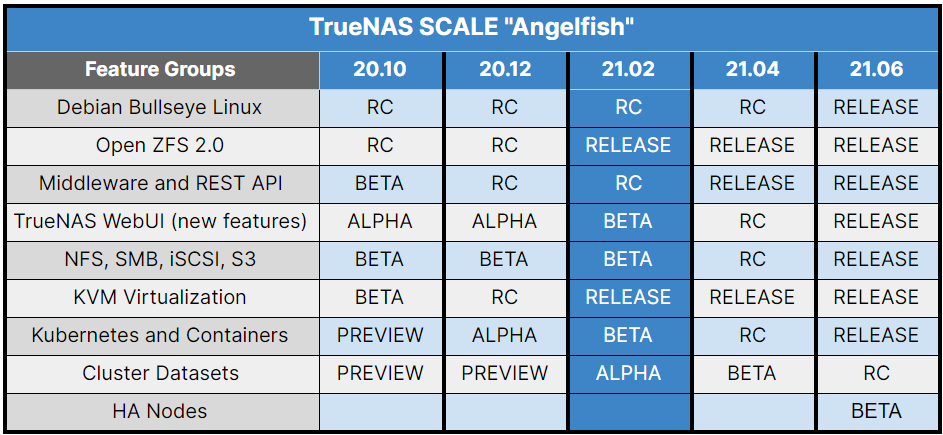 Users should read the
release notes
to confirm support for their particular use case.
The UI, while similar to TrueNAS CORE, has also been improved with some new UX enhancements across the 'Networking' and 'Settings' sub-sections. Further UX improvements are expected to arrive in version 21.04.
In this version, we also introduced the new
TrueNAS CLI
that uses the API and persists all changes. This CLI will make it easier to script the set-up and configuration of TrueNAS. At a later date, the CLI will be backported to TrueNAS CORE and Enterprise.
The Kubernetes implementation has progressed most significantly with dynamic helm charts (as the application is installed, the user is prompted for specific configuration information) and
community-defined
application repositories. One terrific repository,
TrueCharts
, was developed independently of iXsystems by "Ornias". An image of this repo within TrueNAS SCALE is below.
Cluster datasets require some additional
TrueCommand
features (TC 2.0 trials starting this month) to provide an easy-to-use WebUI to manage them. In the meantime, the CLI and APIs are complete and this feature group is now in ALPHA status.
TrueNAS SCALE documentation
is minimal at the moment and relies on its similarity to TrueNAS CORE in addition to the
Developer Notes
and
Release Notes
. In March, the
TrueNAS CORE documentation
will be receiving
a facelift
which will greatly improve navigation and ease of use. Once that is complete, TrueNAS SCALE documentation will take shape as a clone of TrueNAS CORE. We aim for good TrueNAS SCALE documentation in the 21.04 release.
We appreciate the
community feedback
and
bug reports
and hope to get all those features to RELEASE quality faster. A special thanks also goes to the large number of community members who joined the development and test team. We've really enjoyed your contributions and teamwork and it has greatly contributed to the accelerated development process.
Is TrueNAS SCALE for Users or Developers?
At this stage of its
Software Development Lifecycle
, TrueNAS SCALE is still primarily for developers and enthusiasts and can be
downloaded here
. For Linux developers, there are many opportunities to contribute to the Open Source
TrueNAS SCALE project
and we have a vibrant Slack community for contributors. It is a well coordinated and managed environment to develop the best Open Hyper-converged Infrastructure. For more information, see this
community post
.
This TrueNAS SCALE 21.02 version is also intended for tech-savvy enthusiasts who have a single node, a backup plan, and a willingness to resolve any issues they find. The feedback from enthusiasts has been good and the new Kubernetes capabilities will simplify the addition of applications.
Users with standard NAS (NFS, SMB, iSCSI, S3) requirements are still advised to use TrueNAS CORE and Enterprise, which have a thousand times more data under management and over 10 years of operation. TrueNAS SCALE will inherit some of that maturity, but it will be a while before it catches up to the same quality and reliability. However, the journey has started and the progress has been great! If you have any additional questions or need advice on a new project, please email us at
info@iXsystems.com
. We are standing by to help.
Last edited: