Joined

Oct 20, 2011
Messages

195
Hello All,
I'm hoping someone can help point me in the right direction for adding Custom (NAS) storage to my Apps deployed from TrueCharts. I have deployed the Sonarr app using all the default options in the Chart (I only added the app name, all other options are default). With the default options, the app has deployed successfully and is running and accessible on its NodePort. I receive the following error when I apply my desired configuration:
Code:
Error: [EINVAL] attributes.hostPathMounts: Item#0 is not valid per list types: [EINVAL] volumeMount.medium: Field was not expected
My desired configuration is shown in this screen cap: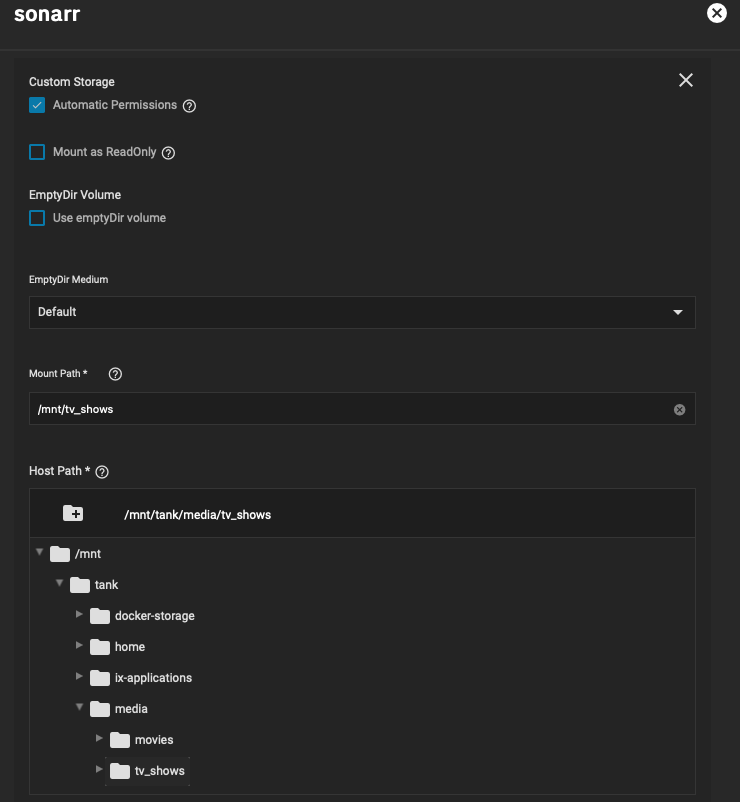 I have consulted the
documentation
on adding storage and consulted the Goggles (which do nothing). This also happens when trying to deploy a new app with added Custom Storage (same error).
Edit: This doesn't seem to happen with the Official Charts, just the True Charts. For example, I can deploy the Plex chart with custom storage from the Official repository but I get the error above if I attempt to deploy the Plex chart from True.
System config:
TrueNAS 21.04 (installed on SSD)
TrueCharts added as an app source
Data Volume is a mirrored pair of 3 TB HDDs on an IBM 1015 in IT mode
Any insight on this would be helpful. Thanks!
Last edited: