Hi all. I picked up this server but it's a little bit over my head. I am sure that there's good people here that can help me wrap up my mind around this one
The server used to be a Tegile T4800-C1 - All-Flash Storage
https://www.vmstorageworks.com/T4800.asp
It's 2U and has 2 nodes. Each node has a Supermicro X10DRS-2U with E5-2600 V3 (I think, can update the particular model)
edit: E5-2680 V3
In front it's a 24 bay with 20 NVME (edit: Not sure if it's NVME) now (was 24 but all encrypted I was able to save 20 of the drives, previous owner I think destroyed the other 4):
https://www.disctech.com/Hitachi-HUSMR1619ASS231-1-92TB-SAS-Solid-State-Drive
Each node has a AOM-S3008-L8-SB (to my knowledge in IT Mode)
There's a smart memory dimm per node (not sure what this is): SuperMicro Smart 8GB 1Rx4 NN4-2400T-RZZZ-11
https://www.ebay.com/itm/265307758359
Also a network card on each node: Silicom PE210G2SPI9-SR Dual Port 10Gigabit Ethernet PCIE Server Adapter Ver 1.4
* assuming this does not have much value and not sure if it plays well with Truenas
nic
I am not familiar with this 2 node setup. Have a few questions:
1. will this play well with Truenas. I know Truenas Scale has HA but that it's only on IXsystems hardware with true command I think. What's the best way to implement Truenas on this? Deploy 2 x Truenas and each NAS manages a Pool/s of 12 of the drives?
2. how are the 24 drives in front being share between the 2 nodes (each node has access to 12 drives or all 24?)
edit: tested and you can see all 24 drives from each bay
3. if I was to sell this out what would be the value of it.
4. Anyone can please share more information on that particular smart memory dimm? one per node I think
Thank you in advance. Will attach some photos I took from it.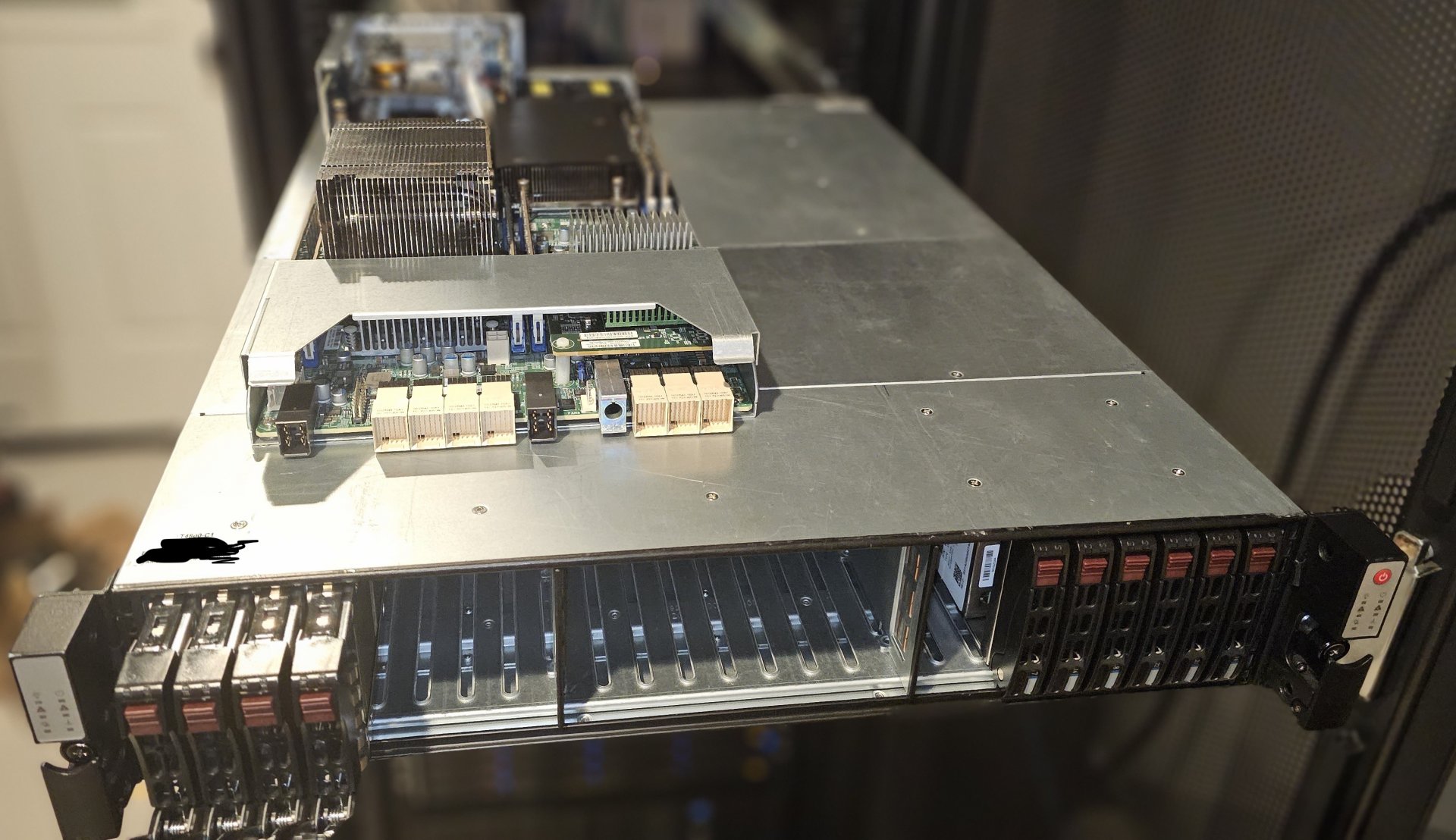 Last edited: