Hello,
I experienced a drop in network performances and I'd like to understand, so maybe someone has a clue to help me out.
- Context:
I have 2 FreeNAS boxes:
Main server: Xeon e3-1220 with 16GB of RAM, a supermicro X9SCM, 6x4TB RAIDZ2 running FreeNAS 9.2.1.8 (no jails, CIFS shares)
Backup server: AsRock C2750 with 16GB of RAM and 6x2TB in RAIDZ2 running FreeNAS 9.10.2 (no jails, CIFS shares)
The network looks like: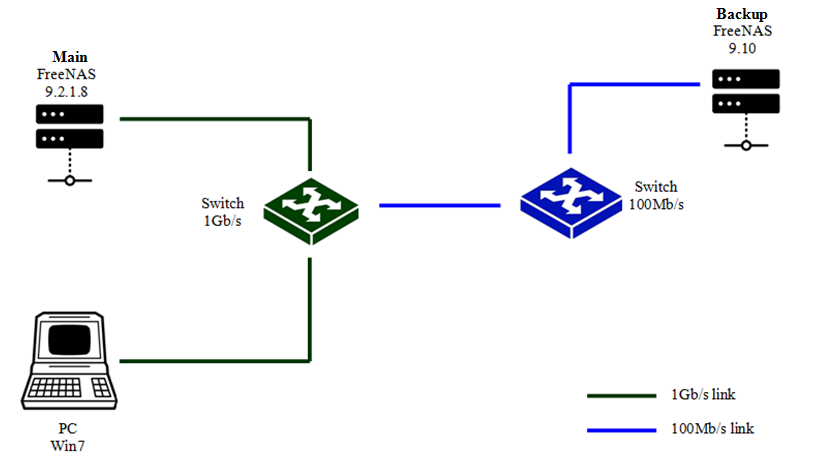 Gb switch: Netgear GS108e
Mb switch: ADSL modem
rsync
is running from the main to the backup server.
Of course, I have a transfert rate of about 10MB/s (due to the 100Mb/s network link). That's to be expected.
Both servers don't have a very high load (
top
shows around 14% for
rsync
for each server).
So far it's all fine...
- Issue:
But when I start to use the PC (that is on the 1Gb/s network) and access to the main server, the response times are dramatic: the shares (CIFS) are very slow to browse, transfer rates drop to 1,6MB/s. I would not have expected that.
And an other surprise is that when I do the same on the backup server (i.e. access from the PC to the backup server), the response times are fine and I get 10MB/s transfer rates (i.e. saturation of the 100Mb/s link).
- Question:
How can this behaviour be explained?
My feeling is that maybe the 1Gb/s switch doesn't handle well the mixing of 100Mb/s and 1Gb/s links... that would be a pity? :-O Or could it be the 100Mb/s switch?
I don't think it is linked to
rsync
but that is when I experienced these performance drops.
- Work around:
When I put both servers (and the PC) on the same 1Gb/s network, everything is great...
rsync
is working (at around 70% on each server) and I get transfer rates around 70-100MB/s, which is fine.
Thanks for your opinions.