Good day!
I'm new to
TrueNAS
, this is my first server for home use.
Motherboard – z170 gigabyte gaming5 miniitx
Processor – intel pentium G4560 4 threads
RAM – 8GB ddr4 2400 (2x4gb)
System SSD – 120gb NVMe
HDD 1 – 8TB Seagate Ironwolf ST8000VN0022
HDD 2 – 8TB Seagate Ironwolf ST8000VN004
HDD 3 – 1.5TB S24083A6
The pool in which the problem occurred consists of two 8TB disks in the mirror.
ada0 – 8TB Seagate Ironwolf ST8000VN0022
ada2 – 8TB Seagate Ironwolf ST8000VN004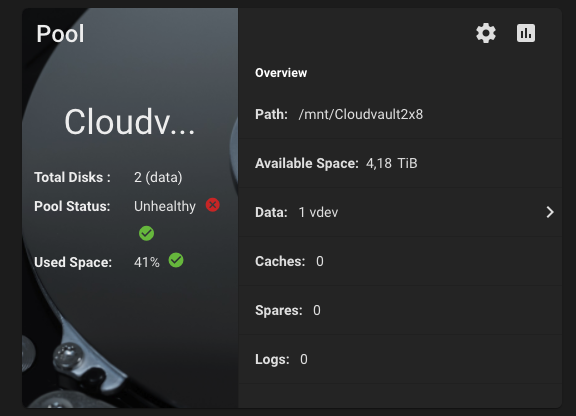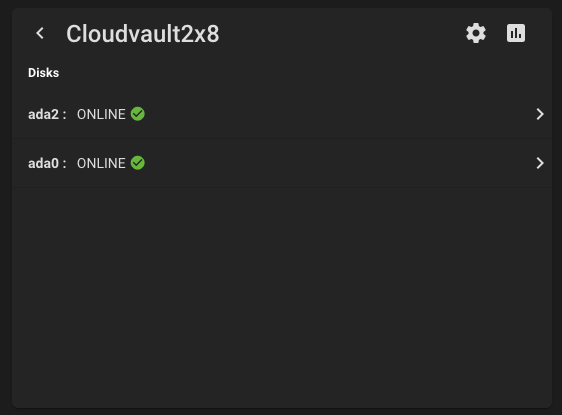 The system is updated to the latest version, the server rebooted, tried to use the methods described here
Hard Drive Troubleshooting Guide (All Versions of FreeNAS)
, but I did not understand if there is something that applies to my case.
I tried getting SMART from the GUI and got this
ada0 (ST8000VN0022):

ada2 (ST8000VN004)

Please tell me what is going on and what I need to do to avoid data loss in this pool
UPD.
Today I also noticed that my second pool changed its status to unhealthy. It consists of a single disk. Tests that reached the end-it seems that there were no errors, now I have launched a long test.