Joined

Oct 1, 2017
Messages

75
Hi,
I drive with 6 disks of mirror and got good performance every disk write 200MB per sec but when i add 6 disks to it, it only writes 60MB per disk.
dd if=/dev/zero of=tmp.dat bs=2048k count=150k
Check my signature for the hardware.
Version: FreeNAS-11.1-U1
They are in the same pool and do not do the same work, is it because the counter is working on other things?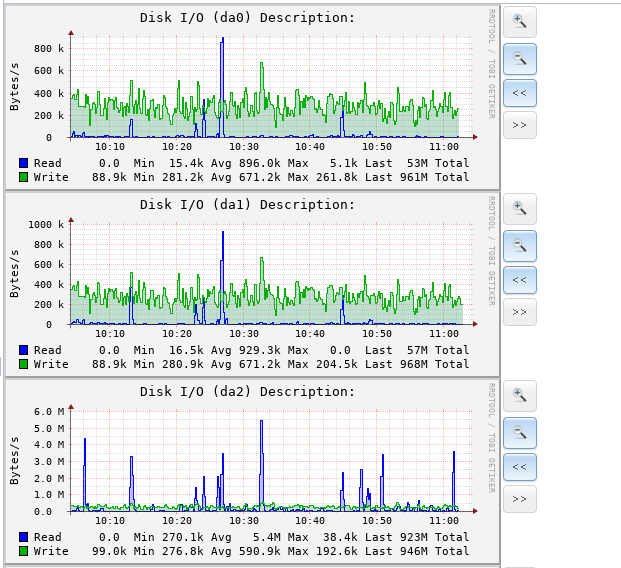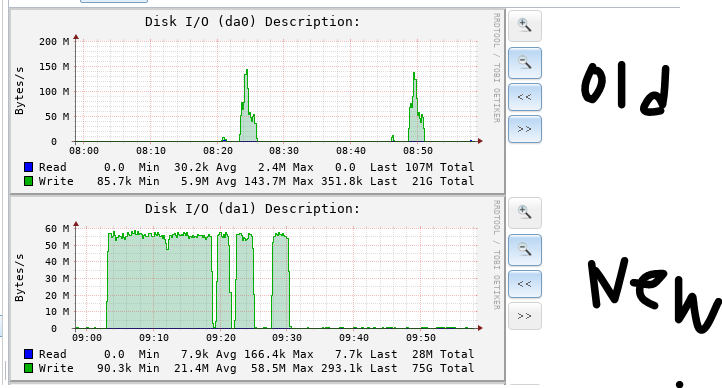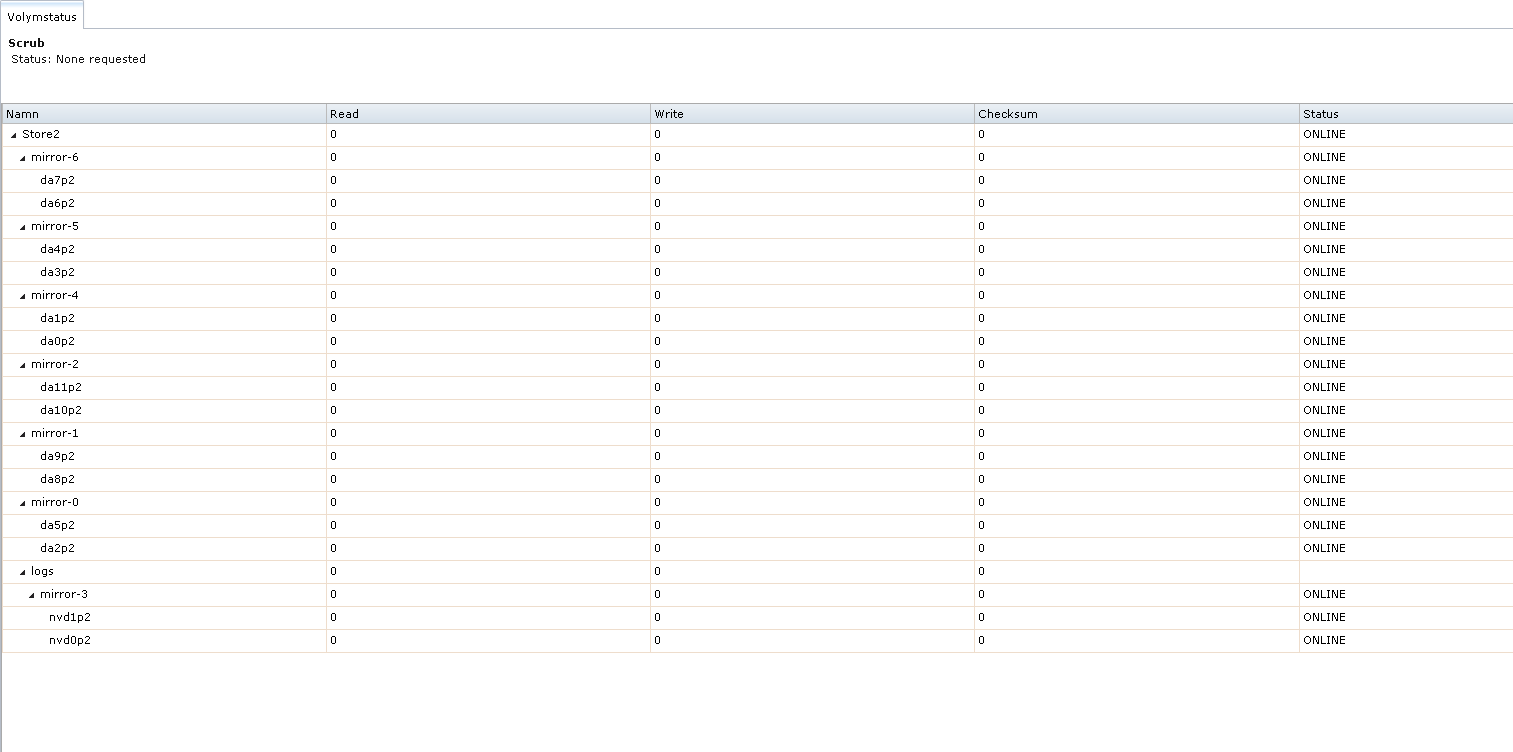 Code:

[root@freenas ~]# zpool status																									
  pool: Store2																													
 state: ONLINE																													
  scan: none requested																											
config:																															
																																
	   NAME												STATE	 READ WRITE CKSUM											
	   Store2											  ONLINE	   0	 0	 0											
		 mirror-0										  ONLINE	   0	 0	 0											
		   gptid/9d17bcbc-066b-11e8-b8a8-0cc47a5808e8.eli  ONLINE	   0	 0	 0											
		   gptid/9df33389-066b-11e8-b8a8-0cc47a5808e8.eli  ONLINE	   0	 0	 0											
		 mirror-1										  ONLINE	   0	 0	 0											
		   gptid/a03134f9-066b-11e8-b8a8-0cc47a5808e8.eli  ONLINE	   0	 0	 0											
		   gptid/a0f17bac-066b-11e8-b8a8-0cc47a5808e8.eli  ONLINE	   0	 0	 0											
		 mirror-2										  ONLINE	   0	 0	 0											
		   gptid/a3334340-066b-11e8-b8a8-0cc47a5808e8.eli  ONLINE	   0	 0	 0											
		   gptid/a3f64588-066b-11e8-b8a8-0cc47a5808e8.eli  ONLINE	   0	 0	 0											
		 mirror-4										  ONLINE	   0	 0	 0											
		   gptid/5d4a0fd3-1312-11e8-b729-0cc47a5808e8.eli  ONLINE	   0	 0	 0											
		   gptid/5e12941f-1312-11e8-b729-0cc47a5808e8.eli  ONLINE	   0	 0	 0											
		 mirror-5										  ONLINE	   0	 0	 0											
		   gptid/612876f0-1312-11e8-b729-0cc47a5808e8.eli  ONLINE	   0	 0	 0											
		   gptid/61eacf52-1312-11e8-b729-0cc47a5808e8.eli  ONLINE	   0	 0	 0											
		 mirror-6										  ONLINE	   0	 0	 0											
		   gptid/65096079-1312-11e8-b729-0cc47a5808e8.eli  ONLINE	   0	 0	 0											
		   gptid/65d19969-1312-11e8-b729-0cc47a5808e8.eli  ONLINE	   0	 0	 0											
	   logs																														
		 mirror-3										  ONLINE	   0	 0	 0											
		   gptid/a4d713ca-066b-11e8-b8a8-0cc47a5808e8.eli  ONLINE	   0	 0	 0											
		   gptid/a549c4e3-066b-11e8-b8a8-0cc47a5808e8.eli  ONLINE	   0	 0	 0											
																																
errors: No known data errors																										
																																
  pool: freenas-boot																												
 state: ONLINE																													
  scan: scrub repaired 0 in 0 days 00:00:05 with 0 errors on Thu Feb 15 03:45:05 2018											
config:																															
																																
	   NAME		STATE	 READ WRITE CKSUM																					
	   freenas-boot  ONLINE	   0	 0	 0																					
		 mirror-0  ONLINE	   0	 0	 0																					
		   da12p2  ONLINE	   0	 0	 0																					
		   da13p2  ONLINE	   0	 0	 0																					
																																
errors: No known data errors	

Code:

[root@freenas ~]# glabel status																									
									 Name  Status  Components																	
gptid/a4d713ca-066b-11e8-b8a8-0cc47a5808e8	 N/A  nvd0p2																		
gptid/a549c4e3-066b-11e8-b8a8-0cc47a5808e8	 N/A  nvd1p2																		
gptid/9d17bcbc-066b-11e8-b8a8-0cc47a5808e8	 N/A  da2p2																		
gptid/9df33389-066b-11e8-b8a8-0cc47a5808e8	 N/A  da5p2																		
gptid/a03134f9-066b-11e8-b8a8-0cc47a5808e8	 N/A  da8p2																		
gptid/a0f17bac-066b-11e8-b8a8-0cc47a5808e8	 N/A  da9p2																		
gptid/a3334340-066b-11e8-b8a8-0cc47a5808e8	 N/A  da10p2																		
gptid/a3f64588-066b-11e8-b8a8-0cc47a5808e8	 N/A  da11p2																		
gptid/ed20a3de-b526-11e7-bceb-002590e35b10	 N/A  da12p1																		
gptid/ed276c6c-b526-11e7-bceb-002590e35b10	 N/A  da13p1																		
gptid/5d4a0fd3-1312-11e8-b729-0cc47a5808e8	 N/A  da0p2																		
gptid/5e12941f-1312-11e8-b729-0cc47a5808e8	 N/A  da1p2																		
gptid/612876f0-1312-11e8-b729-0cc47a5808e8	 N/A  da3p2																		
gptid/61eacf52-1312-11e8-b729-0cc47a5808e8	 N/A  da4p2																		
gptid/65096079-1312-11e8-b729-0cc47a5808e8	 N/A  da6p2																		
gptid/65d19969-1312-11e8-b729-0cc47a5808e8	 N/A  da7p2																		
gptid/65becc6a-1312-11e8-b729-0cc47a5808e8	 N/A  da7p1																		
gptid/64f8aa3f-1312-11e8-b729-0cc47a5808e8	 N/A  da6p1																		
gptid/61da5155-1312-11e8-b729-0cc47a5808e8	 N/A  da4p1																		
gptid/6117fff7-1312-11e8-b729-0cc47a5808e8	 N/A  da3p1

Last edited by a moderator: