Joined

Nov 23, 2014
Messages

1,103
I guess Supermicro has a couple of ways to get into an IPMI remote console. The option Remote Control > iKVM/HTML5 is by far the easiest and slickest, but it doesn't have the option for Virtual Media > Virtual Storage that I have used to upload a FreeNAS OS. The way that has worked in the past is Remote Control > Console Redirection > Launch Console, which should launch a Java console that does have the virtual storage option.
Now I can't get it to work. Here's what happens:
1. Click on Launch Console.
2. A file 'launch.jnlp' is downloaded, which on a mac I have to right click to open it with Java Web Start. It in turn opens:
3. ATEN Java iKVM Viewer, which asks: Do you want to continue? The connection to this website is untrusted. The certificate is not valid and cannot be used to verify the identity of this website.
4. I click Continue --> "Connection Failed".
Here's what I've tried, based on others' experiences.
1. In increasing order of disruption:
Maintenance > iKVM Reset
Maintenance > iFactory Default
Maintenance > Unit Reset
2. In Java settings, added IPMI URL to exception site list for security
4. In Java settings, I tried to weaken some security settings that looked like they might be related.
5. As the original cert was expired, I created a new private key and self-signed cert for IPMI using
SuperMicro's instructions
and uploaded at Configuration > SSL Certification. These were accepted by the IPMI and then by my browser, after I convinced it to get past the self-signing.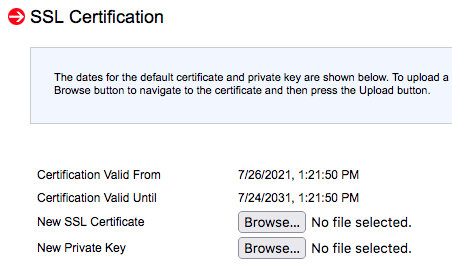 But it made no difference in starting the iKVM. Help please! The Supermicro firmware is v. 3.72, May 10 2018.