Is it possible to get the APU or GPU part of Ryzen 2200G or any other amd ryzen to be available for the application containers? Specifically jellyfin for transcoding.
Im
uncertain if it is even possible to do this with Scale 22.02-RC.2 application or if there are some unknown problem I have.
How can I verify that the container or pod has access?
I have never used docker or kubernets before. My understanding is that docker is different from a classic VM and that it would be easier to passthrough a apu or igpu.
In Kubernetes settings GPU support is enable. Nothing is showing when I try to use it for Jellyfin only the label "GPU Configuration" but ther are no inputs.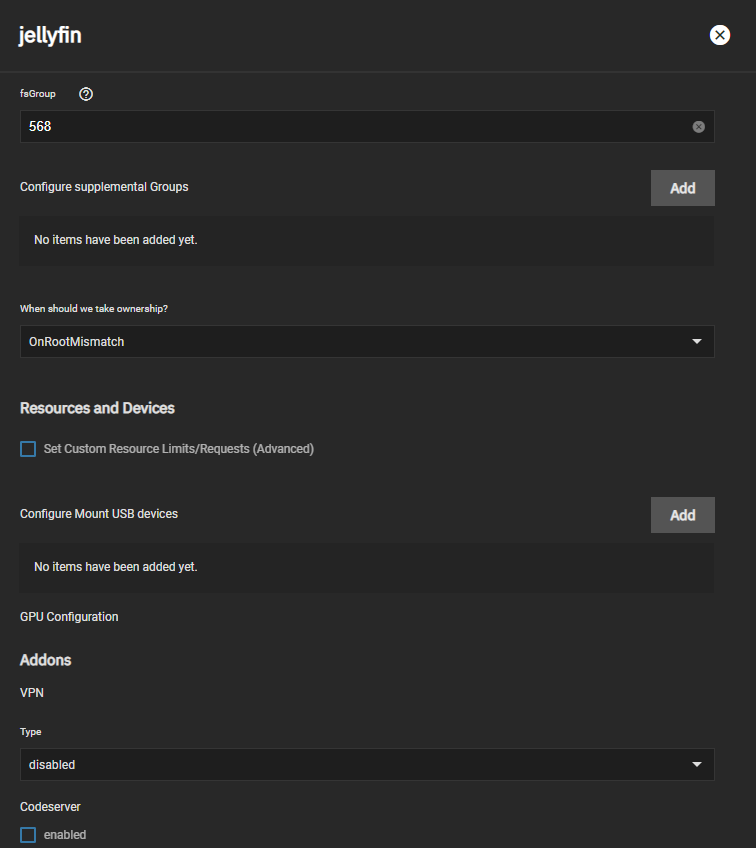 Most other posts is about dedicated nvidia gpu, but it seams that jellyfins docker-image can use the APU. Most guides for jellyfin AMD gpu require amdgpu-pro on the host but is it safe to run apt update to install it? There are also some threds that say k8s-device-plugin
https://github.com/RadeonOpenCompute/k8s-device-plugin
is needed for kubernets.
Im haveing a hard time troubleshooting since my knowledge is limited. Im useing 22.02-RC.2 with Jellyfin 10.7.7_9.0.28 from truecharts. Scale 22.02-RC.2 is running fine and Jellyfin is working as expected without HW transcoding but no other problem.