I've been using FreeNAS along with qbittorrent for several years before and I somehow managed to make the couple work several years ago. Due to a hardware problem, I was forced to change the NAS processor stuffing (the CPU and MB) and, accordingly, replaced the software to version FreeNAS-11.2-U3 . I managed to start almost everything, except qbittorrent, which caused several problems that I do not know how to solve. Can anybody help me?
1. I launched qbittorrent (hereinafter referred to as qb) and through the interface I try to configure folders for automatic operation.
On my server, the disk array is named GATE_RAID, it has two Samba folders defined - "mnt / GATE_RAID / DISK_Е" and "mnt / GATE_RAID / DISK_F".
In the old settings, qb took .torrent files from the "/ DISK_E / In" folder and downloaded files to the "/ DISK_F / Out" folder. I've set it up once and it worked for several years - I don't remember how ;-)
My fault, I forgot that you need to define access to the storage folders outside for the jail using the jail setup. I did so, then I registered access and created freenas user qbittorrent, with password qbittorrent, belonging to the media group.
According to the memoirs, I am trying to configure qb through the interface, but for some reason it does not see the .torrent files in the automatic download folder, and those downloads forcibly specified through the file menu of the browser are not known where. In addition, the folder specified in the "Automatically add torrents from" section is not remembered in the qb settings. "//Outside/ " equals to " /mnt/GATE_RAID/iocage/jails/qbittorrent/root/Outside/", where 2 folders from outside storage a mapped.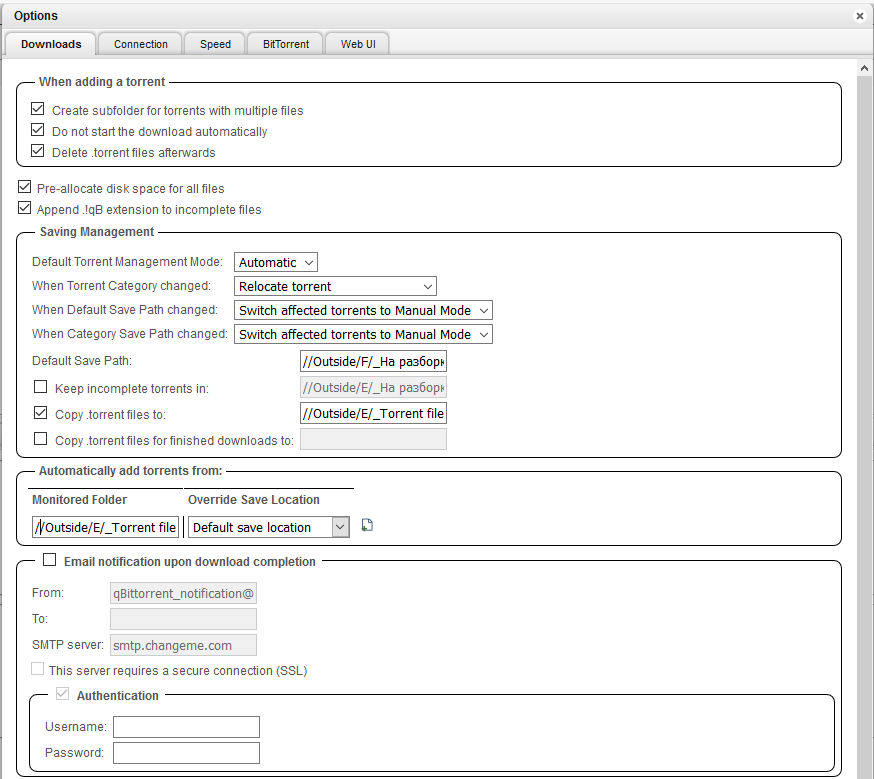 What am I doing wrong?
2. I was unable to configure the plugin with manual IP address settings, only with DHCP.
At settings: Interface - re0, address 192.168.1.101, subnet mask 24 (255.255.255.0, like the rest of the network) I while installing the plugin get the error:

What am I doing wrong?
Last edited: