He of the long foot
Moderator
Joined

May 13, 2015
Messages

2,266
Rsync fails when copying Windows datasets with the '-p' ('Preserve Permissions') option. And there are no plans to implement this option in the future, because
"rsync targets primarily unix-like systems."
Frankly, I don't blame the rsync team one bit for avoiding the Windows nightmare.
By implication, the '-p' option not working means the '-a' (Archive) and '-A' ('Preserve Extended Attributes') options are broken, too. From the
rsync guide
, here are the three options to be avoided:
Code:
-a, --archive   equals -rlptgoD (no -H, -A -X)
-p, --perms     Preserve permssions
-A, --acls     Preserve ACLs (implies -p)
This doesn't mean you can't use rsync! It just means you have to avoid using these particular options for Windows datasets. And, of course, live with any resulting consequences.
In shell scripts I use the fully enumerated' -a' option set, leaving off the 'p', like this: -rltgoD
For Rsync Tasks in the GUI, uncheck the 'Archive:', 'Preserve permissions:', and 'Preserve extended attributes:' selections: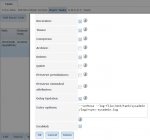 I've been using both shell scripts and Rsync Tasks configured this way for nearly a year with good results, so it's not like rsync is unusable.
Details available here:
https://redmine.ixsystems.com/issues/7713
Last edited: