He of the long foot
Moderator
Joined

May 13, 2015
Messages

2,478
My main system is housed in a Supermicro CSE-846 chassis equipped with 24 hot-swap bays, much like the unit shown in this picture: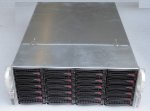 The most important pool on this server is a 6-disk RAIDZ2 array of 4TB HDDs containing ~2.3TB of data. I use replication to backup this data to my secondary FreeNAS server, and this backup is what I would rely on if the main FreeNAS server were to fail.
But I also use rsync to copy the data to another pool made up of a single 6TB disk. I have two of these 6TB disks configured with the same pool name, and I swap them weekly between the server and my fireproof safe. These disks are my last line of defense: if my shop were to burn down and destroy both of the FreeNAS servers -- perish the thought! -- I'd at least have some hope of recovering my data using the drive stored in the safe.
It's the process of swapping the two 6TB drives that lead me to ask the question posed in this thread. Until now, my procedure has been to update the data on the disk one last time, scrub it, detach it, power down the server, swap the drives, power up the server, and then import the volume on the new disk.
I would prefer to do this without power-cycling the server, but I don't want to pop the drives out if they're still spinning -- and I haven't found any foolproof set of FreeBSD commands guaranteed to spin down the drives. Perhaps my Google-foo is weak...
Am I unduly concerned about damaging the drives? Should I just remove the drive from it's bay and not worry about it?
Or are there one or more FreeBSD commands I should use to spin the drive down before I remove it from the chassis?
I'm hoping one of the FreeBSD gurus here on the forum will point me in the right direction. Thanks!